2012 Triple Crown: Looking at I'll Have Another's Belmont Stakes Pedigree
May 20, 2012

Rob Carr/Getty Images
For the first time since 2008, racing has Triple Crown dreams with I'll Have Another winning the Preakness on May 19.
While "Cookie" obviously has class and grit, fighting horses tooth and nail in his last three wins, the colt's pedigree will also be an important factor on June 9 when he attempts to go 1 1/2 miles in New York.
However, unlike some other recent Triple Crown hopefuls, the chestnut son of Flower Alley looks like he may not have to worry about the distance.
I'll Have Another is by the Distorted Humor son Flower Alley, who himself won at a longer distance during his career. Flower Alley finished ninth in the Kentucky Derby but won the G1 Travers Stakes at 1 1/4 miles three months later.
The chestnut then went on to finish second behind Horse of the Year Saint Liam at the same distance in the Breeders' Cup Classic later that same year.
Flower Alley's sire Distorted Humor was a sprinter but has sired longer-distance horses, including last year's Breeders' Cup Classic winner Drosselmeyer, who also won the 2010 running of the Belmont Stakes.
Another son, Funny Cide, is probably most famous for doing the same thing as I'll Have Another and winning the first two legs of the Triple Crown before finishing third in the Belmont.
Like Distorted Humor, Flower Alley's dam Princess Olivia also seemed to be best over the shorter distances but her sire Lycius had success with routers, including multiple stakes winner Palladio.
Lycius' sire needs no introduction as he is the great Mr. Prospector, who is on both sides of Flower Alley's pedigree as his great-grandsire.
I'll Have Another's dam Arch's Gal Edith only ran one time in her career, finishing first over six furlongs as a three-year-old. However, her sire Arch is the sire of the 2010 Breeders' Cup Classic winner, Blame.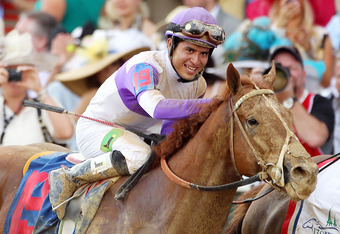 Andy Lyons/Getty Images
In addition, Arch is the sire of Arravale, who won at longer distances on the grass. As a broodmare sire, Arch has 92 winners out of 118 runners according to the Bloodhorse Stallion Directory.
Arch's Gal Edith's dam, the Pleasant Tap daughter Force Five Gal broke her maiden by three lengths on the turf going 1 1/8 miles in 1998.
The mare won two more times, showing versatility by pulling off another win at the same distance before cutting it short in her second-to-last race, winning by two lengths over seven furlongs on the grass.
Force Five Gal's sire Pleasant Tap screams versatility. The horse was second in the G1 Breeders' Cup Sprint but also won the G1 Jockey Club Gold Cup and G1 Suburban Handicap at 1 1/4 miles and finished second in the G1 Breeders' Cup Classic to superstar A.P. Indy, netting the Older Horse Eclipse that year.
Pleasant Tap not only went the distance in his racing career, he also threw his stamina as a sire. The horse is the sire of Premium Tap, who finished second in the 2007 Dubai World Cup and third in the 2006 Breeders' Cup Classic in addition to winning multiple stakes at the 12-furlong distance.
Another Pleasant Tap son, Tiago (half-brother to 2005 Kentucky Derby winner Giacomo) finished third in the Belmont Stakes in addition to winning multiple races at nine furlongs.
So while I'll Have Another does have the ability to successfully go a shorter distance, the colt's pedigree is laden with stamina. Not only have horses from his family won races such as the Breeders' Cup Classic at the Kentucky Derby distance, he also has at least one close relative with a Belmont Stakes victory in addition to others with other Belmont success.
A lot of factors go into getting a horse to win the Triple Crown, including racing luck. But when looking at the check list, it is obvious that his pedigree can be one of the first things his connections don't have to worry about come the second weekend in June.