LeBron James Reminds Us Why He's the Best Player on the Planet
May 20, 2012

Ronald Martinez/Getty Images
LeBron James—willingly or not—lives in a world of legacy, impossible standard and criticisms both reasonable and petulant. His is the name that we can't stop uttering. Every big win or tragic loss seems only to provide the exposition—the backdrop that extends the narrative without adding to it, as such plot devices are ought to do.
They provide the context, but at this point, talking about LeBron, talking about talking about LeBron, and talking about talking about talking about LeBron have taken a life of their own and swallowed most reasonable discussion in a sea of hyperbole. We watch James, but I often fear that somewhere along the line, we've actually lost sight of him.
But on Sunday afternoon, the reigning NBA Most Valuable Player was unmistakable. He changed the game with his fearless drives into the teeth of the Indiana Pacers defense. He played a part in jump-starting his superstar teammate and co-anchored the Miami offense. He put together a stat line (40 points on 52 percent shooting, 18 rebounds, nine assists, two steals and two blocks) that's almost comically dominant, and he resuscitated the Heat before our very eyes.
He was, and is, the best basketball player alive. And while Game 4 will undoubtedly be soaked in tone-deaf discussion of this team and this unequivocal star, James' reality-bending exploits require more than just the usual media cycling.
That James and Wade were able to drop 48 points in a 50-point Miami stretch isn't an occasion for polite applause, but an accented jaw drop. This Chris Bosh-less series has fostered a rather strange dynamic for the Miami Heat, but the body of this game showcased a revived Wade and a transcendent James in step and in time.
The contrast in Wade's first- and second-half performances may provide the more gripping and dramatic story, but it was James that was shrugging off defenders and pouring out brilliance for 44 minutes. He didn't struggle or stutter, but unleashed the kind of performance that no player in the history of the league could possibly match.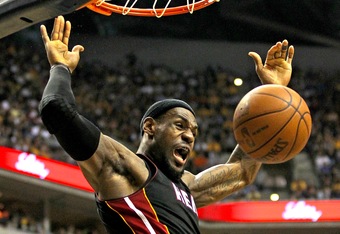 We can cite more explosive scorers, more brilliant passers, more dominant rebounders and more oppressive defenders, but never have we seen so much daunting skill wrapped up in such an easily accessible package. That's not hyperbole; that's just LeBron James.
And in being the most outrageously versatile talent this game has ever seen, James had set himself up for the talk of his legacy, the comparison to an impossible standard and every bit of that criticism. His game is too good to not pick apart, if only because of the fundamental human nature to shed layers of the unexplored as a way of finding what provides its depth.
James may have never been put under such scrutiny prior to "The Decision," but with a televised special and a brash pep rally, he gave the permission for his inquisition. He nudged the basketball world to question his moves and legitimacy as they had only been waiting to do before, and he sparked a perpetual riot that made the years of "chosen one" fervor seem calm by comparison.
I'm not sure anything can be written that will sway anyone in regard to their perception of James, but on this issue, there is room for opinion and there is room for fact.
You're free to like or dislike James, the man, as you please. You're free to think him childish or arrogant, haughty or short-sighted. You're free to dislike him because he annihilates your favorite team or because he left your favorite team. But none of that should in any way negate what we know to be true above most all else in this sometimes unpredictable game: that LeBron James stands squarely as the best player in basketball, and if there is a reasonable case to be made otherwise, we know not yet of it.