2012 NBA Playoffs: LeBron James Is His Own Worst Enemy
May 20, 2012

Jonathan Daniel/Getty Images
Brace yourself for the understatement of the century: LeBron James takes a ton of criticism. I know, shocking right? 
No player in the history of sports has ever been scrutinized to the point that LeBron has in his 27 short years on this planet. There may not be a person who has lived as firmly under a microscope for this long (the better part of 10 years) in any walk of life besides Michael Jackson.
Much of the dissection of his every move is uncalled for and frankly childish at times. The way he is pounced on like a pack of lions taking down an antelope can be downright disgusting because of what it says about our country. 
The way we deal with talent and fame went off track somewhere in the 24-hour sports network and Twitter boom that is eating LeBron alive where he stands. Jokes are made about his hairline, but do you blame the guy? Stress leads to hair loss, and who's under more stress than a guy who has been called "the King" since high school?
Rather then appreciating the greatest athletic specimen and talent, maybe ever, we bend over backwards to break him down. However, make no mistake. The King has some of his own blood on his hands. He is not a victim.
LeBron James is scrutinized to the point that he is for a number of reasons. Three major ones come to mind—all of which are self inflicted.
First of all, his decision to take his talents to South Beach to join Dwyane Wade and Chris Bosh seemed to make sense on paper, and it's still to be determined if it will work. The issue arises when one of those players goes down with an injury like Chris Bosh did after straining an abdominal muscle during Game 1 against the Pacers,
Miami doesn't seem to have the depth to recover from that blow.  LeBron, Wade and Bosh all make max money, or near it, which makes it difficult to fill out the rest of their roster with quality players. 
It is debatable whether three great pieces is better than two great pieces and three pretty good pieces.  There's no debate, when one guy is hurt, you cannot win a title with two stars and spare parts. This will be an issue for the duration of James' career in Miami.
The second reason for the LeBron centered venom in the media these days is one that I bet LeBron wishes every single day that he could take back. He will never live down the "not four, not five, not six, not seven..." line as long as he lives. Unless of course he wins eight championships. 
As if "the Decision" wasn't enough, Bron Bron took it upon himself to heap another dose of pressure on his own shoulders with that one sentence. The thing that stands out to me about that video is how shockingly young LeBron looks. He looks like he aged about 12 years since the summer of 2010.
The final final reason for the James bashing is the biggest of all. It's very simple. Games like LeBron had on Sunday in Game 4 against Indiana make his disappearing acts unacceptable. 
With Chris Bosh out, Dwyane Wade under a microscope for a feud in Game 3 with head coach Erik Spoelstra, Danny Granger matching James physically and the Heat facing a possible three games to one deficit on the road, LeBron put together one of his four best playoff games of his career.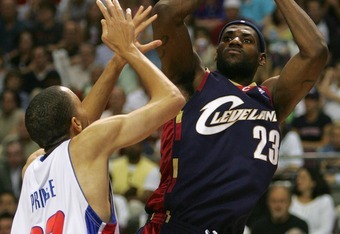 Matthew Stockman/Getty Images
The other three that stand out to me are easy. With his Cleveland Cavaliers tied at two games apiece with the Detroit Pistons in the Eastern Conference semifinals in 2007, LeBron finally started to look like "The Chosen One" that his tattoo on his back says he is. 
In a hostile environment at the Palace at Auburn Hills against a then-juggernaut of a Pistons team, James scored the final 25 points of the game over the last 2:16 of regulation and two overtimes. He finished with 48 points for the game on 18-of-33 shooting with nine rebounds, seven assists and two steals.
His second- and third-most memorable playoff performances came in last year's Eastern Conference finals when he destroyed Derrick Rose and the validity of his MVP award over the course of Games 4 and 5 to close out the series. 
In Game 4, the teams went to overtime. In the fourth quarter and overtime, LeBron outscored the man who took home the MVP over him 13-to-six. James did it all down the stretch, scoring, facilitating, and most importantly, taking it upon himself to lock down Rose. He finished with 35 points, six rebounds, six assists, two blocks and two steals.
LeBron backed that performance up with an even more impressive Game 5. Down by 10 with less than eight minutes to go, James and the Heat took over. From that point on, he poured in 12 points and helped Miami to end the game on an 18-to-three run to close out Chicago on the road for a three-point win.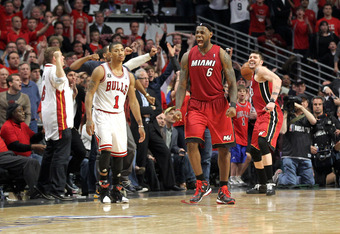 Mike Ehrmann/Getty Images
He even blocked Rose's three-point attempt which would have tied the game as time expired for good measure. That 28-point, 11-rebound, six-assist, three-steal, two-block, 50-percent shooting performance was the best we've ever seen James in a postseason game. 
...until Sunday that is.
We know one thing for sure, after King James' evisceration of Indiana in Game 4, that stone cold killer exists deep inside of LeBron James. It has to be to hang up numbers like he did—40 points, 18 rebounds, nine assists, two steals, two blocks on 14-of-27 from the field. 
Read those numbers again. I'm a 22-year-old basketball fan who's earliest NBA memory was probably Jordan's game-winner in 1998. There's no doubt in my mind that since that day, no one has dominated a playoff game the way that LeBron did Sunday afternoon in Indiana. 
If we ever see a repeat of Games 5 and 6 in 2010 against Boston when LeBron pulled a lame duck on his hometown Cavs or Games 4, 5 and 6 of the 2011 finals against the Dallas Mavericks when LeBron avoided the basketball like it was going to give him an infection, then LeBron will deserve what he gets. 
It's simple; we now know that the greatest NBA player of all time lives somewhere deep inside of LeBron James. It's not fair that he only shows up once in a while. It is our right as fans to expect it more often. 
Obviously, you can't expect him to reach that height every single night out. But it's fair to expect LeBron to die trying.