St. Louis Cardinals: Why Adam Wainwright Will Be an Elite Pitcher Once Again
May 21, 2012

Dilip Vishwanat/Getty Images
As of today, the Cardinals have dropped four games in a row and are 2-8 in their last ten games.
Allen Craig, Lance Berkman, Jon Jay, and Kyle McClellen are all on the disabled list, and manager Mike Matheny can't seem to be able to find any middle reliever that can extinguish late-inning flare-ups. 
Yet the Cardinals are still in first place in the NL Central—albeit by just a half game over the plucky Cincinnati Reds.
Despite the multiple issues the Redbirds are dealing with right now, it is still Adam Wainwright that holds the key to the Cards' 2012 campaign. St. Louis desperately needs a veteran pitcher to take the ace mantle this year in Chris Carpenter's absence, and who better than Wainwright?
But as he is carrying a bloated 5.77 ERA and 2-5 record through eight starts, Cardinal Nation has to wonder if Adam is going to completely recover from his Tommy John surgery to resume his status as an elite starter in the National League.
Ulnar collateral ligament reconstruction surgery is so common now that baseball fans can almost tell you the recovery rate for major league pitchers is about 85-90 percent (officially it is 92 percent). But there are many notable surgical failures that keep our optimism tempered.
Wainwright's on-field results have been mixed but mostly poor, and the fiercely competitive hurler is starting to wear his frustrations on the mound. But, in Wainwright's case, there is reason to be hopeful that he can resume dominating NL hitters in the not-too-distant future.
There has been a good deal of talk regarding Wainwright's slight drop in velocity this year. But one must remember that he's never been a flame-thrower. His success has been primarily due to great location and a killer 12-6 curve ball. Wainwright can get a strikeout if needed, but (in the Dave Duncan tradition) is content to pitch to contact and get quick outs.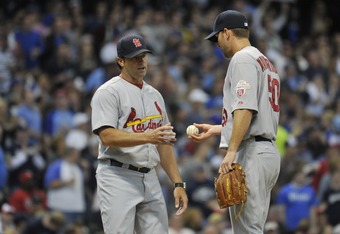 Brian Kersey/Getty Images
According to FanGraphs.com, Wainwright's career average fastball speed is 90.5 and, in 2012, he is averaging 89.7, less than a tick's difference.
The larger issue so far is Wainwright's lessened command and movement. He's walking a few more batters and his stuff is more hittable in the early going. His career opponents slash line against is a paltry .247/.303/.367/.670, essentially turning hitters into slightly more potent versions of Ozzie Guillen.
However, he is getting hit hard in 2012—at an All-Star level in fact (.298/.358/.497/.855). One of Wainwright's great underrated strengths has always been his ability to keep the ball in the ball yard. 
He allowed just 15 home runs in 230 1/3 innings in 2010 and 17 bombs in 2009 in 233 innings. And, if you want to ignore his Cy Young-caliber seasons, Wainwright allowed just 13 homers in 202 innings pitched in his first full season in 2007.
This year, so far, the fly balls have had more exit speed, as seven have found the seats in his eight starts covering 43 2/3 innings.
On a positive note, though, Wainwright's Batting Average against for Balls in Play is a sky-high .341, well above his career .290 mark. That is likely to fall, but he will need some help from the fielders behind him.
The Cardinals' defense has not been doing their pitchers any favors in the month of May. In the last 10 games, the Cards have committed 10 errors, many of those costing multiple outs on double-play chances.
However, according to the metrics, Wainwright is roughly just 1 mph off his career average for all his pitches, so there is every indication that, as he regains his feel and command, things can turn around quickly for the 30-year old.
Unfortunately for Wainwright and Cardinal fans, he had a terrific spring training—which we all know can be very misleading (hello, Kip Wells!)—but it also was a reminder of the top-end talent he possesses.
We expect Wainwright's second half to look very different from the first, performance-wise, and if the Cardinals can survive the first-half injuries and bullpen woes, they will be in the mix for a postseason appearance yet again.