New York Islanders Offseason Goals for Next Season
May 21, 2012

Bruce Bennett/Getty Images
With what we hope is a bit of thinning the herd, so to speak, the Islanders have a real opportunity to bolster their roster from within next season. We must now take a look at where the exploits of the offseason must be for them to not fall into another year of mediocrity. 
The primary focus of this team for this off season should first and foremost be defense. Nothing hurt them more last season than poor defense. We can most likely consider Staios and Jurcina either to retire or be sent to the AHL respectively if either of them are resigned after this season. Their numbers aren't sufficient to provide this team with the numbers and play that is needed for a playoff run, unless by some miracle they can find their game. 
There are some pretty good names being freed up this offseason to free agency, so the Islanders ownership must open of their wallet and offer decent money up front.
The problem being a lot of players would like front loaded contracts—something teams are more and more reluctant to offer. The Islanders are certainly one of those teams not willing to offer massive cash in the first and second years of the contract. The biggest flaw in all of this being that few free agents want to join an up-and-coming young team with an uncertain location future.
Getting them to play here will require precisely what the Islanders aren't willing to offer contractually and it may be the real Achilles heel for this team.
The strength of this team is their prospect pool. Many of them are ready to make their leap into the NHL, but this is not a cop out for the fact that this team still needs a first string defenseman to play alongside Mark Streit. While it seems to be the solution to last year's woes, it is not the final one. Positive experience must be brought in as well, the kind last years off season signings failed to bring.
If they are able to sign a top defenseman, the rest of the voids can be filled with ready prospects, seeing as their play can't be any worse than that of Jurcina's and Staios' last year.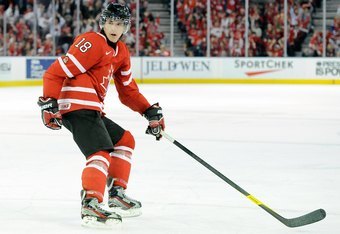 Richard Wolowicz/Getty Images
Up front, the Islanders are pretty well situated. The primary effort for management is to resign P.A. Parenteau. He is a catalyst of playmaking for this team, and is well deserving of a decent raise. Ryan Strome has been the subject of a lot of talk, and his play in training camp and perhaps the first couple regular season games should decide his fate if he is to play in Bridgeport. He seems committed to playing in the big leagues and has stated that he wants the Islanders management to give him a hard look before they send him down if they do.
Goaltending is also in good shape for next season, and we should find out who will be our backup next season by perhaps June, depending on if they re-sign Al Montoya. If they do not, it seems Kevin Poulin will be our backup for next season. Evgeni Nabokov is the owner of the starting position and for good reason. 
To finish this up, signing a first string defenseman, resigning Parenteau, and successfully bringing some prospects into the Islanders from Bridgeport are the primary goals for management this season.
Anything less may just cause another .500 season in the books, but if they are able to do that, there are grand things to expect from this squad.