NFC South Morning Jog: Tom Benson Assured Fans Drew Brees Deal Will Get Done
May 21, 2012

Chris Graythen/Getty Images
Each morning, I like to start the day off with a workout—usually a morning jog. I can clear my head, plan my day, and think about what's going on around the NFC South.
General manager Mickey Loomis will head basketball operations for the New Orleans Hornets? I don't see how this can be a good thing for the Saints.
Saints owner Tom Benson is giving Mickey Loomis "wide latitude" in the Drew Brees negotiations, according to James Varney. Benson spoke with Brees and said he doesn't feel that relations between the team and its quarterback have soured.
Sean Weatherspoon told 790 the Zone that he'd be doing more pass-rushing in 2012.
In the first part of an interview with Ron Rivera, the head coach talked about Cam Newton and a sophomore slump, Brandon LaFell and how he hasn't closed the door on tight end Jeremy Shockey.
Head coach Ron Rivera talked about a number of issues leading into Organized Team Activities (OTA's), that begin Tuesday. Some of the topics were the woes of the defense in 2011, the safety position and competition at the cornerback position.
The addition of Vincent Jackson in the offseason not only bolstered the Bucs wide receivers corps on the field, but Jackson has become a sounding board and player-instructor to the young guys on the roster.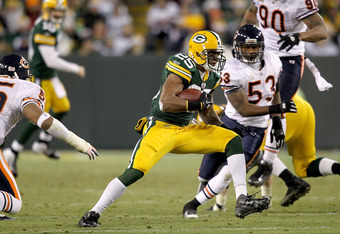 Matthew Stockman/Getty Images
Since the wide receivers are benefiting greatly from Vincent Jackson, JoeBucsFan wonders if the running backs would benefit from some veteran leadership too; someone like free-agent Ryan Grant.
NFC South
Daniel Cox looks at the competitive balance of the NFC South, and said, "There's a reason no team in the history of the NFC South has repeated as division champion."