Carolina Hurricanes Fortify Defense as Jamie McBain, Bobby Sanguinetti Re-Sign
May 22, 2012

Dave Sandford/Getty Images
Carolina Hurricanes GM Jim Rutherford announced Monday the re-signings of defensemen Jamie McBain and Bobby Sanguinetti.
The two 24-year-old blueliners, both previously set to be restricted free-agents on July 1st, will remain in the Carolina system through at least the 2012-2013 season.
McBain, the 'Canes' second-round pick in 2006, will carry a $1.8 million cap hit over the course of his new two-year contract.
The offensive defenseman took over significant power-play and blue line-guarding responsibilities in '11-'12—a role vacated during Joni Pitkanen's three-month injury absence—and eventually finished the campaign with eight goals and a team defensemen-leading 27 points.
Said Rutherford via the team's press release:
"Jamie is still a very young player who has established himself as an NHL defenseman. He moves the puck well and has shown that he can contribute offensively, especially on the power play."
Meanwhile, Sanguinetti, acquired from the Rangers in June 2010 after being drafted 21st overall in '06, will carry a $0.7 million NHL cap hit during his one-year, two-way deal.
Sanguinetti showed promise this past season after a concussion-plagued '10-'11 year. The New Jersey-born rearguard finished third in the AHL with 40 assists and 50 points in 60 games for the Charlotte Checkers, in addition to three call-up appearances with the Hurricanes.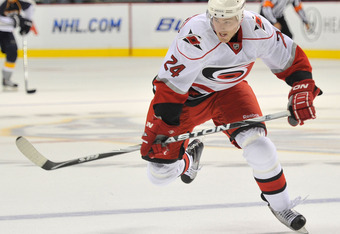 Frederick Breedon/Getty Images
Said operations director Ron Francis via the team's press release:
"Bobby had a very strong second half of the season with Charlotte. He has put himself in a position to challenge for a spot on our NHL roster [next] season."
The two re-signings help to clear up the 'Canes' defensive outlook for next season.
Speculative rumors had floated over the past two months of a possible McBain trade, given the high market value for the young and skilled blueliner. A deal including the rights to McBain as well as several other trade items could have been enough to draw in a much-needed first-line winger like Patrick Marleau or Jerome Iginla, but the team now appears fully dedicated to the 24-year-old.
McBain will likely re-join a defensive cast of existing 'Canes Tim Gleason, Justin Faulk, Jay Harrison, the aforementioned Joni Pitkanen. The sixth and final spot will be up for grabs for Sanguinetti, but he won't be the favorite with Brian Domoulin and 2011 first-rounder Ryan Murphy also reportedly in the mix.
The fact that neither Sanguinetti, Murphy or Domoulin are exactly shut-down rearguards, however, and the rest of the cast is the same as last year, Rutherford could still seek an offseason change in his defensive corps. Carolina's 'D' allowed the most shots against in the NHL in both '10-'11 and '11-'12, and finished 22nd and 25th, respectively, in goals against during those two campaigns.
Nonetheless, the re-signings of McBain and Sanguinetti will do nothing but continue to increase the Hurricanes' youth, depth and versatility in their defensive unit.
Mark Jones is a Bleacher Report featured columnist for the Carolina Hurricanes and the NHL. In three and a half years with the site, he has written more than 375 articles and received over 490,000 total reads.