UCLA Basketball: Who's the Most Important Recruit, Shabazz, Anderson or Parker?
May 22, 2012

UCLA turned in the biggest surprise of the recruiting season, landing one of the nation's most impressive classes in spite of its rocky 2011-12 performance. The attention-getters in that four-man group are small forward Shabazz Muhammad, point guard Kyle Anderson and center Tony Parker.
All three rank among the nation's 20 best recruits according to Scout.com, with Muhammad placing second in the country. All three are going to need to play up to their potential in order to right the ship in Westwood, but that doesn't mean that they'll have equal contributions to make.
Here's a look at the Bruins' incoming trio and why the biggest name on the list won't be the biggest factor in keeping Ben Howland's team on top in 2012-13.
1. Kyle Anderson
Anderson is a high school small forward who is expected to run the point next season. Part of that move is intended to get him out from behind Muhammad in the lineup, but it's also a testament to his remarkable passing ability.
Anderson will have the crucial task of making sure all three of the Bruins' elite frosh (including himself) get the right amount of touches, a job that won't be made any easier by the surgery he's expected to undergo on his left thumb. Between the challenge of learning his new position and the importance of building a cohesive team (a key to Kentucky's 2012 title), no Bruins player will have more riding on him next season than Anderson.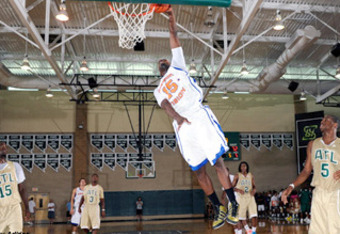 2. Shabazz Muhammad
Muhammad is the best player in the Bruins' recruiting class and will be among the best athletes in the country next season. He's an immediate favorite for the Pac-12 scoring title, and he's far from a liability as a defender.
Even so, Muhammad doesn't have as much to say about UCLA's fate as Anderson. Muhammad is not in charge of making anybody else better from his SF spot. If Muhammad steps up as a leader, so much the better, but he'll be doing his job if he "only" dominates as a scorer and contributes on the glass.
3. Tony Parker
Parker's arrival catapulted the Bruins to the top of ESPNU's recruiting rankings, and he should turn out to be an outstanding interior counterpart to his perimeter-oriented classmates. The 6'9" center is a tremendous post scorer who could be UCLA's best half-court weapon.
What Parker isn't is a game-changing defender a la Kentucky's Nerlens Noel. He's good but not overpowering in general. With this group, even Parkers' impressive offensive game won't be enough to make him more than a complementary player.