Devils' Kovalchuk Uses 2012 Stanley Cup Playoffs to Silence Critics
May 22, 2012

Bruce Bennett/Getty Images
Ilya Kovalchuk would cap his first Gordie Howe hat trick (and only the second in New Jersey Devils history) with a goal and two assists during February 4's 6-4 victory over the Flyers. 
It was a performance that caught many off guard, not the least of whom was the battered Brayden Schenn.  As he shook loose the cobwebs and picked himself up off the ice, Schenn could be forgiven for not knowing what hit him.
During his ten-year NHL career, Ilya Kovalchuk has been characterized in many ways, and they have not all been flattering—defensive liability, soft, floater, selfish.  But gritty?  Hard-nosed?  Conn Smythe candidate? 
Easily the most accomplished offensive player still in these 2012 NHL playoffs, one thing that has never been questioned is Kovalchuk's skill, but there have seemingly always been lingering questions about his desire, focus and ability to elevate his game when it matters most. 
This year's run with the Devils is definitely helping to answer those questions.
At the time of his trade from Atlanta, there were some who questioned whether or not Kovalchuk could adapt to the New Jersey style of hockey. 
Many suggested he would retreat to the KHL, unable to cope in a grittier system that demanded a higher level of defensive accountability.  Instead, Kovalchuk has adapted and evolved. Learning from the struggles he endured during his first full year in the swamp, he finished fifth in league scoring and helped lead his team to a surprising 102-point campaign.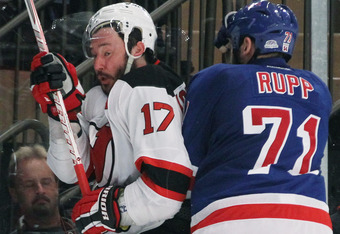 Bruce Bennett/Getty Images
This is not to say that he is the second coming of Pavel Datsyuk or a Selke candidate, but nor is he the wilting lily that many like to portray him as.
During these 2012 playoffs, Kovalchuk has potted 14 points in 15 games and is frequently the most dangerous Devil on the ice. He has been going hard to the net, getting in front of shots, winning battles on the boards and has generated multiple scoring chances against an otherwise stifling New York Rangers squad. 
During his Game 4 exchange with Ryan Callahan in front of the net which resulted in off-setting minors, many saw an Ilya Kovalchuk they were unfamiliar with—scrappy, fired up and not backing down.
After handling the Rangers 4-1 in Game 4, NHL.com's Mike Morreale quoted Kovalchuk as stating, "This is not chess, this is hockey. It's a man's game. We were more hungry (on Monday) and we got a jump on them. It's great battle and we can't wait to continue (on Wednesday)."
Should the Devils prevail against the Rangers and go on to topple the Western Conference champions, the conversation about the Conn Smythe will probably rightly revolve around Martin Brodeur or Zach Parise. 
However, any reasonable discussion about the most valuable contributors to New Jersey's unlikely Cup run would have to include the major efforts of Ilya Kovalchuk.  While that conversation may come as a surprise to some, perhaps it should not—just ask Brayden Schenn.
Update:  In propelling the New Jersey Devils to the Stanley Cup finals to face the Los Angeles Kings, It may be Adam Henrique's name that is plastered all over the headlines following the 3-2 OT win versus their New York rivals.  However, were it not for Ilya Kovalchuk's first period goal and his efforts in the trenches on the game winner, the Devils might be returning to the swamp to measure a spot for Marty Brodeur's jersey in the rafters.