Boston Red Sox: With Kevin Youkilis Back, Adrian Gonzalez to Play Right Field
May 22, 2012

Jim Rogash/Getty Images
Desperate times call for desperate measures.
So it would seem in Boston.
Gold Glove first baseman Adrian Gonzalez has been relegated to playing right field as a result of another Gold Glove-winning first baseman coming back from his stint on the disabled list. Kevin Youkilis was activated today, and, as some expected, the move pushed Gonzo to the outfield.
The move may come across as irresponsible to some. After all, in his 1,059 career games played, Gonzalez has played the outfield exactly five times. Once in 2005, twice in 2011 and twice in 2012.
Now, Gonzo is a healthy veteran ball player, so it would make some sense to have the man play in right.
Even though Youkilis has played 22 games in the outfield (two in right versus 20 in left) during his 929 career games, returning to the lineup from a back injury would imply somewhat limited motion as he continues to adjust and return to ball playing form.
Back injuries are nothing to take lightly. Certainly, Boston Celtic fans from the end of the Larry Bird era know the devastating effects that can occur and break down a once great player.
I am in favor of leaving Will Middlebrooks at third base. The kid has been red hot for the Sox, and it would be counterproductive for the team to send him and his .297 batting average, 22 hits (11 of which for extra bases) and 16 RBI in just 18 games back to triple-A.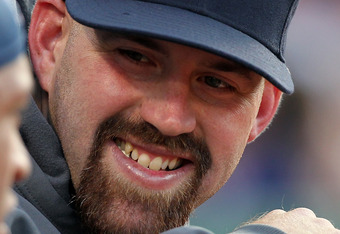 Jim Rogash/Getty Images
If he were to keep up that production over 162 games, Middlebrooks would finish with 198 hits, 45 home runs, 144 RBI, 18 stolen bases and 108 runs scored. In other words, he could develop into an MVP-caliber player for Boston.
The kid needs to stay at third and further his development. Youkilis, therefore, needs to play first base. It is a position that requires less range than third base and will return him to a position of comfort.
It is no secret that the Boston Red Sox will trade Youk. While having Adrian Gonzalez in the outfield is not the idea situation, the team has been hamstrung with injuries to Carl Crawford, Jacoby Ellsbury, Ryan Sweeney, Cody Ross and Ryan Kalish. 
No rational fan would sit Gonzo in favor of Daniel Nava.
Hopefully, the experiment is short, as a slow Gonzalez trolling right field is not a sound defensive option (not to mention it increases the risk of injury to your marquee player); it is the most logical move the team can make at the moment with a recovering pitching staff.
The offense is needed; therefore, Gonzo is needed to take one for the team, whether he likes it or not.