NFL Power Rankings: Struggling Teams That Will Soar in 2012
May 24, 2012

Kevin C. Cox/Getty Images
With the NFL draft complete and many of the picks signing, as well as free agency basically over except for a few veterans with more name value than on-field value, now seems like a good time to go over some offseason power rankings.
Today, let's focus on a few teams that struggled during the 2011 NFL campaign and are poised to improve heading into 2012.
Tampa Bay Buccaneers
The first team I'd like to look at is the Tampa Bay Buccaneers. Sometimes, it's about addition by subtraction, and the Bucs are hoping that's the case by moving Kellen Winslow. It would be hard for that not to be the case, as multiple knee surgeries have sapped Winslow of his explosiveness, and depending on who you'd rather believe, ESPN Stats and Pro Football Focus peg 9 or 10 of Josh Freeman's 22 interceptions as balls directed at the Miami product.  
But let's not totally take away from what was a big offseason for the Bucs. The team added a legit wideout in Vincent Jackson, a mauling left guard in Carl Nicks, a starting-caliber cornerback in Eric Wright, a tailback to carry the load in Doug Martin from Boise State, a legit starting safety in Mark Barron, and Amobi Okoye to be a rotational tackle. Oh, and an authoritarian head coach in Greg Schiano, which would appear to be what the team needs after completely abandoning Raheem Morris down the stretch last year. This is a team I could see jumping further up the rankings if each of the individual pieces click just right.
Washington Redskins
Next, let's take a look at the Washington Redskins, where it begins and ends with drafting Robert Griffin III. It's hard not to love what he and Fred Davis, who claims to have his head on straight this time, could be capable of.
With Tim Hightower currently penciled in as the starting tailback, it doesn't look like it'll be a very good running offense in the nation's capital, but that's where the game is right now. It's a pass-first league, and it's not hard to see RGIII possibly having a similar effect like Cam Newton did for the Carolina Panthers last year.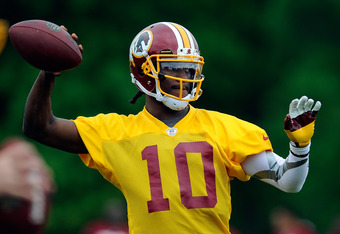 Patrick McDermott/Getty Images
On the defensive side, the Redskins took an interesting flyer on former Giants linebacker Jonathan Goff, who was part of the cataclysmic situation which saw the Giants lose a number of starting linebackers in a short span early last season. Goff is still only 26 and started every game two seasons ago for the Giants.
Minnesota Vikings
Finally, let's have a peek at the Minnesota Vikings, who have completely re-shuffled their offensive line in order to protect 2011 first-rounder Christian Ponder. At times, Ponder showed poise and moxie, moving in and out of pressure, firing on the run and tucking it down and running.
Then, after he was subjected to a fair amount of abuse, Ponder got happy feet and eventually found himself running for his life on a regular basis. By re-shuffling the line in large part due to the drafting of first-round left tackle Matt Kalil, the Vikings have committed to keeping Ponder upright. 
The Vikings also have added Jerome Simpson, Greg Childs, and Jarius Wright to a receiver corps that already included Percy Harvin, Michael Jenkins, and second-year tight end Kyle Rudolph. There should certainly be enough weapons for Ponder to get by even if Adrian Peterson isn't healthy to start the season. Toby Gerhart showed enough late last season to be leaned on for a short period of time, and Peterson has already started sprinting, but not cutting, in an effort to prove himself a quick healer. 
There isn't much to say about the defensive side. Two-down thumper Jasper Brinkley returns from a season-ending injury to take over for E.J. Henderson in the middle, while little brother Erin Henderson signed a multi-year deal after one of the better outside linebacker seasons league-wide.
Chad Greenway disappeared far too often last season, and he has a big contract. He'll need to show more this season. The defensive backfield will be drastically different too, with Harrison Smith and Robert Blanton drafted and Chris Cook being re-instated. This should be a better group, but it'd be hard to be any worse. 
With all that said, here are the overall rankings:
1. Green Bay Packers
2. New York Giants
3. New England Patriots
4. Detroit Lions
5. Pittsburgh Steelers
6. Baltimore Ravens
7. Houston Texans
8. San Francisco 49ers
9. Atlanta Falcons
10. Denver Broncos
11. New Orleans Saints
12. Kansas City Chiefs
13. Philadelphia Eagles
14. Chicago Bears
15. San Diego Chargers
16. Dallas Cowboys
17. New York Jets
18. Carolina Panthers
19. Washington Redskins
20. Cincinnati Bengals
21. Tampa Bay Buccaneers
22. Buffalo Bills
23. Tennessee Titans 
24. Seattle Seahawks
25. Arizona Cardinals
26. Minnesota Vikings
27. Oakland Raiders 
28. Cleveland Browns
29. St. Louis Rams
30. Indianapolis Colts
31. Jacksonville Jaguars
32. Miami Dolphins