Chicago Cubs: Why They Shouldn't Trade Alfonso Soriano
May 25, 2012

Bob Levey/Getty Images
I know the popular opinion is and has been for years that the Chicago Cubs need to do whatever they can do to trade Alfonso Soriano.
I think it would be a huge mistake to trade him.
Soriano has two years left on his deal after this season. He is due to make somewhere around $50 million over the remainder of his contract.
The Cubs are currently paying Carlos Zambrano and Marlon Byrd to play elsewhere. They are paying over $20 million for those two to play for Miami and Boston, respectively. If they were able to find a taker for Soriano, they would probably have to eat a large portion of the $18 million he is owed annually.
How does paying someone to play against you help your team?
In my opinion, it doesn't.
Since being traded to Boston, Byrd is batting .271, collecting 23 hits in 26 games. He had only three hits in 13 games with the Cubs.
How Zambrano is pitching hurts even more. Before his most recent start, he was 2-2 with an ERA of 1.96. Even after giving up seven runs on Wednesday, his ERA is still under three.
Unlike both Zambrano and Byrd, who were struggling when they were traded, Soriano is doing pretty well. On the season he is hitting only .257, but during the month of May he is hitting .294.
Just imagine how much worse the Cubs' 27th-ranked offense would be without Soriano. He is currently second on the team in both home runs and RBIs.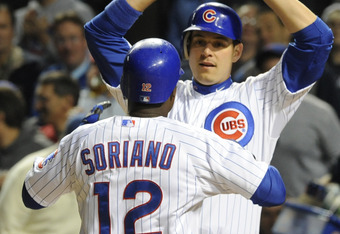 David Banks/Getty Images
Many fans have suggested that the Cubs should move first baseman Bryan LaHair to left field and call up prospect Anthony Rizzo. Why not keep Soriano and bring Rizzo up anyway?
No one knows how long LaHair will keep up his hot hitting; it appears he is already starting to cool off. After hitting .390 in April, he is only hitting .245 in May.
Do you really want to see Soriano go to the AL and catch fire?
I sure don't. I am tired of the Cubs paying people to just go away when they don't have an actual replacement for the player.
If the Cubs brain trust can find someone who is willing to pay his salary, then by all means trade him. By that I mean someone who is willing to pay at least 50 percent of his remaining contract.
What do you think Cubs' fans? Should the Cubs trade Soriano regardless of how much salary they have to eat? Sound off below.