Western Conference Finals 2012: Role Players That'll Turn Tide for Either Side
May 24, 2012

Christian Petersen/Getty Images
Defense is underrated.
How many times have you heard an ignorant sports fan say no one plays defense in the NBA? While it's true that perfect offense beats perfect defense in basketball, that doesn't mean defense doesn't play a huge role in determining a game's outcome at the professional level.
On that note, the likes of Kevin Durant, Tony Parker, Russell Westbrook, Tim Duncan, James Harden and Manu Ginobli will without doubt receive all the attention going into the 2012 Western Conference Finals. However, the impact that the San Antonio Spurs and Oklahoma City Thunder's role players will make on the series cannot be understated.
Here are the most important glue guys on each squad—pay attention to their niche. 
4. Thabo Sefolosha
Sefolosha proved that he's one of the top on-ball defenders in the NBA against the Los Angeles Lakers. Expect Scott Brooks to match him up with Manu Ginobli as much as possible. Eliminating the sixth man's ability to penetrate will go a long way to slowing the Spurs' electric offense.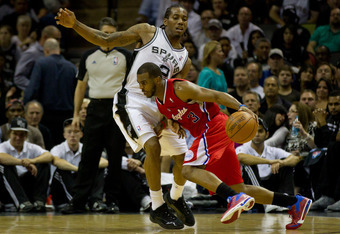 Justin Edmonds/Getty Images
3. Kawhi Leonard
According to Tim Griffin of the San Antonio News-Express, Leonard is already drawing comparisons to Bruce Bowen from Gregg Popovich.
While the rookie is the Spurs' last offensive option, he's their most important defensive player. Against Kevin Durant, he'll either solidify the Bowen comparison or fall victim to the league's top scorer.
Leonard's ability to avoid getting lit up is equally, if not more important than Tony Parker dominating offensively.
Perkins is averaging 3.9 points a game in the playoffs, so he won't make his presence felt on the offensive end. On defense, though, he's capable of changing the entire series. The 6'10", 270-pounder is the best post defender in the NBA.
If he shuts down Tim Duncan, OKC will be well on their way to victory. Despite his decline, Duncan is still a force offensively. He averaged 21 points a game against the Los Angeles Clippers—cutting that number in half would do wonders for the Thunder.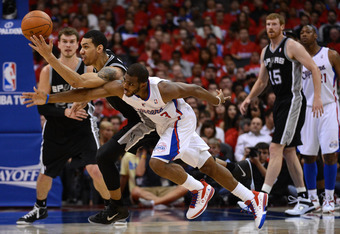 Harry How/Getty Images
1. Danny Green
Green should write a book: How to Go from Being a Scrub on the Cleveland Cavaliers to a Starter on the San Antonio Spurs for Dummies.
I'd buy it.
The former Tar Heel is the ultimate role player. He doesn't need to touch the ball on offense, but in catch-and-shoot situations, he's a lights-out shooter from deep. This postseason, he's averaging an insane 45.7 percent shooting from downtown.
On defense, he's even more valuable. He spent time on Chris Paul against the Clippers and gave CP3 fits. His success or failure in checking James Harden and Russell Westbrook makes him the series' greatest X-factor.
David Daniels is a featured columnist at Bleacher Report and a syndicated writer.