Chicago Bulls: How Bulls Can Work Some Flexibility into Their Salary-Cap State
May 25, 2012

Luxury-tax penalties ominously loom over the Chicago Bulls next season, but the Bulls can avoid cutting into their profits by readjusting their financial commitments.
Using last NBA season's luxury-tax threshold ($70.3 million) as a gauge, the Bulls have around $72.5 million spent if they bring back everyone at their current deals. 
This doesn't include Omer Asik's qualifying offer (beginning at $2.3 million), which could easily rise to the $5 million range and then signing the Bulls' eventual first-round draft pick.
If the Bulls make those additions, they will have a salary of roughly $78.2 million (a conservative proposal). Being $7.9 million into the luxury tax means owner Jerry Reinsdorf would pay the NBA $7.9 million in taxes (the new NBA CBA has a significant increasing rate for every $5 million over the luxury-tax threshold starting 2013-14).
Even though Reinsdorf said he would pay the luxury tax to bring in a player to win a championship, he has never paid the luxury tax. As a successful businessman, Reinsdorf probably isn't going to start anytime soon with Derrick Rose injured most of next year.
The Bulls, though, will make some moves to ensure they are under or not too entrenched into the luxury-tax penalty.
The Bulls have guaranteed contracts with Rose ($15.5 million), Carlos Boozer ($15 million), Luol Deng ($13.32 million), Joakim Noah ($11.05 million), Richard Hamilton ($5 million), Taj Gibson ($2.15 million) and Jimmy Butler ($1.09 million). That's roughly $63.11 million committed to seven players, which is $5 million over the cap.
Coming off the books are Brian Scalabrine ($1.35 million), John Lucas III ($947,000) and Mike James ($830,000). That's saves roughly $3.13 million.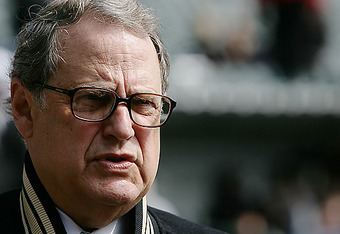 More financial flexibility can be exercised from the Bench Mob.
The Bulls have a team option with C.J. Watson ($3.7 million) and non-guaranteed contracts with Ronnie Brewer ($4.37 million, $333,000 buyout) and Kyle Korver ($5 million, $500,000 buyout). If Chicago doesn't exercise their options with these three, they will come off the books.
If the Bulls re-sign Asik at $5 million and draft a rookie for about a million, they will be at $69.11 million. The problem is the Bulls will be less than a million from the luxury tax with nine players under contract.
The Bulls would still have to get at least three veteran-minimum players (around $1.35 million each) to fill out the bench. 
To avoid going into the luxury tax, the Bulls should use their amnesty clause on Carlos Boozer (even though they probably won't as Reinsdorf still has to pay Boozer). Clearing Boozer's $15 million off the books brings the Bulls' salary to $54.11 million, which is $4 million under the cap.
That would mean spending about $16.2 million to get five players.
The bad news is the Bulls lose their mid-level exception ($5 million for up to four years, last year for this option) and will have to scale down ($2.5 million for two years).
Possible players to acquire include J.J. Hickson to start or back up Gibson, J.R. Smith as a more athletic Korver (he played for $2.5 million last year) and former Bull Kirk Hinrich coming back on a discount.
Chicago might want to bring back James and another player at the veteran's minimum.
PG- Kirk Hinrich, Mike James, Derrick Rose
SG- Richard Hamilton, J.R. Smith, Kirk Hinrich
SF- Luol Deng, Jimmy Butler, veteran minimum
PF- Taj Gibson, J.J. Hickson, rookie
C- Joakim Noah, Omer Asik
This roster would be competitive while staying under or just a couple million over the luxury tax at a dollar-for-dollar rate. 
What do you think the Bulls will do with their salary-cap predicament? What would you do? Sound off in the comments section below.
Bob Bajek is an NBA/Chicago Bulls featured columnist. He is also a freelance reporter and can be followed on Patch.com and Twitter.