Chicago White Sox: Alejandro De Aza Filling the Leadoff Spot Capably
May 25, 2012

David Banks/Getty Images
Chicago White Sox center fielder Alejandro De Aza is not a leadoff hitter in the mold of Juan Pierre. However, he has more than stepped right in for the man he replaced.
De Aza was the man as the White Sox beat Minnesota 11-8 in a wild, windy game at U.S. Cellular Field. The big blast in a six-run sixth inning came in the form of De Aza's first career grand slam.
Since mid-2011, I've advocated that Chicago use DeAza both at the top of the order and in center field. Then manager Ozzie Guillen chose to stick with his guy in Pierre, a leadoff man in the most traditional sense.
There has been a current of doubt towards batting De Aza first. He's not a prototypical top of the order hitter. He's a journeyman, not a legitimate prospect.
Right now, I could care less if he's what someone's definition of a prospect should be or not. The numbers are there.
Thursday's win gave Chicago a much-needed series victory at home heading into a big weekend set with Cleveland.
Pierre struggled mightily for the first three months before roaring back to life, finishing with a .279 average and 80 runs scored. To show how effective De Aza has been this year, let's compare his numbers in 45 games this year with the 45 games Pierre played from July 1 to August 3, when we can agree that Pierre was rolling.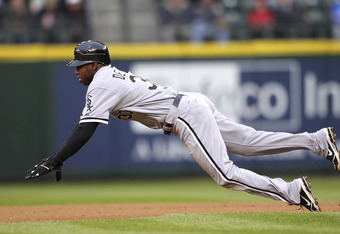 Otto Greule Jr/Getty Images
Pierre: .322 average, .362 OBP, .393 slugging percentage, 10 steals, 27 runs, 20 RBI
De Aza: .283 average, .359 OBP, .428 slugging percentage, 8 steals, 33 runs, 17 RBI
De Aza's production is right there with the numbers Pierre put up in one of his best runs with the White Sox. De Aza is also playing far better in the field than Pierre, giving the White Sox important defense up the middle.
To shed more light on this comparison, Pierre is currently hitting .299 with 13 runs, 8 RBI and six steals in 41 games with Philadelphia in 2012. Not terrible, but there's more than one way to skin a cat when it comes to setting the table.
De Aza hit .329 himself in his 54 games with Chicago in 2011. I can see him maintaining his current pace even if he doesn't make a run at .300 this season. He may not look like your father's leadoff man, but it's hard to bicker with De Aza's play at the top of the lineup so far in 2012.