Breaking Down Allen Iverson's Re-Released 'Reebok Question' Shoes
May 25, 2012

Despite the fact that former Philadelphia 76ers star Allen Iverson hasn't played in an NBA game since 2010 and is unlikely to do so ever again, there has been a lot of talk regarding AI as of late.
Rumors have circulated that "The Answer" is broke after blowing through his considerable $150 million fortune, but Peter Vescey of the New York Post is reporting that Iverson has a cool $32 million in his bank account currently.
Regardless of Iverson's financial status and off-court exploits, he is still beloved in Philly. Iverson made a surprise appearance as he delivered the game ball prior to the Sixers' 82-75, Game 6 victory over the Boston Celtics on Wednesday.
Perhaps even more surprising was that AI was sporting the iconic Reebok Question kicks. Reebok re-released the sneakers on a one-time-only basis at the stroke of midnight this morning, according to TerezOwens.com.

The Questions have already sold out on Reebok.com, but there may still be a chance to nab a pair at several shoe store locations. At $125, you shouldn't hesitate to grab a pair if you're Allen Iverson broke, but if you're actually broke, then you might want to think twice.
Wow Factor: 7.5 out of 10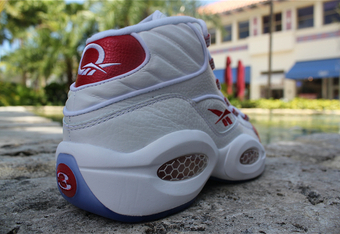 The Questions certainly provide a classic look, but they aren't exactly going to pop at first glance. The white sneaker with red and blue accents is great for any fan of the Sixers, but if your goal is to get noticed out on the street, the Questions probably aren't going to do it.
Essentially, the Questions look like a run-of-the-mill Reebok shoe. They're obviously nice and of high quality, but they don't really differentiate themselves from any other sneaker. If you're looking for a classy sneaker, then the Questions are for you, but if you're a bit flashier, then the price probably isn't worth it.
Design: 9.5 out of 10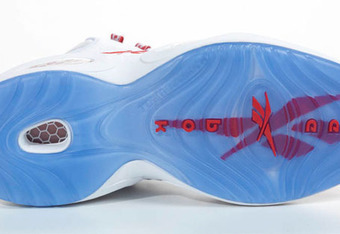 I'm the type of guy who likes a clean, simple sneaker, and the Question delivers in that area in a big way. There aren't many bells and whistles to behold, but the design is fantastic, because it ensures that the shoe is very versatile.
You can wear it with essentially any outfit, and it doubles as a basketball sneaker as well, so you'll get plenty of use out of it.
The colors are obviously representative of the 76ers' team colors, but red, white and blue are certainly iconic colors that anyone would be proud to wear. With a mostly white sneaker, red toe and blue sole, the shoe isn't too busy at all. It provides a nice, casual look, and that is certainly the type of thing that I'm interested in more than something wild and cluttered.
Overall Swag Grade: 8.5 out of 10
The simple fact that the Reebok Question is Iverson's sneaker of choice gives it a high swag grade to begin with, but when you take into account the history behind the shoe and the overall look, there is no doubt that it rates quite highly.
Perhaps it isn't the type of sneaker that will get people around you excited, but it's all about how you look and feel.
The Question isn't going to look out of place regardless of where you are or what you're wearing, and that makes it a very desirable sneaker to own. There is no doubt that the $125 price tag is steep, but if you have the extra money and the wherewithal to find these popular kicks, then you shouldn't hesitate to nab them.
Follow @MikeChiari on Twitter.