2012 NBA Free Agents: Predicting Where League's Top Role Players Will Land
May 26, 2012

Brett Deering/Getty Images
As an exciting NBA playoff season continues to heat up, the league's big stage showcases what role players with high energy coming off the bench can give your team.
What exactly defines a role player?
Oklahoma City's James Harden is the definition of a role player. He comes off the bench with energy and passion on both sides of the ball and has one common goal in mind. His goal is to run the offense often without the team's other two stars, Russell Westbrook and Kevin Durant.
Other role players have much less on their plate. Take Steve Novak, for instance. You always get high energy from him and a nose for the ball, but his one common goal is to catch and shoot the ball from the deep corner.
Let's take a look at what types of role players will be available to teams in the free agency market this season and where they could land. 
Jason Terry—Prediction: Miami Heat
Terry was much more than a role player for the Dallas Mavericks in their improbable 2011 run to an NBA Championship, but the aging guard would admit that he'll be coming off the bench in his next gig.
He's expressed interest in joining forces with the Big Three in Miami, according to Chris Tomasson of Fox Sports Florida. 
No question, they need a veteran shooter, a guy who can score besides LeBron (James) and (Dwyane Wade), and they know they can count on. I'm a guy that's been in this league 13 years, (averaging) 15 points a night, easy. Off the bench or the starting lineup, it doesn't matter. So I think I'd be an asset to them.
Well, it's obvious that Terry has been thinking about taking his talents to South Beach. Miami won't be entertaining such ideas until the season ends, but it's hard to say they have a solid bench at all times. 
This is a relatively thin team when James and Wade aren't healthy, and adding a veteran and shooting presence like Terry could help put them over the top. 
Andre Miller—Prediction: Los Angeles Lakers
Andre Miller is another example of a veteran workhorse who is understanding and ready to take a less significant position on a championship team.
After an impressive playoff performance in a grueling, seven-game series with the Lakers, Miller may be referencing the old adage: If you can't beat 'em, join 'em.
This is what he said to Christopher Dempsey of the Denver Post. 
I'll keep my options open. At this point in my career, if I'm going to be a backup, I'm going to be a backup on a championship-caliber team. Obviously, this team is a good team that's going to get to the playoffs, but the thing is if they are committed to getting to that next level to compete for that championship.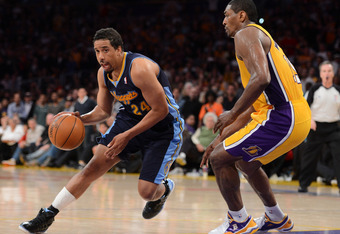 Harry How/Getty Images
The Lakers certainly are at the level of competing for a championship, but they have some missing parts. They need scoring and intensity on both sides of the ball, and Miller brings that.
Chris Kaman—Prediction: Orlando Magic
The Orlando Magic will be in desperate need for some low-post presence if they are truly set to part ways with Dwight Howard.
Kaman brings just that. He's been in the middle of a tough situation in New Orleans but is set to become an unrestricted free agent and will be eager for a new opportunity.
The Magic will certainly be able to use his scoring ability in the low post. Without Howard in 2011, they became too much of a perimeter shooting team. 
Orlando might be thin enough that they would need Kaman to start some games at center or power forward. But with the youth they should get in return for Howard, Kaman should be set to become an impact role player.