2012 Stanley Cup Finals Set: Who Will Hoist the Cup?
May 26, 2012

Stephen Dunn/Getty Images
If you say that you predicted a Devils-Kings Stanley Cup Finals at the beginning of the season or even the beginning of the playoffs, you're lying.
That's what's great about the NHL playoffs.  No one predicted this matchup.  For that reason and the fact that these are two very good, deep teams, this will be a great series.
First and foremost, the goaltending storyline is a very good one.  Martin Brodeur is a sure-fire Hall of Famer and unquestionably one of the best goaltenders of all-time.  Jonathan Quick has emerged as one of the best young, up-and-coming netminders in the league.
Does the 40-year-old Brodeur still have what it takes to capture hockey's ultimate prize for the fourth time, or is it time for him to hand the reins over to the young Vezina finalist in Quick?
This series will also feature two American-born captains who have been great leaders on and off the ice for their teams during this postseason.
Dustin Brown has probably been the Kings' most effective player, second only to Quick.  He's scoring, hitting and certainly getting under opponents' skin as he so often does. 
Zach Parise may become the league's most coveted free agent come July 1st, but right now, he dons the "C" on his Devils' sweater, and he is their leader and most important forward.
Throughout the regular season, both of these teams were very inconsistent at times, but they have seemingly pushed all the right buttons and made everything click just right in the playoffs.
After the Kings' domination of the Presidents' Trophy-winning Vancouver Canucks, I decided that I would not pick against L.A. again this season.  Although they're a No. 8 seed, Quick is on fire and gives them an edge in every game.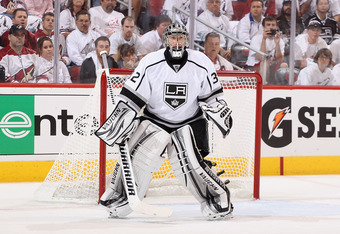 Christian Petersen/Getty Images
If L.A. does prevail, look for Quick to be an easy pick for the Conn Smythe.
The Kings are also in the midst of an NHL-record 10-consecutive road playoff wins, and they will continue their road ice advantage into New Jersey this series.
With that said, do not expect Brodeur and the Devils to go down easily.  The Kings have only lost two games over the course of three playoff series thus far.  They may be tested for the first time this postseason.
The Devils boast weapons like Parise, Ilya Kovalchuk and rookie Adam Henrique.  The Kings' offense will have to continue to produce.  Brown, Anze Kopitar, Mike Richards and Jeff Carter will be key.
My pick: Kings in six.