Will June 1 Bring News of a New WAC Eastern Division?
June 1, 2012

Streeter Lecka/Getty Images
I have decided to temporarily suspend work on my massive Bleacher Report "25 mostly western schools not widely discussed who would probably listen to WAC overtures" in order to look at what appears to be happening behind the scenes today in the WAC.
You see, June 1, 2012 could be the most important day in the WAC's history. 
Or it could be just another Friday.
What is the Importance of June 1? If comments from former WAC commissioner Karl Benson can be taken at face value, the WAC may be working at a plan to build an eastern FBS division as a means of survival as an FBS conference. (This is something I have advocated for years and championed again in a recent BleacherReport as their best remaining option).
That would certainly complete the picture based on what we know—this is the window in which the WAC has said they would be looking at expansion—and what is being tweeted by eastern reporters.
June 1 is the deadline for FCS schools to announce their intention to have 2013 be their first transitional year at the FBS level.
For WAC schools like NMSU and Idaho, that means every school that meets that deadline would count as an FBS opponent for them in 2013.  This would not only help them fill their schedules, but would also help both schools satisfying bowl eligibility requirements should they win enough games.
In general, most FBS schools fill the majority of their schedule with in-conference games. Out of conference games are usually scheduled years in advance.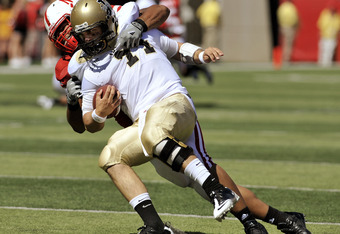 Eric Francis/Getty Images
Certainly, all of the realignment that has taken place will create scheduling openings for both schools out of conference which would not have been there normally.
However, if the WAC is still at two football playing members on June 2, it could be an additional motivation for Idaho and NMSU to offer more concessions to get into another football conference that would offer better scheduling help.
Making it easier for Idaho and NMSU in 2013 could keep those schools in the fold for the next year and make the 2013 WAC appear much more viable to eastern schools who need another year to get their ducks in a row.
In real terms, getting up to five or six football teams by June 1 for the 2013 season could dramatically improve the WAC's odds of being at eight FBS members by 2014.
One hopes the WAC and their candidate schools see the benefit in landing who they can by June 1 to build positive momentum. 
One has to think they do, but after seeing the WAC members' catastrophic decision to pass on Lamar last year because they felt they had plenty of time to seek a better candidate, so this could turn out to be just another Friday for WAC fans.
Here's hoping the WAC members passed over by other conferences have learned to take their realignment opportunities, because if nothing is done today, survival as an FBS conference could be significantly harder.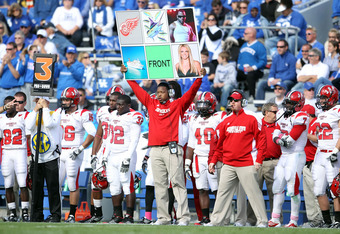 Andy Lyons/Getty Images
This editorial will be highly speculative and will delve into out and out rumors far more than most of my realignment work, due to the time sensitive nature of some of the material and the simple fact no one at the likely targeted schools is giving their local media enough on which to write a story.
To the average sports fan, the WAC appears at its darkest hour.
UT Arlington—the non-football school no WAC fan thought merited WAC inclusion—has now walked out on the conference, joining former WAC commissioner Karl Benson in the Sunbelt. 
They appear to have decided it makes more sense to play in a conference that is stable and offers cheaper travel.  It is a questionable decision on a number of levels as the Sunbelt has a proven track record of earning no media attention in Dallas/Fort Worth and is pretty poor in the one revenue sport (basketball) that UTA plays.  On the other hand, it is understandable that UTA may take the stability now rather than to yoke their future to the fanciful whims of the leadership at the University of Idaho and New Mexico State University.
(While there is clearly an element of that in play, I may be being a bit harsh with the WAC's last two football members.  It is very possible UTA simply has more loyalty to Karl Benson personally and Texas State University than the remaining WAC membership.)
Boise State appears to be trying to buy their way into the Big West with travel subsidies.
Yes, that is right. Boise State's leadership appears willing to pay a conference of basketball teams to play them who are routinely far lower ranked than the remaining WAC members, are farther away, and draw far less per game, rather than to be a good conference mate and try to help rebuild the WAC.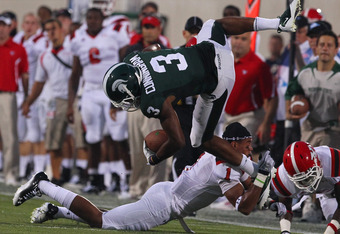 Dave Reginek/Getty Images
And really how can that surprise anyone at this point about Boise State?
They appear to be becoming an example of having more money than sense.  I mean think about it.
If you are going to pay someone to play you, why not buy your way into a good league rather than a really bad one? 
Given Boise State's history in the WAC, one has to laugh at the idea of Boise State paying Hawaii a travel subsidy to play them in basketball and the Olympic sports.
In spite of all this, as crazy as it sounds, the WAC may be about to turn the corner.
The Idaho and NMSU problem
The two disruptive elements still firmly stuck in the conference appear to be settling in to their likely paths.
The talk on forums is that Idaho has secured a football only membership into the MAC.  
This idea is a reasonable premise, as it balances the MAC divisions for football and possibly could protect the MAC's berth to one of their few bowl games, the Famous Idaho Potato Bowl.
If the offer is a done deal though, why has it not happened yet?  One wonders if the MAC is waiting until the last moment to see if they can land an eastern school instead. 
Another possibility is that the MAC and maybe even Idaho are waiting in deference to the WAC to find out if it helps the WAC more to have Idaho football or not. In general, conference members do not like orphaning schools in other conferences because in realignment, what comes around goes around.
And frankly, a stabilized WAC with Idaho could help keep the status quo with the Famous Idaho Potato Bowl without MAC schools having to travel to Moscow, Idaho. 
Travel to the University of Idaho is something no conference enjoys.  It is very possible that if there is support for adding Idaho as a football-only member to the MAC, it is not overwhelming support and that there are other options that may be preferred
NMSU hoped they could get into the Sunbelt—perhaps as a football-only pair with Idaho.  It appears that the Sunbelt schools do not see sufficient value there to merit adding the travel.  The Sunbelt is working hard to improve their brand and as such their members appear to be being very conservative and safe with their expansion choices.
It may also be that former WAC commissioner Karl Benson is not willing to whip the vote with his new conference members to make invitations happen.
Benson bluntly told the Idaho Statesman, "At this juncture, the Sun Belt shouldn't be considered a landing spot (for any school), whether it's an FCS member or an existing FBS member."
Maybe that is Benson throwing his old employee and interim WAC commissioner Jeff Hurd a bone by blessing the Sunbelt membership's conservative approach to realignment. 
Maybe it is due to the lack of appeal and quality of the Sunbelt membership.  While most FBS conferences look forward to the idea of adding a revenue generating championship game in football, perhaps the Sunbelt title game would generate relatively little money or even be a surprisingly hard sell to networks.  One would think the Sunbelt has crunched the numbers. 
It is also possible the membership feels a championship game could unnecessarily eliminate a team from post-season consideration—that is a big deal in a lousy conference.
Or perhaps the thought is that there are so few good schools in the Sunbelt that split division play would have major negative ramifications. With 10 football playing members, the Sunbelt schools would play each other yielding nine in conference games.  There are usually two or three good sunbelt teams each year. In split divisions there would be a very good chance two or even all three of the good schools would be in one division. The teams in the weaker division could push for eight in-conference games rather than nine, which the teams in the stronger division might oppose.
The bottom line appears to be that for a conference that needs as many bowl eligible teams as possible to push the narrative of conference improvement, an expansion to 12 teams doesn't make sense right now unless the two schools are very strong on the field.
One also has to wonder if there is a personal angle to it.  Maybe Benson blames NMSU and Idaho for not backing him on some key votes when he headed the WAC.  (Just looking at the results, it is very possible one or both were against the Lamar addition that would have given the league 12 members—eight FBS members.  That could have helped stabilize the WAC short term and would have reset their two year grace period in 2012, giving the league an additional year to get back to eight football playing member after future raids.  Or maybe Idaho and NMSU voted against extending Benson's contract—it is all speculation at this point. All that is clear is that neither school has the votes for readmission into the Sunbelt.)
NMSU is likely stuck.  Their football program could actually be in jeopardy.  There is a rumor from an alleged graduate assistant in the NMSU athletic program that the odds of survival of NMSU football if they go Independent was pegged by a higher up at 60-40 against.
Going independent to shed the stigma of being in a dying WAC, an option NMSU leadership want to throw around to their boosters to show that they are covering all their bases, did not appear financially viable to me for more than maybe two to four years.  The follow up posts on the linked thread seem to parallel that line of thinking.
Additionally, WAC membership does not seem to be any hindrance on NMSU's upgrade chances. NMSU appears to be getting blocked for TV reasons and very possibly for recruiting reasons. 
Given the fact that the MWC and CUSA already have presences in the Albuquerque and El Paso DMAs, it seems unlikely that they will suddenly need NMSU just because the Aggies go independent.
In my book, that makes NMSU Independence strictly a fast track to oblivion for their FBS program.
Now maybe NMSU's leadership sees that. Maybe they don't. 
It does appears there is a reason to work with Seattle and Denver to rebuild the FBS WAC.
Go East small conference!
Recently there have been a few tweets from reporters covering eastern FCS schools that the WAC is talking to them.  That suggests the reporters don't have enough on record sources to run a story, but are aware of the talks.
Leadership at Jacksonville State appears to have loosely touched on the issue with their fans, but new WAC interim commissioner Jeff Hurd appears unwilling to throw out names in an effort to try to use the media to curry booster support like former commissioner Karl Benson does in expansion efforts. 
Hurd appears to be a more traditional conference commissioner working hard to keep a lid on things until they happen.
As I mentioned earlier, Benson recently loudly hinted that the WAC may be trying to get an eastern football division going.  He mentioned schools like Georgia Southern, Appalachian State, Liberty and Jacksonville State as potential WAC members.  It makes sense that Benson would have a good insight into the WAC's plans.  
Hurd for his part did tell the Idaho Statesman,
"We're trying to move forward. We're trying to survive as a viable conference and maintain an FBS-level entity with the WAC. We're going to exhaust every possible option out there,"
To me, those quotes really sums up the WAC's plans without spelling them out.
"We're trying to survive as a viable conference..." explains Hurd talking to Cal State Bakersfield. Reporters in the Bakersfield area are pretty optimistic.  Utah Valley University is another school that seems well positioned and likely for WAC inclusion.  It seems very likely both will be admitted to the WAC with the goal of retaining the conference's automatic basketball bid.
"...And maintain an FBS-level entity with the WAC..." means Hurd is going for broke with an eastern division.  The plain facts are that with the University of Montana and Montana State unwilling to move up, none of the Big West or Big Sky FCS schools willing to break rank.  It appears that there are not five FCS schools west of Lamar willing to upgrade in the WAC's pressing timeframe.  Frankly, there may not be two.
The only avenue for the WAC to preserve their FBS status is the eastern strategy and per Hurd, " We're going to exhaust every possible option out there."
With that in mind as the current plan and the clock ticking, how do you maximize your chances?
What are the nuts and bolts of getting this done?
I think you start by selling WACs the assets, eliminating distractions, and picking the low hanging fruit.
The nuts and bolts
The reason a lot of general sports fans think the FBS side of the WAC is dead is because they look at the NCAA rules as carved in stone.
Here is the rule on moving up to the FBS level.
20.4.2.1.2 Notification/Application Requirement. The chancellor or president from a Football Championship Subdivision institution that intends to petition for reclassification to the Football Bowl Subdivision, per Bylaw 20.4.2, shall submit to the national office written notice of the institution's intention to reclassify and a completed application. The notice and application shall be received in the national office (by mail or electronic transmission) not later than June 1 two years prior to the August 1 when the institution intends to reclassify to the Football Bowl Subdivision. Any form received after June 1 shall be postmarked not later than May 25. The notice and application shall be accompanied by a $5,000 fee and a strategic plan that addresses the Division I philosophy statement (see Bylaw 20.9) and the athletics certification program operating principles (see Bylaw 22.2). If the institution fails to qualify for membership in the Football Bowl Subdivision, the application fee shall be refunded, less any expenditure for educational costs related to the reclassification process. (Adopted: 4/28/05, Revised: 3/8/06, 12/15/06, 1/15/11 effective 8/1/11)
A general follower of the games looks at that and looks at the fact only two teams are currently scheduled to play in the WAC in 2013 and says, "This means the WAC has until today to get six schools to fax in their intention to play FBS ball in 2013 otherwise their football conference will be in violation of the minimum number of teams rules in football.  There is no way the WAC survives as an FBS conference!"
Well, that's not the whole picture. The WAC in 2012 will have seven football playing members --- one below the number required to remain labelled as an FBS conference.  Currently the rules spell out that there is a 2 year grace period for the WAC to rebuild, meaning really that all the WAC has to do is have 8 football-playing, all-sports members by 2014 to retain their "FBS conference" designation.
In those terms, really all the WAC needs is 6 schools to submit their intent paperwork by June 1st, 2013.  They have a full year.
And if those teams miss the 2013 deadline? It isn't like the NCAA will dismantle the WAC or prevent their league office from coordinating and managing football.  Frankly the current rules state the WAC would still be able to invite replacements up from the FCS level at that point. 
Additionally, there is a process (albeit a lengthy one) that could allow the WAC to re-earn that designation should it be lost in 2014.
Now obviously the WAC would be immensely fragile during that period.  They would be even more susceptible to raids.  And rules changes could easily kill the conference if it gets to that, but the point is --- even if everything goes wrong  --- today the rules still offer a fair amount of time and room to maneuver.
Now there are practical reasons to get 8 football schools in place by today. How exactly will NMSU and Idaho fill their schedules in 2013 otherwise? And there is a rumor floating around that the NCAA may impose another moratorium on upgrading to the FBS level ( ---more on that in the next section.) 
Followers of realignment look at NCAA rules differently than straight sports fans. The history of rule changes suggest the NCAA rules are living rules, subject to dramatic change as needed and capable of being temporarily circumvented via very powerful waivers.
The rules do not appear to be as important as the intent behind them.
You can see this quite clearly with the minimum attendance number rules.  There are rules that should lead to schools being booted from the FBS level or prevented from moving up to the FBS level over attendance shortfalls. 
The NCAA has not enforced these rules, but they are on the books to show FCS and lower level FBS schools what is expected.
The "FBS by invitation only" rules change was clearly designed to create a clear and stable bottom floor at the FBS level.  
The three regional conferences at that level --- the WAC, MAC, and Sunbelt Conferences --- would effectively "work the FBS door" --- a job the division I leadership wants done, but a job they do not want the NCAA proper to handle.  
The rules were structured so the trio of bottom feeder conferences at the FBS level would be very selective in only promoting schools that have the assets to excel at the FBS level.  Those conferences would have a vested interest in only inviting schools that would strengthen their conferences. 
The rules were written to allow schools like Appalachian State and Georgia Southern a realistic (if slow) path to the FBS level and to make it very difficult for undersized schools with poor academics and small budgets and/or underdeveloped programs like current FBS school UL Monroe and FCS school Sam Houston State to get in at all.
The Division I leadership taking a hardline stance with the WAC over their failure to meet FBS rules would appear to be counter productive. That strategy won't help the NCAA manage their FBS upgrade problem, in fact it probably hurts the goals of the Division I leadership group in that regard.
When the rules were last updated, the Division I leadership had no idea this level of realignment would occur in the non-BCS world.  The schools that want to move up today are all near the Sunbelt & MAC footprints, but realignment at the FBS level either didn't create enough spots or actually filled what spots there were that became available in those two conferences.  The MAC may have one spot available and the Sunbelt has stated they aren't expanding.
Not being lenient with the WAC and forcing it out of business could enrage schools like Liberty who are likely to be frozen out by both eastern conferences, creating the potential for lawsuits.
Allowing an Eastern WAC division to form erases the problem of what to do about all of the legitimately promising FBS candidates frozen out by the MAC and Sunbelt.  It potentially eliminates future lawsuits. 
And due to the WAC's western division, there would remain a pathway to the FBS for western schools of sufficient football merit.
When you have career commissioner like Karl Benson saying an eastern WAC division is a workable plan, one would think there is a good chance the NCAA will bless any WAC survival plan. 
(For those who want to challenge the credibility of Karl Benson in making predictions, remember he accurately took the pulse of the Division 1 leadership group and accurately predicted they would change the rules to eliminate the 5/6/7 rule in 2011.  ...More on the retirement of the 5/6/7 rule in a second.)
What are the assets of the WAC in recruiting new members?
There are five big ones.
1) There are rumors of the NCAA implementing another moratorium on upgrades to the FBS level.
The last time it appeared that a flood of schools could be preparing to upgrade, the NCAA instituted an indefinite moratorium on upgrades in order to buy time to figure out how to control the migration. 
It takes a lot of effort to build support for a move to the FBS level.  A moratorium can easily kill the momentum a school's leadership is building for an upgrade. 
No leadership group that has reached the conclusion that the FCS is a bad business model wants to be stuck bleeding money indefinitely at the FCS level.  They do not want to be stuck with nothing to show for it due to a moratorium on upgrading.
There could be a real push by schools who want to move up to get it done as soon as possible.  They may want to avoid getting surprised by a moratorium next year.
2) The FBS is by invitation only and the WAC has at least 6 invites they are ready to give.
3) If Boise State leaves, the remaining WAC schools would be seen as fairly good peers academically.  Now obviously that will wash out a lot as fast track expansion allows schools with mediocre academics in, but the end result will still be a little more appealing than the Sunbelt.
4) The WAC's Western Division should be able to carry the water for the conference in basketball in the next few years.
NMSU is an annual NCAA tourney bubble team. 
Seattle and Denver have the potential to be the same --- Seattle due to fan support, a good local recruiting area, and an NBA arena; Denver due to a good local recruiting area and a university leadership that spends money to be good in athletics.  Idaho is annually a solid basketball member that caught lightning in a bottle a few years ago.
They are likely to be joined by CSU Bakersfield, Utah Valley University, and maybe Lamar.  CSUB and UVU have strong basketball cultures from their Division II days.  Lamar has been the only school with a strong basketball culture in the Southland for the past few decades and has a name coach who is off to a good start in Bobby Knight's son, Pat Knight.
The likely eastern candidates are not strong basketball programs. A Sunbelt membership won't fix that.  WAC affiliation could jump start a few of those eastern basketball programs.
5) Finally as counter-intuitive as this may seem, a two division WAC could offer eastern schools very manageable travel costs.  With the right number of teams and a focus on limiting travel costs, the WAC could eliminate most inter-divisional play in most sports.
Who are the distractions to be ignored?
Let's start with every school who turned down a stronger WAC.  Talking to the University of Montana or anyone in the Big Sky or Big West right now is probably a waste of time and I am sure the WAC leadership knows this.
It is very promising that the only talk between the WAC and those conferences seems to be the Big Sky commissioner trying to recruit Idaho.
The reality is if you can land a good chunk of the elite eastern FCS schools, you will effectively eliminate the appeal of the FCS for Montana.  In 4-6 years (assuming if there is another moratorium it is lifted by that point) The Montanas and the other better Big Sky schools will be begging the WAC for admission again.
Idaho is something of a distraction today, but really until you know if you max out at seven football schools from Texas eastward or only six, The WAC shouldn't push Idaho football out the door.
Holding on to Idaho football for the 2013 season only could be an advantage for the WAC if it cannot get back to 8 teams for the 2013 season.
It would help scheduling for NMSU. It could also create the impression of greater stability over the next year and of being closer to the goal of 8 football playing members.
Teams upgrading in 2013 could play in Idaho in 2013 to sweeten the deal for Idaho to hang around for a year. 
In 2014, it might make sense to talk to the University of Montana and Montana State again and if they still aren't willing to go, then the WAC could bless Idaho football's departure to the MAC. 
For Idaho making one last shot at the Montanas and helping protect their Olympic sports home could make waiting a year make sense.
Losing Idaho football in the 2014 season could be a blessing.  It is very possible that taking the horrible travel to play Idaho in football out of the WAC's offerings to eastern schools could grease the skids for a lot of eastern candidates who may take the full year to mull over the decision to play FBS football.
Who are the low hanging fruit?
One has to remember moving from FCS to FBS requires an invitation from an FBS conference. The low hanging fruit are FCS schools who have investigated moving up but haven't received the required offer.
Beyond the Big East's standing offer to Villanova, the BCS AQ conferences are not likely to invite any FCS schools into their conferences.
There is nothing to suggest the Mountain West Conference has any interest in inviting FCS upgrades into their conference. Conference USA has invited their schools.
The MAC may have a slot for one more FCS school today, but that is probably all. The Sunbelt is done with expansion for now.
The only ticket available to the FBS world today is the WAC, and the WAC is likely willing to make membership tolerable by reducing inter-divisional play to an absolute minimum.
The lowest hanging fruit are the trio of Lamar, Liberty, and Jacksonville State, IMO. 
I happen to think all 3 will be better FBS draws than the vast majority of the current membership of the Sunbelt or MAC, but they are the lowest hanging fruit none-the-less.
Lamar's leadership wants to play FBS ball.  Their loose plan was to try to start FBS play in 2013 anyway.  Lamar would probably forgive the WAC's slight at their university the last time Lamar was considered and take a WAC invite in order to get into the FBS ranks. 
Really Lamar probably cannot afford to pass on a WAC FBS invitation. 
Lamar's native DMA is fairly small which may limit their appeal to the Sunbelt, even though they do have an argument of relevance in the Houston DMA.
The Sunbelt has already added 2 Texas schools.  It is somewhat unlikely the Sunbelt would lose more than a single school in the next realignment correction.   That may be Lamar's only shot at moving up via the Sunbelt in the next 15 years. Are they a better candidate than Appalachian State?
Now if Lamar joins the WAC and the WAC doesn't work out, Lamar would have FBS status, a key advantage over any other Sunbelt replacement candidates.  WAC affiliation is only going to make Lamar basketball more appealing down the road.
It makes sense for Lamar to bite.
Liberty has a goal of becoming the evangelical equivalent of what Notre Dame is to the Catholics and what BYU is to the Mormons. Given those examples, it seems fairly reasonable that Liberty could have some success with that plan.
They make no bones about their plan calling for an FBS future.
The WAC is apparently exactly the kind of conference Liberty wants to be in. Look at this quote from Liberty Athletic Director Jeff Barber from an interview on WSET.
"Liberty is a university that is national, national in scope, national in its destiny I believe and because of that we're not limiting ourselves to a geographic region of Virginia, Pennsylvania, whatever, North Carolina."

"We're willing, and really would like to be in a national conference that would span all 50 states."
What conference spans the nation?  The WAC could and the MWC/CUSA could.  What conference would admit Liberty? Well... CUSA seems a little beyond Liberty given their attendance.  The MAC and Sunbelt probably have targets they like better.  That leaves the WAC.
The 2007 Statistical Abstract of the US estimates over 28% of the US's population identifies themselves as Evangelicals. In TV terms, Liberty would be a smart addition for a conference with a footprint that covers much of the nation.
Liberty has an enormous athletic budget for the FCS level and they already sponsor enough sports to more than satisfy FBS requirements.  Liberty is ready to jump to FBS tomorrow and appears poised to be a cheerleader in a conference a national footprint...if an invite shows up.
That kind of positivity could be very valuable to the WAC right now.
Should the WAC fail or the eastern WAC division not materialize, Liberty has the money and the assets to go independent.  There are a lot of schools Liberty could schedule.  They just need the FBS invite.
Jacksonville State expressed a desire to move up to the FBS ranks over a year ago.  They have not received an offer from an FBS conference.
The message had to have been received.  They are too far from the MAC.  The Sunbelt already has two schools in Alabama that likely do not want more in-state recruiting competition.  Troy and South Alabama are likely perfectly content to see Jacksonville State rot in the FCS for all time.
If JSU wants to move up, this will probably be their only shot until one of the Sunbelt Alabama schools gets promoted.  That could be quite a while.
Now if JSU joins the WAC and an eastern division doesn't form, JSU could end up being the class of the WAC as they have the best football culture and are in a good region for recruiting.  That could create a desire by Troy and USA to level the playing field with JSU by inviting them to the Sunbelt.
Should the WAC fail, JSU could easily fill their schedule as an independent with better games than the Sunbelt offers giving them a recruiting edge that could again force Troy and USA to reconsider the merits of excluding JSU.
I think all three of these FCS schools could be convinced to e-file their paperwork in time to play in the WAC in 2013 as their price of admission.
(There is a fourth low hanging fruit in Sam Houston State, but IMO, they aren't ripe.  Per Karl Benson in recent news reports, the leadership at SHSU is still kicking the tires on an FBS upgrade.  It seems especially likely a move to FBS will gain support at SHSU if conference mate Lamar goes --- but SHSU leaders and fans seem very much on the fence about the merits of playing FBS level.  They haven't committed mentally to an FBS future or financially to FBS facilities and budgets like the other three schools. I think if offered SHSU would want to wait until 2014 or later to start FBS play.  Additionally, this is the kind of addition ---one that has nothing proven in terms of fan support at the FCS level --- that might be seen as a negative by FBS power conferences.)
Assuming Idaho football is earmarked to join the MAC in 2013, those three gets the WAC to 4 football playing members.
On a higher branch sits Southern Conference rivals Georgia Southern and Appalachian State.
Both schools appear likely front runners for inclusion in the Sunbelt should that conference lose a few more schools, but they may be pitted against each other for a single spot should the Sunbelt lose only one school in a future realignment correction.
Appalachian State is obviously the better candidate with their larger fan base (although Georgia Southern is no slouch in that regard).  It should be noted however, that Sun Belt schools have traditionally made decisions that reflect a focus on costs and Georgia Southern would be a much smarter travel partner for Florida Atlantic.
Appalachian State is still hoping for an invite into Conference USA, but that appears to be hoping against logic.
UNC Charlotte was able to turn general goodwill towards the 49ers in CUSA (due to their former membership in the conference) into enough votes to get in ahead of Appalachian State.
UNCC is also in the Charlotte DMA.  Bringing Appalachian State to the FBS level could actually stunt the development of UNCC football.  Similar situation in other conferences in the past suggest UNCC is now likely to work to block the admission of Appalachian State.
CUSA has made their bed with UNCC football. I have to think that boat has sailed on Appalachian State.
Appalachian State realistically has to see their options as join the Sunbelt, join the WAC, or stay at the FCS level for another 4-15 years...
It is likely that both SOCON schools see the Sunbelt schools as beneath them.  Joining the WAC eastern division together protects their rivalry and gives them a great start on building a voting block they would not have in the Sunbelt.
Keeping the rivalry would protect the integrity of both football programs. The geography would work for them. The three previously mentioned WAC eastern candidates have displayed better fan support than most Sunbelt schools. The western WAC schools are much more academically prestigious than the Sunbelt membership.
If the WAC fails, both would be FBS schools drawing over 22,000 per game.  The Sunbelt or even CUSA would have an interest.
What's not to like?
Additionally, they are strong programs who would probably not fear playing a WAC schedule in 2013...but will they bite now or mull it over for a year? 
It seems like the WAC could mange the schedule to make the SOCON duo's transition in 2013 more palatable. Could they be convinced to play in the WAC with Idaho football in 2013 if Idaho agrees to travel to play each of them for that one year?
Assuming both fear the moratorium and will sign up now, that gives the WAC 6 football playing all sports members --- two to go for the big goal, but certainly a very manageable position for 2013.
(If you count Idaho for 2013, that would be 7 football schools ---exactly what NMSU and Idaho thought they would have on the schedule for 2013.)
Scraping the Bowl..
To me, this is where the WAC likely has to scrape against the bowl a little.
Youngstown State is fairly off the beaten path, but they would be a good candidate to engage.  They have discussed moving up to the FBS level for years, but the MAC appears to be against admitting them. There is a question about how much desire to move up is still present at that university.
They may have lost some luster in the past few years and may not be as appealing as Georgia Southern or Appalachian State today, but they are sill a solid candidate.
Youngstown State was an FCS national power for years, but they are right down the street from two middling MAC schools, Kent State and Akron. It is entirely likely both schools have been and will continue to block Youngstown State's admission into the MAC.
Like JSU, Youngstown State would be in a much better position to force their way in to their preferred local conference home if they were already playing at the FBS level.
Realistically, again the WAC is probably YSU's only chance to move up in the next 15 years. 
I think they would want to move up in 2014, but could be convinced to work without a net in order to avoid losing out on an invite or being hit by a potential moratorium on upgrading.
As an all sports member of the WAC, YSU could probably afford to eat the travel costs for a year until the WAC expansion completed (including bearing a trip to Idaho), but they could also join the WAC as a football only member for 2013 to save costs. YSU already has a conference home for their Olympic sports that offers relatively cheap travel.
(A football only offer to YSU in 2013 would probably require YSU to make some kind of multi-year commitment to the WAC as well as a commitment to join as an all-sports member in a year or two if needed.)
There is an optimistic seven.
Now who would be team #8?  Ideally James Madison would take that slot. JMU draws FBS sized crowds and has to see the collapse of the FCS world around them, not to mention the losses of Virginia rivals Old Dominion and Virgina Commonwealth from the Colonial Athletic Association.
They would tie the geography together nicely and create a good rivalry with nearby Liberty that could speed up Liberty's development.
But JMU could say no. And that is the rub. (There is actually a totally unsubstantiated rumour floating around that the WAC offered JMU a slot and JMU declined....Unsubstantiated but quite believable.)
JMU likes the academic reputation of the CAA. While this proposed WAC is better than the Sunbelt in that regard, this WAC isn't better than the CAA.
Additionally the MAC likely has an interest in JMU. While JMU would be an outlier in geography and culture in the MAC, it is a stable conference with some good academic schools too.
Finally JMU is not at the same "We tried to move up but there were no offers" spot as the other candidates.  JMU is at the "We expanded are stadium with FBS in mind, but we were planning on it being years from now!  Why is everything happening so quickly!?!?!" stage.
They do not appear to be at the same point in the decision making process.  That makes them an unlikely candidate to file their paperwork on June 1st.
What if JMU Says no?
Everything gets more complex.
My suspicion is that this is the hurdle holding up the creation of a WAC eastern division  --- a school that is an ideal fit and has the right attributes to succeed at the FBS level and really would deliver for this conference in particular, but is not at that point yet in their decision making process.
It really should not be a hindrance for the other schools.  The WAC plan is viable and there are no significant downsides for any of the schools..
So what if they say no?  The WAC needs 8 all-sports football playing members in short order.
Do the eastern schools want to fly to Idaho every other year or does that kill the entire eastern project? Can the inclusion of Idaho be worked around?  
Does the WAC membership and the candidate schools want to admit a project like Sam Houston State?  Do they want someone else? How long would it take to find another 8th football member?
There is still a fairly good list of reasonable eastern candidates to make the jump, but every one of them is in the same spot as JMU and Montana...mulling it over with one leg on either side of the fence.  Most of them look like 2014 additions at the earliest.
One would think the WAC has spoken to all of these schools over the last month and a half.
Florida A&M was on the verge of making the jump about a decade ago before backing out at the last minute.  FAMU would be the only historically black college or university (HBCU) playing at the FBS level if they made the jump.   That could garner both FAMU and the WAC a lot of national attention and bring in a good deal of money.
They are located on the fringe of both FCS HBCU conferences, so travel for FAMU is costly anyway they look at it.
On the negative side, that flirtation was a decade ago.  Do they still have FBS dreams? 
Eastern Kentucky is the largest school in the OVC with an enrollment of over 16,000.  They would be a good travel partner to YSU.   Their football stadium and basketball arena are right sized for WAC competition.   They are very competitive in both sports and draw fairly well.  And their cheif rival, Western Kentucky left EKU for dead in the FCS when WKU bolted for the Sunbelt.
They could be YSU's travel partner, but is there any interest?
The Citadel is a surprising option, no doubt, but could be a solid one to consider.  Does the government want a fourth military academy getting national attention via FBS football?  Considering the Citadel is located in South Carolina, there is every chance a lawmaker in the state could try to push this if an offer was on the table.  The question is the time to execute such a move. A 2014 start could be possible.
They have a WAC sized stadium in a football crazy region and are in a city that would likely support an FBS program.
Delaware is the east coast version of Montana.  I think the smart strategy is to offer them a slot and if they accept the WAC has a great addition --- a strong program at a good academic school.  If they say no, The WAC should just move on to other candidates quickly.  They are a huge potential time waster who could play the WAC and potentially kill the eastern division plan.
Villanova is a school worth talking to, but they may not be on the WAC radar as they would only be a candidate as a football only member. 
The rules today spell out 8 football playing all-sports members.  To schools like NMSU (and Idaho), flying to Villanova may be seen as wasted money.
Villanova should be on the WAC list.  Villanova has a short window of opportunity to join the Big East.  A one and done or two and done in the EWAC could be very helpful for them in shedding the FCS label that is so toxic to their Big East brethren.
If you land Villanova as a short term, football-only member you could get them in for 2013 when you are hurting for teams on the schedule. Villanova might even be willing to travel to Idaho in 2013 to get in.  In return the WAC can waive any exit fee, possibly bettering any MAC offer to Villanova on the table.
Adding Villanova potentially changes JMU's and Delaware's view of the CAA and may get the Big East looking out for the WAC.  That could have added positive benefits. 
The Big East membership could help the WAC schools a little with their scheduling and could possibly lean on Boise State to stay in the Western WAC.
Finally don't forget that the NCAA has a scheduled window to rewrite their rules every other year. Next year would be the next year of potential rules changes.
As I mentioned earlier, in 2011 the WAC was adding members and scrambling to retain their status.  They were going to be in violation of the NCAA's old continuity of membership rules which said conferences had to have 6 members who have a division I "core membership" designation who had played together for 5 years joined by a 7th core member.
The WAC was in violation of the 5/6/7 rule and as such was scheduled to lose their automatic berth to the NCAA basketball tournament.  This would put them at a severe disadvantage recruiting new members... and could potentially lead to the NCAA getting sued by WAC members.
The NCAA rules changed to make the actions of the WAC sufficient.
If all the WAC can come up with is 7 all sports football members and football only Villanova, do not be surprised if rather than getting a waiver you see some rule tweaks in 2013 that cover the WAC, just like in 2011.  It is entirely likely those conference rules see a little tweaking anyway, so why not deal with the WAC's problems in that manner again?
The rules currently allow the WAC to invite whoever they want.  If the WAC invites Appalachian State , James Madison, Liberty, and others and those schools accept, does anyone really think the NCAA is going to change the rules to disallow or delay those invites?  Of course not. 
That would cause those schools provable financial hardships for which they could not have possibly planned.  That would be like inviting a school like Liberty to sue (perhaps even alleging religious discrimination).  The NCAA wants no part of that.
If the WAC can find the right 6-7 football schools, expect the NCAA to bless this with their next rule revision and make things easier for the WAC, not harder.
The scorecard
That would give the WAC NMSU, Lamar, JSU, Appalachian State, Georgia Southern, Liberty, and Youngstown State as committed, "long term", all-sports, football-playing members.
Those seven could be joined by Idaho and Villanova in 2013 for nine in football ---a number ideal for football scheduling --- even though they would make travel more expensive in the short term.
By 2014 or 2015, Idaho football may be in the MAC and Villanova football may be in the Big East, but candidate schools having seen reasonable travel in the WAC may have JMU and others very interested in the last WAC football spot.
What about basketball?
The basketball side of the equation is actually the easy part, especially if Boise State hangs around.
To allow almost no inter-divisional play, the WAC needs 16 members playing Olympic sports.   That would yield 8 team in each division that could be paired into travel partners.  Home and home scheduling in each division would create the minimum 14 in-conference basketball games required by the NCAA.
If they went to 14 schools they would only need to play 2 games out of division in each Olympic sport. I think financially, 12 appears too small. 14 may be as few as the WAC would consider if an eastern division is in the works, but conferences do love stopping at 12 after big realignments.
Ignoring football only Villanova, the WAC has 8 fairly likely football schools (if they invite them) as well as current non-football members Boise State, Seattle, and Denver. That is potentially eleven Olympic members.
If 12 is the 2013 goal, one would guess NMSU would be the end of the Western division, joined by Seattle, Boise State, Idaho, & Denver and either CSU-Bakersfield or Utah Valley University. (Should Boise State leave, both schools would likely be in.) 
I think it would be smarter to let UVU in first, as the travel is better to Orem than Bakersfield.  I think it would be smart to require UVU to make a public commitment to start FBS  football in the next 6 years and to get rid of the NBDL team that plays in their basketball arena, the Utah Flash. If UVU fails to do one of those, the WAC would be smart to spell it out that UVU would likely lose their membership.
I think it would also be smart to try to tie full membership for CSUB to them convincing a CSU Division II non-football school (preferably San Francisco State) to move up to be CSU Bakerfield's travel partner. This would put a bit of appropriate pressure on members of the Cal State System.
It would be smart to bait CSUB with an associate membership in basketball until then, with a similar deadline in which that membership could be revoked.  The WAC has bled too much over California schools for there to be a condition-less membership offer for a future conference outlier, and a non-football playing member to boot.
The East could start with Lamar, JSU, Appalachian State, Georgia Southern, Liberty, and Youngstown State.
If 14 is the goal, retaining Boise State and adding CSUB, UVU, and an eastern school (possibly isolated Great West member New Jersey Tech) would get the WAC to 14. NJIT is a fine academic school and could develop quickly in a better athletic conference with a better footprint.
As the numbers increase, the more time it will likely take. 
If 16 is the goal, the WAC could slide Lamar west and could approach 2 promising I-AAA schools like Northern Kentucky and N. Florida, or keep Lamar in the East and approach one I-AAA school on each side. 
Northern Kentucky has a nice new arena, is in a good state for basketball, has similar travel expenses in their current conference (the Atlantic Sun Conference), and would be a solid travel partner for YSU.  North Florida likewise offers good recruiting and would be an excellent travel partner for Georgia Southern. 
It is likely that both schools have not been on the WAC radar as the conference has wrangled with the more pressing issue of football members, so this would be very short notice to approach those schools. 2014 would be a more reasonable time frame.
The University of Texas Pan American could be tolerable candidate in the west if budgetary increases in their athletic department were extracted as their price of admission. Adding them as an affiliate member in men's basketball only could be a good short term carrot that helps the WAC. 
And as I mentioned earlier, talking to Division II San Francisco State would make a lot of sense for the WAC in creating a California travel partner for CSUB, but again it may only be a realistic goal down the road.
Down the Road?  What about 2013? What is a reasonable goal to hope for today?
While I think 14 is a reasonable number for 2014 with the number going to 16 in 2016,  the short term  goal should be more modest.
I think the goal WAC fans should have in their head is to be at well over 7 all-sports members to protect the NCAA tourney bid and have 5-7 football members in 2013.
So what is a realistic scenario for WAC fans to hope to see by June 2nd?
The 2013 WAC could easily look something like this.
CSU Bakersfield***
Seattle*
Idaho
Boise State*
Utah Valley University*
Denver*
New Mexico State
Lamar
Jacksonville State
Liberty
Youngstown State**
Villanova **
* Non-football member
** Football only member
** Basketball affiliate member
One hopes the WAC might also land Appalachian State and Georgia Southern due to fears of moratorium talk to get to 12 members and potential split divisions, but failing that, this me as a manageable position and a great goal for 2013.
That would get the WAC to 9 all sports members, protecting their NCAA basketball tourney automatic bid. 
They would have 10 men's basketball teams --- an ideal total for basketball scheduling.
That would get them to 7 football members in 2013 creating a much more appealing conference for Idaho in 2013 and for on the fence eastern members to look at joining by next June.
But today may just be another Friday...
We will see what the day brings.
UPDATE: It looks like just another friday.
I found this interview with Idaho Athletic Director Rob Spear from the 22nd that I had missed while writing this article.  Spear says the following:
 "The presidents have been meeting and trying to determine a strategy for the future. I think the first question that needs to be asked is, 'Is the WAC going to try to be a football conference, or are they going to rebuild as a basketball conference?' I don't think that decision has been made."
"Well, I think we're still trying to determine what our future is going to be as a conference, and what we want to be, before we even get into looking at FCS schools to invite."

That is of 10 days ago.  I wish I had seen it before I bothered writing this one.  The potential impact of today's date seems pretty irrelevant if the WAC membership doesn't know if they want to be an FBS conference anymore. 
It seems very unlikely that the WAC would be able to pull off any of this in 10 days.
It sounds like there is a struggle for control of the direction of the WAC.  One wonders if the basketball schools are awaiting the departure of Idaho.