Froch Exposes Bute: 5th Round TKO Needs No Rematch
May 27, 2012

Scott Heavey/Getty Images
Carl Froch ended Lucian Bute's IBF super middleweight title reign with a devastating fifth round TKO in front of a raucous crowd in the Englishman's hometown of Nottingham.
Froch (29-2, 21 KOs), considered to be the underdog, applied relentless pressure and hammered Bute (30-1, 24 KOs) across the ring for the fight's duration. Froch was especially effective with right hooks and sledgehammer uppercuts, which consistently split Bute's guard.
What was even more impressive was how Froch dictated the fight's tempo with explosive bursts of fighting and a stiff jab that kept Bute at range and backed the now former champion into the ropes.
It was on the ropes that Froch inflicted sickening damage. Froch snapped Bute's head back with regularity, and any time Bute seemed to be mounting an attack, Froch simply walked through his punches. The ending was clinical and devastating as Bute sat slumped against the ropes, semi-conscious and requiring assistance to return to his corner.
Rematch clause aside, the question now begs: what next?
Bute will undoubtedly want the rematch, but the regularity with which Froch was able to hurt "Le Tombeur" makes me question whether Bute was simply exposed. If that is the case, a rematch against Froch could be a career-killer.
I'm not saying Bute was undoubtedly exposed as a paper champion, but it is certainly reasonable to speculate. However, up to this point, Bute has shown a lot of class and it would be unfair to completely write him off. As a proud and now former champion, expect Bute to look forward to the rematch, even if it becomes his undoing.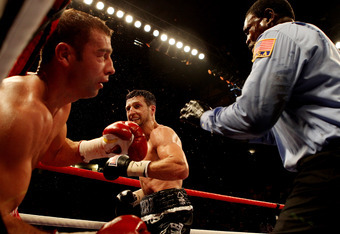 Scott Heavey/Getty Images
Bute's legs appeared weak and he did not throw his punches with conviction, which allowed Froch to land massive right hands repeatedly. Bute was unable to control the tempo and he was easily backed up, ending up trapped on the ropes and unable to clinch or turn Froch.
At this point, Bute has no other options than the rematch and possible redemption. His best way back to a world-class level is to defeat Froch and prove he had an off night. Whether Bute can do this is a whole other story.
As for Froch, this was no fluke. The Englishman was precise and devastating and his lead rights seemed to hurt Bute every time they landed. Froch was able to put together dazzling combinations, and whatever measure of hand speed advantage Bute was supposed to have seemed nothing but a myth.
As usual, Froch was able to walk through nearly every punch, and whenever Bute caught him, Froch returned fire with a more telling assault. Froch's long jab was stinging, and he appeared far fresher than he did in his lopsided defeat to Andre Ward.
Froch obviously has the rematch with Bute looming—perhaps unnecessarily so in terms of viability. If tonight was no aberration, expect Bute-Froch II to be a similar dismantling.
As the new IBF champion, Froch will have better leverage to entice Andre Ward into a rematch. Froch looked anything but lethargic against Bute, and the kind of speed and power he displayed might make a second fight with Ward more interesting.
Should Froch defeat Bute a second time—and by the looks of it, that shouldn't be too difficult—another interesting option would be moving up in weight to rematch Jean Pascal. This would be viable if Pascal defeats Tavoris Cloud and becomes the IBF light heavyweight champion. A second fight between Froch and Pascal would be huge in England or Canada.
As a Canadian, I was naturally disappointed in the outcome of Bute-Froch. I even wrote an article predicting Bute would win a decision. Ultimately, I have to give credit where credit is due, and Carl Froch boxed an absolute masterpiece tonight.