2012 New York Mets Are Exceeding Expectations so Far
May 27, 2012

Jim McIsaac/Getty Images
Even though I am a lifelong Mets fan, I owe the 2012 team an apology. Like most Mets fans, I have become accustomed to losing and to regular bad decisions from the clubs' upper management.
Sadly, the fallout from the Wilpons' involvement in the Bernie Madoff saga was just another in a long line of problems that have plagued the franchise and its fanbase. Since the Game 7 loss to the Cardinals in the 2006 NLCS, it's been nothing but misery for the fans including two consecutive late-season collapses that cost the team playoff appearances in 2007 and 2008.
As it became clear this past offseason that the Mets were not going to offer Jose Reyes the lucrative deal he deserved, all signs were pointing to more pain for Mets fans. When a team cuts ties with a home-grown fan favorite coming off a batting title in order to dump payroll, it's not a sign that the club is looking to challenge.
In fact, despite competing for the hearts and dollars of baseball fans in a city that's also home to the Yankees, the Wilpons slashed the Mets' team payroll by more than $50 million.
So as the season began, it looked as if last place was the team's destiny. Most sports reporters and baseball analysts projected the Mets to be one of the worst teams in the majors.
With almost two months of the season completed, the Mets are five games over .500 and are playing some exciting baseball. As if the Bad News Bears were playing at the major league level, this collection of cast-offs, career minor leaguers and unproven rookies have reinvigorated a fed up fanbase.
When the lineup for today's game versus San Diego was announced, my first thought was that if Johan Santana didn't pitch a shutout, the team would lose. The lineup resembled the B-team's B-team.
David Wright 3B
Lucas Duda RF
Vinny Rottino 1B
Ronny Cedeno SS
Mike Nickeas C
Johan Santana P
I am happy to say that I was totally wrong. A Scott Hairston three-run-homer and Vinny Rottino's first major league home run gave the Mets an early 4-0 lead. Santana was in total control and dominated the Padres throughout the game. 
When manager Terry Collins lifted Hairston for pinch-hitter Ike Davis in the bottom of the eighth with a man on second, I wondered why he was pinch hitting for a guy who had hit a three-run bomb? Collins must know more than I do as the slumping Davis drove in the runner with a double. Three batters later, .179 career hitter Mike Nickeas hit a grand slam with two outs, and it was 9-0 Mets.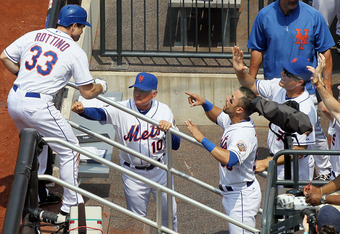 Jim McIsaac/Getty Images
Santana threw just 96 pitches for his first complete game shutout since before his shoulder surgery in 2010.
While I still don't think the 2012 Mets are going to make it to the playoffs, I owe them an apology for writing them off so easily. When you first look at the Mets' current line-up you wouldn't be wrong to wonder who the hell are these guys? When Ike Davis and Lucas Duda are team "veterans," you know you're dealing with a lot of unknowns.
This collection of cast-offs, career minor leaguers and rookies is playing with heart and intensity. It's been a perfect combination of two factors. First, with no expectations or undue pressure, the team has been able to gel and relax. Secondly, given the opportunity to play at the highest level, these young hungry players are going out to prove themselves and taking advantage of the chance they are being given.
Meanwhile veterans such as David Wright, Johan Santana and R.A. Dickey are leading by example. Each is having a great season so far and appears to be positive influences on the newer players.
No matter where the 2012 New York Mets finish in the standings, this team with no expectations has made me a believer. Of course, ultimately, all fans want their team to win championships. Sometimes, however, just supporting a team that plays hard and gives its all every game is enough. This current crop of Mets is doing just that.