Lakers Trade Rumors: Can the Lakers Get Bigger, Faster and Deeper?
May 27, 2012
Stephen Dunn/Getty Images
Kobe Bryant has a lot of tread on his legs and Andrew Bynum is an inconsistent, but dominant center that is the biggest catch of Laker VP Jim Buss.  Both are the faces of this team, past and present.  However, the current window is closing on this reputable franchise.
Laker GM Mitch Kupchak needs to rebuild the roster on the fly, but he does not have many chips in play.  As most successful GMs think, it is better to get rid of a player one year too early than a year too late.  The Lakers chose too late with Pau Gasol.
Besides a Bynum trade for Magic center Dwight Howard, Gasol is the only valuable commodity on the Laker roster. Gasol was rumored to be part of a package for the second pick in last year's draft.  He was part of the blockbuster trade for Chris Paul that was eventually denied by the commissioner.
In order for the Lakers to restore their luster, they need to add youth and speed.  Besides their Big 3 headed by Kobe, they have a mishmash of players, none of whom is considered a superstar or even a potential superstar. 
So, that brings us back to Gasol.  Is there still a market for him? Can the Lakers still ask for prime talent in return for the star?  The Lakers best option would be to give Houston a call to pry Kyle Lowry and Luis Scola from their roster, like they had done until David Stern reversed the trade.
The good news for Laker fan is that Pau got over it quickly, unlike Lamar Odom, the other player involved in that trade.  The bad news is that Pau was embarrassed with his play in the NBA second-round loss vs. the OKC Thunder.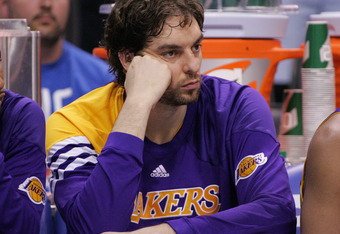 Brett Deering/Getty Images
Kyle Lowry wants out of Houston and publicly has said so. A trade of Pau, G Steve Blake, and PF Josh McRoberts (expiring contract) for Lowry, PF Luis Scola, and SG Kevin Martin could help the Lakers immediately and would give the Lakers an extra trade piece with Martin.
Lowry would be an instantaneous upgrade at point where he could play opposite Kobe and fill the Lakers' biggest hole.  Scola would be a good replacement for Pau and give the Lakers the needed toughness and energy inside.
Philadelphia SF Andre Iguodala is another possibility, as the 28-year-old would be an excellent fit for the Lakers and it would resolve their issues at small forward.
The other direction the Lakers could go would be to trade Pau for a high pick in this year's deep draft.  The Lakers would then have to target someone in free agency like restricted free agent PF Michael Beasley or unrestricted PF Ersan Ilyasova.
Other free agent possibilities on the Lakers radar are guards Deron Williams, who will be pressed hard by his hometown Dallas Mavericks, Steve Nash, Andre Miller or Jason Terry.  Having an experienced point guard to run the show will no doubt help Kobe, but the Lakers also have to stay within the salary cap.
At the center position, the only way VP Jim Buss will get rid of Bynum is if he acquires Dwight Howard.  Dwight Howard is coming off a herniated disk injury and should be at 100 percent by the start of next season.  Howard has said he would come to Los Angeles, but is Buss willing to trade Bynum?
Getting the best big man in the NBA who now carries a lot of baggage vs. a dominant, but very immature center is the question.  Only Jim Buss knows what will happen.
The Lakers also have to make decisions on which pending free agents to keep out of Ramon Sessions, Matt Barnes, Troy Murphy and Devin Ebanks. Ebanks is a no-brainer and the Sessions decision will mostly be answered by the moves the Lakers make.
Kobe Bryant is still one of the premier players in the league.  If he wants to have his walk off moment like Michael Jordan's jumper vs. the Jazz in the NBA Finals, Kupchak will need to provide the supporting players that support his style of play.
Laker brass must make the right decisions and do it fast, because Laker fans don't want to be rooting for the second-best tenant in the building.