Tiger Woods: When Will the Roars Return?
May 27, 2012

Harry How/Getty Images
It's curious how roars of sheer adrenaline can so quickly shift to soundless shock. Such is the story of Tiger Woods and the fickle sports fan.
I've rooted for Tiger since he was a lanky, swift-swinging amateur torpedoing through fields of what were supposedly the world's best young golfers. When his stardom finally hit the pro circuit, I watched vigorously as both a fan and student of the sport. Unlike any other player, Woods rewarded my tuning in with a palpable presence, as if I were within just a few feet of his piercing drives, crisp iron shots and silky-smooth putts.
He rapidly rose into the public eye as a symbol of the next generation, an athlete—not just a golfer—built on advancements in technology, physical prowess and psychological durability. His legend was already being written and praised by golf experts like Rick Reilly in Sports Illustrated and Tim Rosaforte, who published a book called Tiger Woods: The Making of a Champion in 1997 after Woods won his first Masters at just 21 years old, the youngest winner of the Masters in the championship's history.  
Even from the coziest cushion of the couch, Woods had the rare gift of captivating fans to the point of clinging to our seat's edge, awed by the presence of greatness.
It wasn't as simple as hitting a remarkable shot—like one behind a tree that starts as a low dart under lazily hanging branches and then whips around a corner to within a few feet of the flag stick, as if on command. More so, it was the regularity with which Woods performed and caused us—golf commentators, golf greats, ESPN hosts, golf fans and haters alike—to turn to one another incredulously and say, "Did you f****** see that!"
This wasn't Michael Jordan leaping from the free-throw line for a gravity-defying dunk or Derek Jeter sprinting to his left and throwing across his body to nail runners from the edge of the outfield. But it sure as heck wasn't golf, or at least golf as we knew it. The sleep aid. The perpetual leisure activity of the white, 60 years and up, privileged upper-class.
This was gritty and tough and grueling. Woods showed us how golf required all your physical and mental concentration to align for that transient moment that is a single swing.
It was a defining moment, the rewriting of a sport's narrative by a single, dominating figure and at an unbelievably fast pace.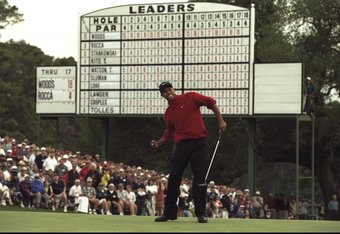 Stephen Munday/Getty Images
The golf course had always seemed a serene setting, with its verdant, tree-lined fairways. But once Woods put on his game face, he resembled a Zeus-like giant more than a tranquil Buddha. He exuded unparalleled power, whirling thunderbolts with aggression and unmistakable purpose.
The secret to golf (though hardly a secret) is to make your swing as repeatable as possible. Tiger was the blueprint. Not only had he memorized every intricate action of his swing, but he'd also trained his mind to perceive any changes in conditions that would warrant the slightest of alterations to his swing.
For instance, when he needed to shape a shot from left to right for a pin tucked in the back corner of a treacherous two-tiered green with water behind it and sand in front of it, he was the pure embodiment of control.
One of my personal favorite pastimes of Tiger is when just moments after striking a golf shot, he'd hand his caddy his club and start walking toward the hole before the ball had even reached its highest point in the air. How? Why?
He knew—like a chef knows just when to take his masterpiece out of the oven—that it was perfect. 
In retrospect, it was his pathological resilience—reminiscent of a Jordan, Gretzky, Mantle or Pele—that cast him as truly a once-in-a-lifetime player. We witnessed history, and the records will forever prove it, since Woods has pretty much broken nearly every last one.
According to the Official World Golf Rankings, Woods has been ranked World No. 1 for the most consecutive weeks (264) and for the greatest total number of weeks of any other golfer (623). PGA Tour Player of the Year a record 10 times, the Byron Nelson Award (for lowest adjusted scoring average) a record eight times, money leader in nine different seasons, the youngest and fastest to win 50 tournaments on tour, and how could we forget the youngest player to achieve the career Grand Slam?
Since the scandal involving his infidelity in 2009, Woods' plummet has been well documented and simply dreadful to watch.
The fluid motion and shatterproof confidence that his competitors envied to no end has been dismantled. A path once so clear for Woods now appears muddled with unending obstacles.
Watching Woods toil over his every shot reminds me of that dreadful feeling of utter confusion in geometry class, attempting to decipher the intricacies of various angles, lines, points, surfaces and dimensions. No matter how hard he tries, it appears everything is at once obtuse, acute, adjacent and inverted. Woods is unable to correctly arrange the proper parts of the whole.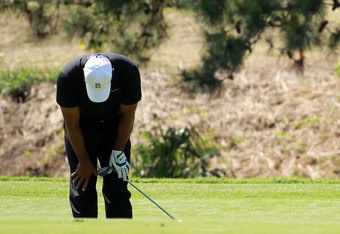 Andy Lyons/Getty Images
Identifying Woods' central problem has cast casual sports fans and golf experts alike across the spectrum. He's too rigid or he's too in his own head. Either his injuries are lingering or his workouts have become too taxing.
From my perspective, dissecting individual elements of his game, such as his technique or putting stroke, is simply pointless. The guy rewrote golf's history books in less than a decade, so I think he knows where his club belongs at the top of his swing. I prefer assessing the entirety of his game, mental and physical.
I believe that he's lost his ability to bridge the gap between study and sensibility. He can't locate the middle ground of mechanical prowess and pure, athletic touch. Science and art.
It's completely evaded him.
His victory at the Bay Hill Invitational in March was his first official victory in over 30 months, but based on his inconsistency since that event (two T40's and a MC), doesn't it just feel like that may have been a poor week for everybody else in the field and, dare I say, a lucky one for Woods?
Also, let's clarify: Of course he was the favorite going into the Masters; it was the week after Bay Hill, so there was assumed momentum, not to mention he'd won that major four times and finished in the top 10 at Augusta an impressive 18 times. We've been trained to be believe that majors are to Tiger what NBA championships were to Jordan—his time to shine. Fourteen majors in less than a decade will create that kind of aura around a player.
But his pace to catch Jack Nicklaus' 18 majors hasn't just slowed down, it's hit a roadblock. He hasn't won a major since 2008 at the U.S. Open at Torrey Pines—remember the whole one-leg thing? There's no denying that moment's prolific place in sports history, human persistence at its most extraordinary. But it's also bizarre to imagine that the U.S. Open victory may be his last major championship ever. Will it?
Today, there's hardly any expectation for him to win, as the public has learned to find joy in Woods' small victories—like making the cut.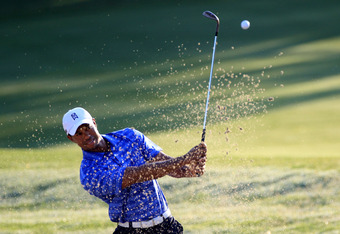 Sam Greenwood/Getty Images
Woods' most loyal fans believe his cold-blooded grit and determination is enough to reroute his course.
I don't believe it is.
The competition is better than it's ever been in Woods' career. It's not just Vijay and Phil who are putting the pressure on, but an international cascade of players like Rory McIlroy, Luke Donald, Adam Scott and even Rickie Fowler. Not to mention out-of-the-blue guys like Jason Dufner and Keegan Bradley.
With Woods' weaknesses exposed, his celebrity doesn't carry the same brutish intimidation. There's denying that he remains one of the most devoted and competitive golfers in the world today, but it's also foolish to assume he's the same all-around giant on the golf course he once was. Get a grip—Woods will never be the player he was.
There's no such thing as a "guarantee" or "certainty" in sports, but Tiger Woods came as close as an athlete could. The perennial favorite no matter the course, conditions or competition.
The flip side of that coin is that unfortunately for Woods, the roars that once followed his thunderous fist pumps across his rousing, Sunday red Nike shirts have been replaced by a sad and beseeching expression. Sometimes 18 holes of it.
If you thought this was purely a golfer's dilemma, guess again. It's the harsh reality of transition, and of sports.