SEC Baseball Tournament 2012: Top MLB Prospects Boosting Their Draft Stock
May 27, 2012

Ronald Martinez/Getty Images
LSU starting pitcher Kevin Gausman is one of several top MLB prospects boosting his draft stock during SEC Tournament play this month.
With this being the last opportunity for many players to impress pro scouts before the 2012 MLB Draft on June 4, the pressure is on the elite prospects to perform to their highest ability in these tournament games
Let's look at three prospects boosting their draft stock in the SEC.
Kevin Gausman, RHP, LSU
The Tigers' talented starting pitcher came up big in the team's win over the Mississippi State Bulldogs on Friday.
Gausman's composure was fantastic in the 11-2 victory, and he proved why many consider him a top five pick in this year's draft.
Two teams in the top five that could certainly use a starter of his quality are the Houston Astros and Baltimore Orioles, and you can bet both teams liked what they saw from Gausman on Friday.
LSU was a very difficult team to beat this season when Gausman was on the mound.
Mike Zunino, C, Florida
Gators catcher Mike Zunino has shown how talented of a hitter he is in the SEC tournament. Even though Florida was eliminated from the tournament by Vanderbilt on Saturday, Zunino performed to expectations.
Zunino went 2-5 with two runs scored against the Commodores, which followed a 1-3 performance against South Carolina the day before in which he scored twice and drove in three runs.
Catchers who can consistently swing the bat well are very valuable in the MLB, so Zunino really helped his draft stock with an impressive SEC Tournament showing.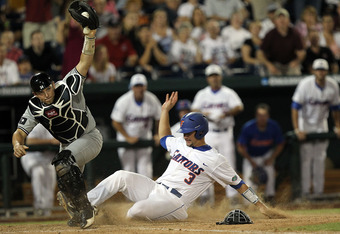 Ronald Martinez/Getty Images
Chris Stratton, RHP, Mississippi State
Bulldogs starting pitcher Chris Stratton pitched very well in his only SEC Tournament appearance this year against LSU.
He went six innings and struck out eight while giving up just two walks. Against a very talented Tigers lineup, Stratton only allowed two earned runs and picked up the win after his team was able to hold on to a 3-2 lead.
Stratton improved his record to 11-1 on the season, and showed why he's worthy of a first-round selection in this year's draft after a stellar year in the SEC.