NBA Rumors: Why Orlando Magic Were Foolish to Think Dwight Howard Would Stay
May 28, 2012

Mike Ehrmann/Getty Images
Earlier this week, the Orlando Magic rid themselves of coach Stan Van Gundy and GM Otis Smith. Many believe their actions were a way to appease disgruntled star Dwight Howard, who is still recovering from herniated disk surgery.
If those were the organization's intentions, then their attempts fell flat, as Howard wants out of Orlando more than ever, according to SheridanHoops.com.
But, did the Magic really have a chance from the beginning to retain their franchise cornerstone?
After all, the 6'11" behemoth has asked numerous times for a trade to ship him to one of his preferred destinations. Obviously, his efforts, thus far, have been to no avail, but it wouldn't come as a surprise to see a deal come to fruition this offseason.
While releasing Van Gundy from his position and Smith's decision to step down from GM have immensely helped the franchise's chances in the Howard sweepstakes, as there are a plethora of reports stating gripes between the parties, it doesn't fully guarantee Howard will stay.
Since the beginning of Howard's uneasiness in the city that drafted him in 2004, which started right after Orlando's magical NBA Finals run in 2009, the former first overall pick has complained persistently about the supporting cast around him.
He did not grumble about GM Otis Smith or coach Stan Van Gundy, both of whom he has never bashed to the media, but the roster that surrounds him, something Orlando's brass has yet to address.
It has become painfully obvious that Orlando needs an infusion of talent and youth on this shallow depth chart. Besides point guard Jameer Nelson, sharpshooter J.J. Redick, Most Improved Player of the Year recipient Ryan Anderson and the aforementioned Howard, there are no players on the team that are neither overpaid or dispensable.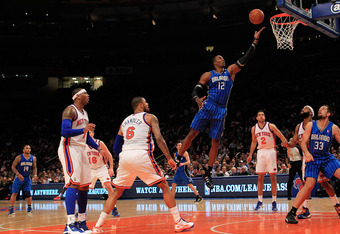 Chris Trotman/Getty Images
But, even the trio of Anderson, Nelson and Redick will not keep the All-NBA talent pleased, as the perennial All-Star desires a true second star, or sidekick, to play alongside.
Sure, the Orlando Magic have tried to grant Howard's wishes, as the team obtained Gilbert Arenas, Vince Carter and Rashard Lewis to fill that role. However, each of these three acquisitions failed in living up to the hype.
In addition, not only were they receiving a tremendous amount of money for their services, but they were each on the early downslide of their respective careers. 
If there is one reason, however, that the Magic will never convince Howard to stay with Orlando, it is the unfortunate fact that O-Town is quite simply a small market without much national exposure.
It is no coincidence that the teams Howard is intrigued with (Boston, Los Angeles, Dallas, New York and Brooklyn) all reside in gargantuan cities.
Throughout this process, Howard has always denied any financial motive behind his reasoning, but why wouldn't he want to go to the Bulls, a team notably absent from the list. They possess the league's brightest facilitator, incredible depth and a fantastic coach in Tom Thibodeau.
Well, according to Slamonline.com, Howard is not interested in teaming with the crafty, young point guard. But, it isn't for basketball reasons. Instead, Adidas, who sponsors both Rose and Howard, doesn't want to see their two main NBA spokesmen in the same market.
In the end, Orlando, despite their willingness to make changes, have no shot at maintaining their star. Not only is his mind obviously already made up, but they addressed the wrong issue.
The team should have made a splash with a blockbuster trade or signing. In addition, the financial aspect of the ordeal doesn't help the Magic's case.
Sorry Orlando, but Howard's last game in Blue and White may have already passed.