Breaking Down Training Camp Battle: How Should Competition Be Evaluated?
May 29, 2012
Gregory Shamus/Getty Images
The 2012 NFL season is primed to display one of the most robust draft classes in recent memory, but until training camps conclude, it's unclear just how many rookie superstars-to-be can beat out the competition to earn a starting role.
When training camps kick off during the latter part of July, players will engage in all-out war to prove their worth on the field.
But while players will face fierce and emotionally-charged position battles this summer, not all of them will get a fair fight. Some of the hype leading up to training camp is pure semantics.
In Cleveland, for example, the Browns have proclaimed that there will be an "open competition" for the starting quarterback spot between first-round draft pick Brandon Weeden, former starter Colt McCoy and backup Seneca Wallace.
But general manager Tom Heckert practically guaranteed that Weeden will be starting under center in the season opener against the Philadelphia Eagles this September.
Likewise, a veteran's popularity could make the player the unequivocal favorite for a starting role over any promising rookie, despite aging or performance decline.
Although not all position battles are created equal, here's what should matter for coaches when sizing up players during training camp.
1. Experience and Leadership
Experience obviously favors veterans when it comes to training camp, and they deserve to have this edge over their competition.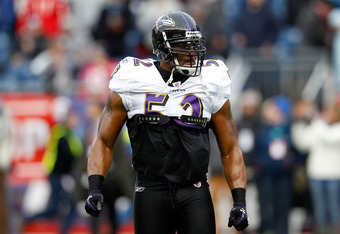 Rob Carr/Getty Images
Vets not only boast extensive NFL experience, but many are widely respected and have emerged as leaders.
History matters when you're asking guys to come up big in a fourth-down situation or to execute a two minute drill in the fourth quarter.
Of course, players who do have game day experience could actually be tethered by a poor last season performance.
And young players do still stand a chance even if they don't have quite the same resume as their veteran counterparts.
In some cases, sophomores got an unexpected amount of playing time in the previous season and performed well. These players can make a case against the incumbent competition.
This is the story in Dallas where a training camp battle will ensue between running backs DeMarco Murray and Felix Jones.
Murray can ride the momentum of his 2011 breakout to potentially shore up the starting role.
But young players without any NFL playing time can also make a case for their "experience" if they can display level-headedness and leadership during training camp.
Some 2012 rookies have already emerged as leaders this spring.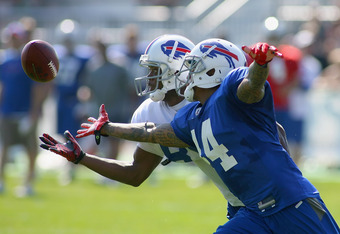 Rick Stewart/Getty Images
For example, Washington Redskins linebacker London Fletcher noted that he "could already see...maturity [and] leadership" qualities in quarterback Robert Griffin III.
RG3 may be a slated starter, but other rookies who possess leadership skills and command respect can raise their stock at training camp.
Rookies can also mimic the experience of veterans in how they handle a bad day or poor performance. 
When a rookie makes a host of mistakes one day, coaches should pay close attention to that player at the next practice.
If the player returns calm and confident and avoids making the same mistakes, that should earn points toward a feature role. But a player who returns flustered and unraveled is probably not mature enough to start.
2. Conditioning and Skills

Players locked in training camp battle should also be evaluated on conditioning and skill level.
Rookies who work themselves into tip-top shape during the offseason could gain an edge against players who may be older or slowed by latent injury.
But only veterans are familiar with the lightning pace of professional football, and most vets will show up to training camp equipped to play at NFL speeds.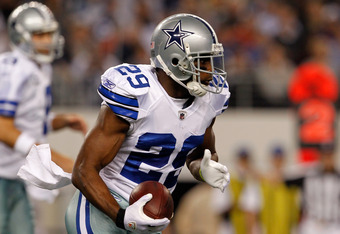 Tom Pennington/Getty Images
Training camp can expose whether a rookie actually has the physical ability to compete on an elite level.
A newbie who missteps a route or can't find the ball over his shoulder can usually learn these skills in time.
But a rookie who simply gets outgunned or overpowered on every play probably doesn't possess the physical aptitude to compete and will struggle to make the roster.
Of course, skills like sure hands and quick feet are important when evaluating talent as well.
3. Football IQ
Football IQ matters when ranking players, and team veterans who know the playbook have an advantage over rookies.
A young gun may be the fastest, biggest, meanest, most athletic guy on the field, but if he doesn't know how and where to shift before a snap or if he can't anticipate and drop into coverage, he's not going to be able to produce like his veteran counterparts.
For rookies who want to unseat the competition, extensive playbook study is key.
4. Chemistry
With first- and second-squad players swapping in and out between plays, coaches should carefully follow which players work best together.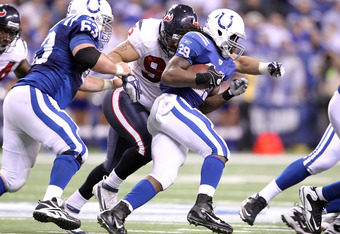 Andy Lyons/Getty Images
In the running back contest between Felix Jones and DeMarco Murray, for example, some fans are clamoring for Murray to win the feature-back role in Dallas.
But as SBNation points out, Murray's 2011 performance seemed to rise and fall in tandem with Tony Fiammetta's presence on the field.
While this could be purely coincidental, it's likely that these two had good chemistry in the Cowboys' system.
In addition to isolating individual talent, coaches must also search for successful pairings to create game-day packages.
5. A Team's Stage in its Lifecycle
When evaluating talent, coaches should also consider the context of their team.
If your starting core is aging, it could be advantageous to start a young player over a veteran when the camp competition between the two is close.
Likewise, a veteran's stock should rise when a roster spot is overrun by youth.
This will likely be the case at running back in New England where veteran back Joseph Addai may take on more responsibility than he could on another team simply because the Pats' backfield is so young.
In a rebuilding situation, it could pay dividends for a coach to take a risk.
The Miami Dolphins, for example, enter this season having traded their No. 1 receiver, Brandon Marshall, to the Chicago Bears.
While this is a huge drawback for a team still lacking a franchise quarterback, it could also create an opportunity for head coach Joe Philbin to get creative coming out of camp.