NASCAR: Kasey Kahne's Charlotte Victory Foreshadows Potential Chase Run
May 28, 2012

Jerry Markland/Getty Images
It only took 12 races for Kasey Kahne to take his first victory for Hendrick Motorsports in the Sprint Cup Series. But to the 32-year-old native of Enumclaw, Washington, those 12 races must have felt like an eternity.
Kahne won Sunday's Coca-Cola 600—his third victory in the sport's longest race and fourth victory at the Charlotte Motor Speedway. The victory marked his sixth consecutive top-10 finish, elevating him to a season-high 15th in points and helping cement a turnaround in what had started out as a disastrous 2012 season.
The next goal? Building off of that momentum to make it into the Chase for the Sprint Cup.
After spending a year in a holding pattern with Team Red Bull, Kahne finally joined the powerhouse organization in its famed No. 5 Chevrolet with new sponsorship from Farmers Insurance. He'd bring along crew chief Kenny Francis, with whom he had won 11 of his 12 career Cup races.
But the new ride would come with a ton of pressure. Kahne had signed his Hendrick deal in the middle of 2010, leaving fans and the media to speculate for a year and a half about how the partnership would fare. Worse, Hendrick would enter the 2012 season sitting on 199 victories, and some felt that Kahne, having won in 2011's penultimate round at Phoenix, might give them the best opportunity to produce their highly anticipated 200th win.
The hope was that the Kahne-Francis pairing would produce a championship-caliber team immediately. The reality was anything but.
The first six races of the season were an absolute disaster for Kahne, who failed to finish better than 14th or lead any laps despite winning two poles. Kahne fell to as low as 32nd in points at Bristol, and a potential turnaround performance at Martinsville came to an early end when his engine let go.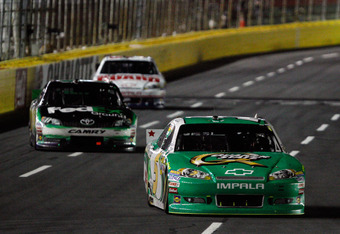 Chris Graythen/Getty Images
Things finally started to come together at Texas, however, when Kahne scored a seventh place finish. The next day, he scored a confidence-boosting Camping World Truck Series win in NASCAR's return to Rockingham Speedway.
And so the turnaround began. Since that weekend, he hasn't finished worse than eighth in a Sprint Cup event. He broke into the top five for the first time with a fifth place run at Richmond, and led his first laps of the season at Talladega. And with Hendrick's 200th win out of the way (Jimmie Johnson added it at Darlington), and most attention on Johnson and Earnhardt Jr. after strong All-Star performances, the pressure was off of Kahne on Sunday.
Kahne started seventh at Charlotte, but his car began picking up the pace as the race transitioned from day to night. He took the lead for the first time on lap 220, and as the night went on, began challenging Greg Biffle's dominant Ford. On lap 316, Kahne began trading the lead with Biffle before the fifth caution of the night flew. After the caution, he took the lead from Denny Hamlin on lap 333 and held it for the rest of the race, save for the final segment of green flag pit stops.
Now that Kahne has the first-win monkey off of his back, he can focus on this season's primary goal of putting his team in championship contention. He's currently 42 points behind 10th place, the cutoff for a guaranteed Chase position, meaning that he'll have to focus on wins to get into one of the two final spots. Right now, Brad Keselowski and Ryan Newman rank ahead of him for those spots, but one more win would put him into the Chase.
After the first two months of the season, just being there is an incredible turnaround.  And judging by the way the past two months have gone, it's not the last time we'll see Kasey Kahne in the winner's circle, either.
Pretty soon, the competition may have some chasing of their own to do.
Christopher Leone is a featured NASCAR columnist for Bleacher Report. View a comprehensive archive of his work here. Follow him on Twitter at @christopherlion.