Miami Heat, Not San Antonio Spurs, Should Be NBA Finals Favorites
May 29, 2012
Typically, NBA title contenders are built around big men. Typically, teams win rings with solid balance and decent depth off the bench to complement two or three star players at the core. Typically, the loss of a squad's third-best player is an insurmountable obstacle in any championship chase.
All of which means the San Antonio Spurs are taking home their fifth Larry O'Brien Trophy next month. Right?
Not before the Miami Heat have their say.
The Heat are anything but your typical contender, yet they've managed to make the Eastern Conference finals and take a 1-0 series lead over the Boston Celtics anyway.
Miami's two most important players aren't pivots—they're wings. Putting LeBron James and Dwyane Wade in the post won't change that.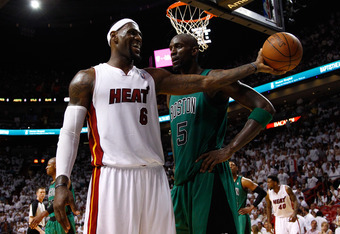 Mike Ehrmann/Getty Images
The Heat's bench produced all of 14 points on Monday night, not including the two credited to Juwan Howard during garbage time of their 93-79 win over the C's.
Their third-best player, Chris Bosh, hasn't so much as donned a jersey since Game 1 of the Eastern Conference semifinals against the Indiana Pacers, when he left with a lower abdominal strain.
And yet, what the Heat do have (i.e. two transcendent superstars carrying a cast of misfits and AARP cardholders) has been more than enough to put them in position to make it two-for-two in NBA Finals appearances since Pat Riley summoned the Super Friends to South Beach.
LeBron was his usual, spectacular self against the C's at AmericanAirlines Arena. He stuffed the stat sheet with 32 points (13 in the first quarter), 13 rebounds, three assists, three blocks and a steal, all while pestering Paul Pierce into a 5-for-18 shooting night. Wade was similarly scintillating, with 22 points, seven assists, three rebounds, two blocks and a steal to go along with the job he did on Ray Allen (1-of-7 for six points).
Whatever Erik Spoelstra squeezed out of the rest of his roster was gravy, and plenty of it. Shane Battier, the 33-year-old fogie who could only scrape together 4.8 points and 2.4 rebounds per game during the regular season, came up with a double-double (10 points, 10 rebounds) and chipped in a couple assists, a couple blocks and a steal. Mike Miller, the 32-year-old sharpshooter who couldn't stay healthy long enough to shoot straight, poured in two threes and eight points off the bench.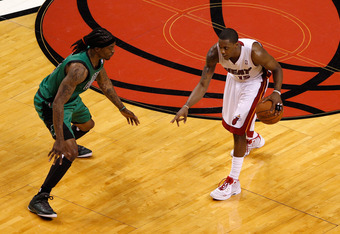 J. Meric/Getty Images
And Mario Chalmers, who often gets guff just for being Mario Chalmers, poured in nine points, five rebounds, four assists and a block of his own for good measure.
So, how is it, then, that a two-man team can move within three wins of the NBA Finals, and within seven of claiming the crown, without consistent offensive contributions from its supporting cast?
For one, it helps that those two men in question happen to be two of the best basketball players on the planet. 'Bron 'Bron boasted 30 points, 10.8 rebounds, 6.2 assists and 2.7 steals against Indy in the last round, while D-Wade danced his way to 26.2 points, 5.5 rebounds and 3.3 assists in that very same series.
Whenever you have the two best players on the floor at any given time, regardless of who else is playing you're going to have a great chance to win, just as the Heat do. Ask the Chicago Bulls how well it worked for them when Michael Jordan and Scottie Pippen were busy destroying all comers in the '90s.
More importantly, it helps that those two—and everyone else on the team—know how to (and do) play some of the best defense in the league. Miami hasn't been a top-five team in field-goal defense over the last two seasons out of sheer luck and guile. These guys get out and defend as well as any group out there.
Does it help to have two of the best perimeter defenders (LeBron and Wade) locking up opposing wings? Of course it does.
Mike Ehrmann/Getty Images
But they can't do it all by themselves, and they don't. To rack up 11 blocks and dominate the boards against a veteran team like the C's without playing anyone taller than 6'10" requires a keen, team-wide understanding of a defensive system and a focus, a belief and a desire from every player who takes the floor to do his job within that system at a high level.
It's those two factors—star power and suffocating team defense—that give the Heat a leg up on the Celtics. And they will do the same in the NBA Finals, be it against the Spurs or the Oklahoma City Thunder.
Throw Chris Bosh back into the mix at some point, and Miami's chances of trudging to the title can only improve. Say what you want about Bosh's toughness (or lack thereof) or his ability to play in the post (or lack thereof), but the guy's still an All-Star who's capable of sharing the burden that LeBron and Wade have borne thus far, especially when healthy.
OKC's Big Three of Kevin Durant, Russell Westbrook and James Harden has the speed and athleticism to give the Heatles problems. But the Thunder don't defend like Miami does, and they don't execute under pressure like Miami does.
And they don't have quite the same experience that Miami does.
The Spurs, on the other hand, have plenty of championship poise from which to draw. Their Big Three of Tim Duncan, Tony Parker and Manu Ginobili has won three titles together, and they execute as well as any NBA team has in quite some time.
But they don't defend like Miami does, either, and their stars don't (and can't quite) dominate like Miami's do.
Granted, the Heat have fashioned this run on the suffering of a Pacers squad that was called S-O-F-T by its own GM. They've continued it at the expense of a C's team, coming off a taxing seven-game series against the Philadelphia 76ers, with a one-legged Ray Allen and without the shutdown services of Avery Bradley.
Not to mention all the quick whistles that went against the C's.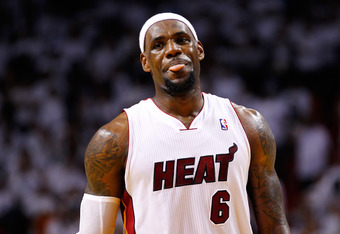 Mike Ehrmann/Getty Images
Nonetheless, no team gets this close to a title by accident. It's dominant runs like this that the Heat were built to put together.
Typical? Hardly. But LeBron and Wade didn't get into this business to fit the mold.
They came to break it.
Which—for two superstars whose play on the court is as provocative as their style off of it—is, well, typical.