London 2012: Top Stars Set to Emerge at Summer Olympics
May 29, 2012

Oli Scarff/Getty Images
One of the many amazing features of the Olympics Games is that it showcases female and male athletes from around the world during their opportunity to prove themselves as the best in their sport. It is sometimes easy to forget that there are so many outstanding athletes out there, especially when the sport they participate in is not broadcasted internationally. The Olympics is the best stage for top athletes to share their abilities and stories. Media covering the Olympics always pays special attention to ensure that the positive and inspiring stories of athletes are spread throughout the world. Athletes who carry role model qualities and inspiring personalities shine above all, and this year in London will be no different. Out of London, top athletes will emerge into the spotlight and become athlete-celebrities due to the inspiration and motivation that they thrust upon the world. 
Michael Phelps put swimming on the map as a sport to watch with his past Olympic performances. This year, Australian Swimmer James Magnussen, will look to share Phelps spotlight. Magnussen is the best chance that the Australian team has at a gold medal. His looks are also another factor that will help him emerge into a top Olympic star. He looks like he belongs on magazine covers. If he wins gold, then he will have more endorsement offers then he could possibly take.
On the female side, American Missy Franklin, will be one to watch as she has a very likable and wholesome personality, which will be sure to mark her as a favorite. She will be matched by fellow swimmer, Canadian Julia Wilkinson, who has been open with the Canadian media about her disappointments in Beijing through interviews and blogs. Wilkinson credits her desire to follow her dreams as the deciding factor in competing in London after shoulder surgery following the Beijing Olympics. She has a very admirable story that will gain her worldwide attention.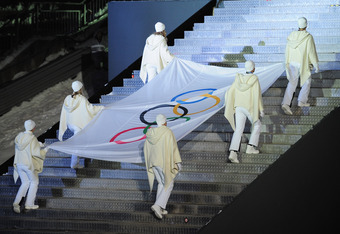 Shaun Botterill/Getty Images
Men's basketball will also be a keen sport of interest later this summer. The U.S. men's basketball team be sure to will steal the show, as it will be packed with top stars like Kobe Bryant and LeBron James. There are shadows of the Dream Team within the roster. Even though it is not yet finalized, it would be hard to think up a better selection than the current one. The standouts among the familiar faces will be players like Kevin Durant and Chris Paul. Both have very Olympic friendly images because they project positive and wholesome personalities that make for perfect role models.   
Lolo Jones has recently been spotlighted for sharing her unique story with the world. Jones shared in an interview with HBO Real Sports, that she intends to be a virgin until marriage. Opening up about her personal choices and beliefs have resulted in considerable buzz about Jones, which will carry on throughout the games and beyond once her athletic ability has a chance to overshadow her personal life.
Just two short years ago, Triathlon athlete, Gwen Jorgensen, was competing in her first competitive triathlon. That same year, Jorgensen was named 2010 USA Triathlon Rookie of the Year. Today, she truly embodies the "Anything is possible," spirit as she has earned herself a spot on the 2012 U.S. Olympic Team. 
The top emerging stars of the Olympics are never based on talent alone. There are simply too many amazing athletes for that to be the lone factor. Those who emerge as international superstars are the competitors who act as inspiration leaders. Athletes who behave as role models and ensure that they are safe choices for endorsement deals with family-friendly companies are the ones who bask in the glow of Olympic spotlight. Positive personal stories and upstanding character are of utmost importance as the Olympics represent a celebration of success and community.