Major League Baseball's 14 Most Bizarre Records You've Never Heard of
May 30, 2012

Ronald Martinez/Getty Images
Every baseball stat fan worth his or her salt knows the big baseball records. Hank Aaron: 755 home runs. Cy Young: 511 wins. Nolan Ryan: 5,714 strikeouts, seven no-hitters.
But what about those lesser-known gems? Who has the most errors? Who has the most hit batsmen?
What follows is a list of the most bizarre baseball records of all time, those flubs (and gems) that stupefy and spur the imagination.
Most games pitched with no wins:
Tie: Juan Alvarez, 1999-2003, and Ed Olwine, 1986-1988 (80)
There have been plenty of poor pitchers to grace the rubber over the years. Anthony Young, a Mets starter who picked up a record 27 losses in a row over two seasons before finally earning a win, comes immediately to mind. But at least he won, eventually. For Juan Alvarez and Ed Olwine, that was never the case.
Each man pitched 80 games in the major leagues before hanging up his spikes, and each man retired from the pro game without ever earning a win.
Yikes. And Anthony Young thought that he had it tough.
(Source: Baseball-Reference.com)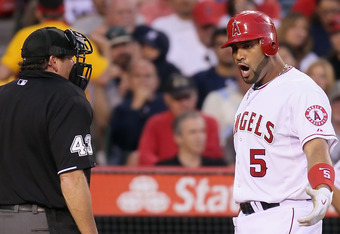 Jeff Gross/Getty Images
Most at-bats in a career without hitting any home runs:
William Holbert, 1876-1888 (2,335)
Yes, the pre-Ruthian days of the game were known as the dead-ball era. Still, that's no excuse for William Holbert. In 2,335 at-bats over the course of 13 seasons, Holbert didn't manage to hit a single home run.
By contrast, in the first 2,335 at-bats of his career, Albert Pujols had already hit over 150 home runs.
(Source: Society for American Baseball Research)
Most stolen base attempts in a season without allowing any successful steals (pitcher):
Luis Tiant, 1968: nine steal attempts, nine caught stealing, zero steals allowed in 258.1 innings pitched
Last year was interesting in that Josh Tomlin pitched a full 165.1-inning season without a single runner attempting a steal on him. This was only the second time on record that this has ever happened—and the first was over half a century ago, in 1950.
Tomlin's no-steal season, though, was just one of 22 instances of pitchers managing to hurl a full season without allowing a single stolen base.
Whitey Ford holds an interesting title all on his own, as he threw 283.0 innings in 1960 without allowing a single steal.  But then, only three runners even tried to steal on the lefty that year.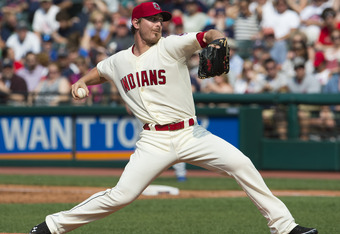 Jason Miller/Getty Images
The most impressive award has to go to Luis Tiant, who, according to JunkStats, in 1968 pitched 258.1 innings without allowing a single steal, nabbing nine runners along the way.
Now that's good work.
Most career at-bats without a stolen base:
Russ Nixon, 1957-1968 (2,504)
There's pitching position skill, and then there's offensive ineptitude.
In a career that spanned 12 seasons with the Cleveland Indians, Boston Red Sox and Minnesota Twins, lead-footed catcher Russ Nixon never once managed to steal a base. Even David Ortiz has 11 swipes in his career!
It's not just indifference, either—Nixon was caught stealing a number of times. With his incredible lack of baserunning prowess, Russ Nixon has managed to enshrine himself in the annals of baseball history.
Best career ERA:
Ed Walsh, 1904-1917 (1.82)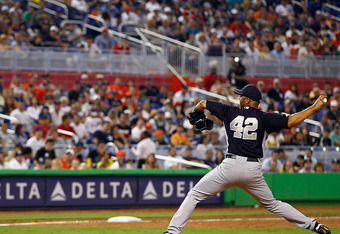 Mike Ehrmann/Getty Images
Most fans know that the wins champ is Cy Young. Young is the all-time leader in losses, too. But ERA? That's a record that most seem to have forgotten.
The man who holds the record is Chicago White Sox righty Ed Walsh. To fully explain how dominant his career 1.82 ERA is, consider this: If now-injured Mariano Rivera, the most dominant pitcher of our modern era, does retire, he and his lifetime 2.14 ERA will stand at only No. 13 on the all-time list.
Times hit by pitch:
Hughie Jennings, 1891-1918 (287)
Many people remember that Craig Biggio, in his final year in the bigs, made a run at this ignominious record. But he fell just short, leaving the crown safely in the hands of Hall of Famer Hughie Jennings. 
Jennings had a lot going for him besides his ability to step into a pitch and take one for the team. He managed to enjoy quite a long pro career—a 27-year span—by any player's standards, let alone for a guy who got beaned as much as he did.
Hit batsmen: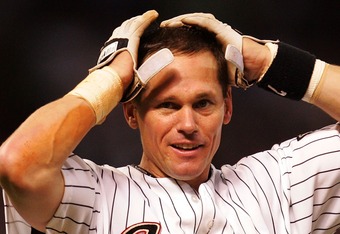 Ronald Martinez/Getty Images
Gus Weyhing, 1887-1901 (277)
If someone's getting beaned by a pitch, someone else has to do the beaning. The all-time record holder for most hit batsmen is Gus Weyhing, who managed to drill a whopping 277 batters.
He's another old-timer with a record in his hip pocket. Maybe umps didn't like to kick players out back then.
Wild pitches:
Tony Mullane 1881-1894 (343)
With 343 to his name, pre-MLB era professional player Tony Mullane is the all-time leader in wild pitches; this much is true. But given that Mullane played in an era of loose federations of professional ball, perhaps this award more rightly belongs to the second name on the all-time list: Nolan Ryan.
Yes, strikeout king Nolan Ryan is No. 1 all time in the MLB record books for wild pitches, with a whopping 277. He also, despite his strikeout ability, holds by a large margin the all-time record for walks, with 2,795.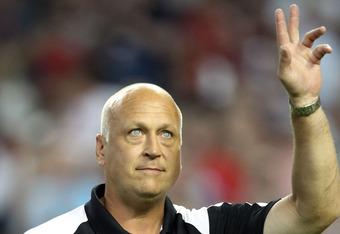 Christian Petersen/Getty Images
Double plays:
Hall of Famer Cal Ripken, Jr., 1981-2001 (350)
Cal Ripken surely turned plenty of double plays during his days as a Hall of Fame shortstop for the Baltimore Orioles. But he doesn't hold the title for double plays turned, defensively: He holds the titles for most double plays grounded into! 
Cal, don't you know you're supposed to hit it where they ain't? Luckily, he's in good company. Of the next six names on the list, all are or are soon-to-be Hall of Famers as well: Ivan Rodriguez, Hank Aaron, Carl Yastrzemski, Dave Winfield, Eddie Murray and Jim Rice.
Career caught stealing:
Rickey Henderson, 1979-2003 (335)
Yes, Rickey is the all-time King of Steal with 1,406 stolen bags, a total that may never be broken. But his 335 instances of being caught stealing makes him tops of all time, too.
Rickey, we know you love to tout yourself as No. 1. But for this record, you may want to keep quiet.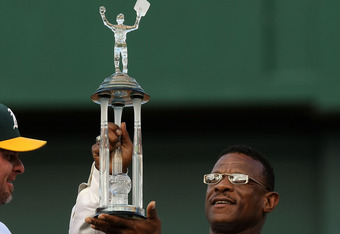 Justin Sullivan/Getty Images
Most outs:
Pete Rose, 1963-1986 (10,328)
Pete Rose is the all-time leader in hits, and the all-time leader in outs. Given that, with 14,053 over 24 seasons, he's taken more at-bats than any other player in history, you might think it stands to reason that Rose would have notched more outs than anyone else. But Pete Rose hit for a .303 average over his career and finished with three batting titles.
He also had a great eye at the plate, finishing his career with more walks than strikeouts, and that's to say nothing of that hits record. So it does come as a bit of a surprise that Rose would have made more outs than any other player.
The man in second place? Home run king Hank Aaron.
Most errors committed in a career:
Herman Long, 1889-1904 (1,096)
Yes, he was a shortstop. And yes, gloves were smaller then. But Herman Long managed to commit 1,096 errors while playing just 1,875 games. That's amazing. It's an average of more than one error every other day.
(And to think: Dodgers fans used to think Jose Offerman was bad.)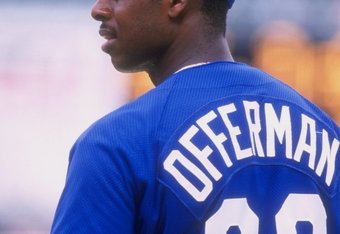 Tom Hauck/Getty Images
If Long had such trouble fielding, you've got to wonder why his team kept letting him play. Couldn't his manager at least have moved him to second base, where he couldn't do so much damage?
Oldest player:
Minnie Miñoso, 1980 (54)
With all this talk of Jamie Moyer's return to the pro ranks, you've got to wonder, who was the oldest player ever to suit up for an MLB game?
It turns out that Moyer has a long way to go. In 1980, Minnie Miñoso cleated up for the Cleveland White Sox at the age of 54. It was 20 years after the last of Miñoso's seven All-Star appearances, and some 31 years after he'd first broken into the big leagues in 1949, and yet, the near-arthritic Cuban stepped up to the plate.
Miñoso originally retired at age 38, in 1964. He returned to pro baseball 12 years later, at age 50, stroking one hit in eight plate appearances with the White Sox. He then gave up the ghost again, only to return four years later for two more brief days in the sun.
Youngest player: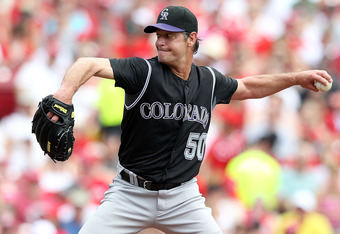 Andy Lyons/Getty Images
Joe Nuxhall, 1944 (15)
Standing in stark contrast to Miñoso is Joe Nuxhall, who made his big league debut in 1944—at age 15!
And people think Bryce Harper is immature.
The 1944 season was right in the heart of the WWII baseball exodus; thanks to the war, much of baseball's talent was missing. Nuxhall, of course, was too young to enlist, so the Cincinnati Reds had no trouble signing him out of local Hamilton (OH) high school, whereupon they put him on the mound. In his major league debut, Nuxhall surrendered five runs (and five walks) in less than an inning before he was yanked, leaving him with a whopping single-game and single-season ERA of 67.50.
It would be eight years after that shellacking before Nuxhall returned to the pros at the far more sensible rookie age of 23. From there, he went on to have a lengthy career that included two All-Star game appearances.  He played nearly his whole career in Cincinnati and would eventually become the voice of the Reds, broadcasting games for the club for nearly 40 years.