WWE: CM Punk vs. Steve Austin Would Draw More Money Than Rock vs. Cena
May 30, 2012

This may seem absurd, but I believe I'm right.
The Rock vs. John Cena was a fantastic match. It lived up to all the hype, and with a year-long build there was a lot of it. In the passage of wrestling history it will go down as one of the great WrestleMania main events. As we suspected, it was reminiscent of Rock vs. Hogan from 10 years ago.
However, the other dream match that wrestling aficionados are clamoring for is CM Punk vs. Stone Cold Steve Austin. Punk, as we know, has created his own little revolution within the WWE over the last year, beginning with the infamous promo. 
Punk and Austin have teased this match relentlessly, on Twitter and in interviews. Seemingly both want to wrestle each other. It would be a triumphant return for Austin, 10 years following his last match at WrestleMania 19.
For CM Punk, it would be his moment in (presumably) the main event of WrestleMania—the icing on the cake of his tremendous main-event run. 
Of course, from a business standpoint, this match, like Rock vs. Cena, would be expected to draw money. It is the return of the biggest wrestler of all time against arguably the biggest at this time. In my opinion, this dream match would draw more money than Rock vs. Cena.
The major focus of Rock vs. Cena was to penetrate mainstream markets, utilizing the worldwide popularity of The Rock to sell WrestleMania 28. However, while this past WrestleMania set records, it did not break the WrestleMania buy-rate record (set by 23). This is due to the actual number only being 1.21 million.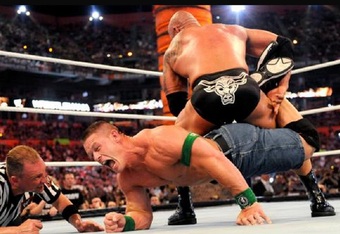 Don't get me wrong, this is nevertheless a huge success, and WrestleMania 28 was one of the best ever. However, why could Rock vs. Cena not sell more pay-per-views than WrestleMania 23?
WWE was selling to the wrong audience. 
Despite how hard WWE pushed this match in mainstream media, despite the global appeal of The Rock, WrestleMania didn't break the buy-rate record because WWE was not targeting wrestling fans. 
Of course, for us wrestling fans, we had Hell in a Cell and CM Punk vs. Chris Jericho in addition to Rock vs. Cena. Which was great for us.
But CM Punk vs. ustin will tap into a demographic long gone—the jaded wrestling fan. There is no doubt, looking at the dwindling numbers since the Attitude Era, that WWE has lost a major portion of its audience since the glory days. 
Austin was the most popular wrestler of all time. While The Rock may have more mainstream notoriety, Austin was popular among all wrestling fans. 
Today, CM Punk is the source of attitude. He's a throwback to the days when wrestling mattered, and stories were thought through. Punk is trying to change things and I say it's working.
It may not be instantly noticeable, but a RAW from 2012 and a RAW from 2010 look vastly different. There is more focus and consistent quality today, despite some occasionally terrible booking.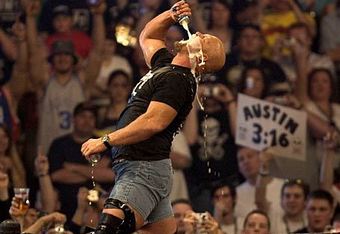 CM Punk has the power to bring back disgruntled attitude-era fans. Austin vs CM Punk will have incredible appeal throughout current and former wrestling fans—people who have a history of throwing down money to see a wrestling show.
Rock vs. Cena made the mistake of selling to people who probably wouldn't buy. These weren't wrestling fans. They were everyday people who had heard of Cena, or maybe seen one or two Rock movies.
WWE will have a license to print money if Punk vs. Austin happens. It would be sold as a wrestling match and presumably have an excellent story-line build knowing the two wrestlers involved. It won't require a year, and considering Austin has a far more flexible schedule than Rock, it could work out better.
I'm not trying to discredit what Rock and Cena did. I enjoyed it thoroughly, and after a full year was desperate to see The Rock return to the ring.
However, a CM Punk vs. Austin match would hook the people who want wrestling to return to its former prominence. These are the people that WWE know used to be wrestling fans.
Beyond the return of the ever-popular Stone Cold Steve Austin, there really isn't much more they would need to be sold on.  
This article was my first in a long time. I'll try to write more often if I can, but until then follow me on Twitter @JPN151.