Seattle Seahawks: The Starting Quarterback May Not Be the Finishing One in 2012
May 30, 2012

Otto Greule Jr/Getty Images
The Seattle Seahawks have had a carousel at the quarterback position that has been turning consistently during the Pete Carroll era—from Matt Hasselbeck, JP Losman and Charlie Whitehurst in 2010, to Tarvaris Jackson, Josh Portis and Whitehurst in 2011, to Jackson, Matt Flynn and Russell Wilson this year.
Carroll appears to be shooting as many fish as possible in a broad barrel as opposed to fixating on the biggest and brightest fish in his pond.
The school of fish in Carroll's pond is actually quite impressive (Okay, enough of the fish metaphor, it never cod on anyway...).
The Seahawks defense should improve simply through development and the additions of Bruce Irvin and Jason Jones to the front seven. Improving isn't that easy for the Seahawks considering they ranked 7th overall last season. Their biggest question mark this year comes at the middle linebacker position.
Rookie Bobby Wagner is the x-factor as the Seahawks are looking to him to beat out veteran Barrett Ruud. Even if he cannot surpass Ruud on the depth chart, Ruud will be a reliable role player for the Seahawks, if not an impactful playmaker.
Offensively, it is a similar story, as the Seahawks need someone in their trio of quarterbacks to step up. Outside of a somewhat inconsistent and injury-ravaged offensive line, the Seahawks' offense is more than capable of consistently putting points on the board.
It may be more of a hope than an expectation at this stage, but if Sidney Rice can stay healthy for 16 games, then the wide receiving corp is very congruent. Throw in Marshawn Lynch's beastly running style and the Seahawks can beat you in multiple ways.
The truth is it is going to be very difficult for Pete Carroll to choose his starting quarterback, and his first decision may not be his last this season. Considering Carroll has called for an open competition between not just two but all three of his signal callers, none of the three quarterbacks will get enough exposure to be accurately assessed or incorporated into the system.
For this reason, Tarvaris Jackson should be the favorite to initially land the job, even if he doesn't finish out the season.
Jackson is actually one of the unluckiest players in the NFL. When he was the Minnesota Vikings' quarterback in 2007 for 12 games, he was playing with a poor group of players with bloated expectations. The Vikings never gave Jackson enough time to develop—something that 90 percent of NFL prospects at the position need.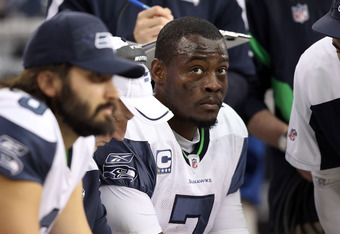 Christian Petersen/Getty Images
He only started two games as a rookie and a further 17 before Brett Favre arrived in 2009. Last year, as a five-year veteran, Jackson got his first proper chance to start in an offense with which he was very familiar. Statistically, he had a poor season, but Jackson played a large portion of the year with a torn pectoral muscle and finished the season strong as more of a game manager than a gunslinger.
The term "game manager" is often used as a derogatory description of an NFL quarterback, but not everyone can be an elite passer. The Seahawks are built to win with a game manager at quarterback, making Jackson a perfect fit in Darrell Bevell's offense.
Jackson's mobility forces the weak-side defender to hesitate on running plays, while his arm strength is exactly what you want from a play-action-based offense. If the Seahawks start Jackson entering the season, which wouldn't shock me at all, they would not have to adjust their offensive scheme.
If either Russell Wilson or Matt Flynn are under center in Arizona against the Cardinals in Week 1, the offense will need to change.
Wilson is very unlikely to do enough in his limited preseason snaps to win the starting job, but Flynn has the advantage of being used to the professional pace of the NFL. Flynn should be as determined as anyone to win the job after being overlooked in free agency.
Flynn has spent the whole of his career in a pass-first offense. He may have only started two games for the Packers, but he spent enough time in Joe Philbin and Mike McCarthy's offense to have it ingrained in his mind.
To get the best out of him, the Seahawks would need to adjust their scheme so it was similar to Green Bay's. That would be a drastic change, but it's one the Seahawks have the personnel to make. The wide receiver depth is there with Doug Baldwin, Golden Tate and Ben Obamanu all looking to get as many opportunities as possible.
Marshawn Lynch may not be much of a receiver, but neither was Ryan Grant or James Starks. Lynch may have lost his job in Buffalo because of a similar scheme change, but he is more than capable of running from shotgun formations and would play a role similar to Edgerrin James' on the Cardinals a few seasons back.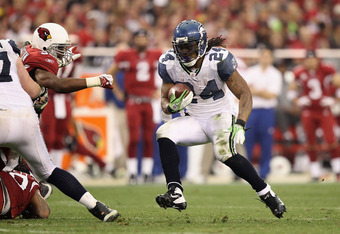 Christian Petersen/Getty Images
With Lynch in the backfield, defenses would want to stick in their base defense but would then be asking their linebackers to play in space against multiple receivers. If the defense moves to a nickel package, then Lynch will run over the secondary with ease.
Very few teams in the NFL have a front seven that is capable of consistently playing in coverage. It is that kind of manipulation of defenses that serves the New England Patriots so well. The Seahawks may not have the star tight ends that the Patriots do (although Zach Miller and Kellen Winslow aren't exactly bad), but even a lesser version of that offense should succeed.
Flynn brings more excitement to fans entering the season, but a huge amount has to happen for him to be placed on the field while he has only proved very little as a professional. He may have set franchise records for the Packers in only his second start, but, generally, more exposure brings more flaws.
The 26-year-old still has a lot to learn about being a full-time starter and would likely have growing pains if he started this year. Because of the Seahawks' overall makeup, it may make more sense for them to go with the proven player in Jackson.
If the Seahawks have too many turnover issues next year, the good work of their defense would go to waste. Though it may not happen too often, it is still possible to win in the NFL by playing good defense and relying on a strong running game.
If it wasn't for a fumble or two on special teams last year, the San Francisco 49ers could have ridden that formula all the way to the Super Bowl.
Whether Matt Flynn or Tarvaris Jackson start at quarterback this year for the Seattle Seahawks, don't be surprised if the loser of the battle eventually finds his way onto the field before the end of the season.
For that reason, even Russell Wilson shouldn't lose his optimism.
If the Seahawks aren't winning games with Jackson, or if Matt Flynn proves to be more hype than substance (one must really wonder why Joe Philbin didn't sign him), then the Seahawks may want to start the Wilson era while he is still a rookie.
The Seattle Seahawks quarterback competition is intriguing entering the season, and the intrigue won't stop once Pete Carroll names his starter.
Tweeting @Cianaf