NBA Draft 2012: How Lottery Results Changed Chad Ford's Mock Draft
May 31, 2012

Harry How/Getty Images
The 2012 NBA draft order is set!
I'd like to pat myself on the back for calling the Charlotte Bobcats slipping to the No. 2 pick. 
Moving on from personal congratulations, the New Orleans Hornets have the top pick and we could've penciled in Anthony Davis no matter who was picking No. 1. But let's take a look at how Chad Ford's mock draft changed after Wednesday night's NBA draft lottery.
The top three teams in the upcoming draft have all been shuffled up from their lottery slotting. Instead of Charlotte, Washington and Cleveland, it will be New Orleans, Charlotte and Washington.
Despite this change, Ford had no need for an eraser at the top of his mock draft. Davis, Michael Kidd-Gilchrist and Bradley Beal stay put.
This simply means that these three are the best players in this draft as of now. According to Ford, they will go in that order no matter the teams' needs.
The first change comes at No. 4. Once expected to be the lucky New Orleans Hornets, the Cleveland Cavaliers will pick here.
Ford had power forward Thomas Robinson going to New Orleans. Now that the Cavs are picking fourth, he has them taking Harrison Barnes, the small forward out of UNC. This is a two-spot jump for Barnes.
Robinson and center Andre Drummond still go back-to-back in Version 5.0—like they did in Version 4.0—but they each dropped down a slot to pave the way for Barnes.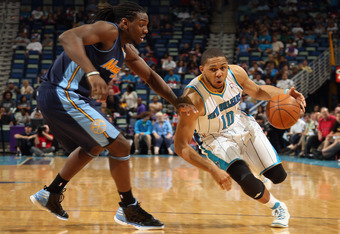 Chris Graythen/Getty Images
Ohio State forward Jared Sullinger made a nice jump from No. 12 to No. 7. Ford states that the Golden State Warriors, who went seven as predicted, are pretty high on Sullinger and might want to go with a more proven player than Perry Jones III.
PJ3 (should I coin it?) switched spots with Sullinger on the thinking that Jones was too big of a gamble.
After Sullinger, Dion Waiters (No. 8), Damian Lillard (No. 10) and Jeremy Lamb (No. 11) all stay put.
At No. 9, though, despite the Detroit Pistons going ninth as expected, Ford switched to John Henson as the their selection. Henson wasn't even a lottery pick in Ford's previous mock draft, but he cites the Pistons' need for an athletic, shot-blocking big to go along with Greg Monroe.  
For the Phoenix Suns at No. 13, Ford replaced Austin Rivers with Terrence Ross, a 2-guard with potential star power. The Suns "need a little bit of everything," but he maintains that there biggest need is at shooting guard.
Lastly, Tyler Zeller drops from No. 9 to No. 14, where the Houston Rockets will be selecting. Ford thinks Zeller will go anywhere from No. 8 to No. 14.
It may be just hours since we've figured out which teams are picking in which positions, but our mock draft experts are running wild. Let's see where Chad Ford takes us next.