Nick Lidstrom Retires: Right for Him, Difficult for Red Wings and Their Fans
June 1, 2012

Jonathan Daniel/Getty Images
Today, one of the greatest defensemen to ever play in the NHL officially retired.
At 11 AM EST, Nicklas Lidstrom announced he would officially be hanging up his skates.
This was a bittersweet moment not only for the Detroit Red Wings organization and fan base, but for anyone who loves the sport of hockey.
Lidstrom was the epitome of class on and off the ice.  He was the kind of player who was even respected by fans of bitter team rivals.  He has heart.  He has character.  He's a natural born leader.
To put his career into perspective, he made a name for himself as the predecessor of none other than Steve Yzerman—Hockeytown's hero.
Twenty seasons of hockey.  And every night—if he was in the lineup—he left everything on the ice.
Twenty years with the Red Wings, and 20 playoff appearances.  Some could call it luck, but most would credit it to his work ethic and raw talent.  The man can play.  More than that, he can lead a team.  Through his career, he played his heart out each and every time he hit the ice.
To say Nick Lidstrom had an outstanding career is an understatement.  In 1,564 games played, Lidstrom accumulated a plus/minus of 450, scored 264 goals, notched 878 assists and had a considerably low 514 penalty minutes.  Furthermore, he put up 590 of his 1,142 points on the man advantage.
What do the high number of assists and low number of penalty minutes tell you?  Well, it tells the world what every hockey fan already understands—Nick played for his team, and he played with class.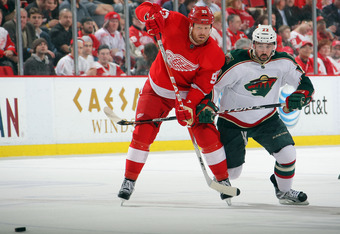 Dave Sandford/Getty Images
Looking at these stats, it's easy to see why Nicklas Lidstrom decided to retire.  The time had come. He played hard, placing himself into discussions that noted him "second only to Bobby Orr;" a distinction that's far from handed out.  He established himself as a great, and all the while might be one of the humblest men to skate the ice of an NHL club.
It's also easy to see why Red Wings fans, and hockey fans alike, are sad to see him go.  Lidstrom is a legend.  He is the kind of player that comes around once in a lifetime, if that.  The fans in Hockeytown know they have seen 20 seasons out of arguably the greatest defenseman of the modern era.  Can you blame them for hoping for a 21st? 
Lidstrom is clearly a key player on the Red Wings.  He is their captain, and a man like him is hard to replace, but it will be done as best as possible.  Detroit is home to an extremely talented hockey team, formulating the right balance of youth and veteran leadership, which has kept them in playoff contention for the last quarter-century.  
Lidstrom said the following at the cosing of his interview, and i think it sums up perfectly the player he is, the man he is and why he really did make the right decision; "Retiring today allows me to walk away from the game with pride, rather than having the game walk away from me. So, thank you very much." 
Lidstrom is the type of player who wants to give his all to the Red Wings.  He felt he couldn't do that this season.  Despite the sadness fans across the world are feeling today, a sense of joy should come with it.  Lidstrom is one of the greatest defensemen to play in the NHL.  His character and personality are unmatched.  His retirement speech today left me, a New York Rangers fan, watery eyed, but smiling. Today marked the end of an era, but oh, what a wonderful era it was.