Janet Guthrie: Legend Talks Racing Then and Now, Danica Patrick
July 3, 2012

Streeter Lecka/Getty Images
Janet Guthrie rolled into motorsports at a time when women's rights had just started gaining traction.
Except for the one place she longed to make her mark—IndyCar and NASCAR racing.
The only place for a female college graduate in the 1960's to pursue automobile racing was in the SCCA series. What started as an avocation became a passion for the aerospace engineer.
Guthrie soon discovered she had to race. She worked long, lonely hours on her personal 1956 Jaguar XK 140 roadster. As she put it, "because I could not do otherwise."
Guthrie garnered attention from team owner, Rolla Vollstedt, who sought out the best female road racer. The call came in 1976 when he asked the young woman if she would like to test for the Indianapolis 500.
The answer was obviously a resounding, "Yes," once she determined the offer was for real. She had the common pre-conception of road racers that just turning left must be pretty easy.
"I found that not to be the case," Guthrie said.
It was a major transition for her to go from the closed cars of the SCCA to the open-wheel cars.
"I wanted it a lot," she said. "Any racing driver of that era would have given their eye-teeth for an opportunity to tackle the Indianapolis 500.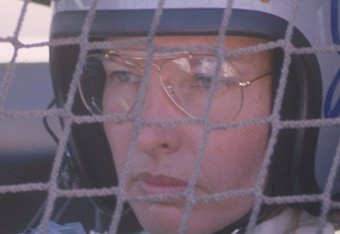 Getty Images/Getty Images
"And I wanted it very, very much."
Guthrie did not make the Indy 500 field that year, but other doors opened with the opportunity to wheel a car in the male-dominated NASCAR Winston Cup (Sprint Cup) Series.
Piloting the green Kelly Girl Chevrolet Laguna, Guthrie became the first woman to run the World 600 (Coca Cola 600) at Charlotte in 1976. She finished 15th out of a field of 40 cars.
Guthrie became the first woman to qualify and race in the 1977 Indianapolis 500.
She went on to run 11 events in the series, including the Indy 500, with her own team made up of her NASCAR crew in 1978. Guthrie finished ninth in that race.
During 1977, this woman, who faced the harsh reality from the boys of NASCAR, was not to be deterred. She ran 19 Cup races with 10 finishes in the top 12.
Guthrie took on the elite racers in NASCAR, Richard Petty, David Pearson, Cale Yarborough and Buddy Baker. The list goes on.
She became the first woman to compete in the Daytona 500 during 1977, where she finished 12th and received the honor of Top Rookie. In 1980, she finished 11th in the "Great American Race." 
It was a tough road for this female driver, who sometimes out-qualified the top drivers in NASCAR's premier series.
There was a time she showed up to race at Darlington Raceway and immediately denied entry because women were not allowed in the garage. She eventually made her way to her race car.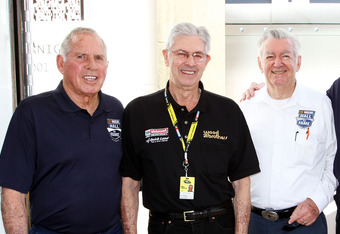 Jerry Markland/Getty Images
Guthrie was an anomaly to those males with the hard-charging, old-school attitude in racing and the mentality that no woman could ever make it in a sport for real men.
It took awhile, but gradually attitudes began to change as she consistently proved she was a capable driver who could be trusted on the track. They knew she was a racer.
Guthrie had to balance her natural ability to wheel a race car against the limitations of her Kelly Girl Laguna that was campaigned by an underfunded team.
"Your objective is to put any given car through the turns as fast as the particular car will go," Guthrie said. "If you try to make a back-marking car go faster than what it's capable of, you're apt to kill yourself."
I asked Guthrie if she found frustration with the fact that Danica Patrick has been given so much, yet the performance is not comparable to what she could have perhaps done with first-class equipment.
"Am I envious of her? Yes," she said.
Guthrie was also quick to add that she never would have posed for some of the more risque photos Patrick has chosen to do.
"I think she is a capable driver," Guthrie said, when asked about Patrick's performance. "I think she is a mid-pack racer."
"She is often in the lead lap in the Nationwide series," Guthrie said. "It would not surprise me to see her win one because, when you are on the lead lap, you can get a victory through a luckily-timed pit stop or something of that sort."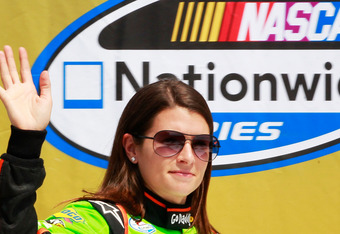 Geoff Burke/Getty Images
Guthrie drove a superspeedway car even at Bristol because of the limited funding. Her sixth place finish there is one of her most memorable moments in NASCAR.
Many think Patrick is unable to handle the heavy stock cars because she lacks the upper body strength that her male counterparts have.
Guthrie used to do some jogging, but the heavy cars she drove had no power steering or cooling systems for the drivers.
She addressed the comments as to Patrick being a petite, female driver unable to race heavy Cup cars in saying, "It was not a valid objection."
Guthrie currently follows the women in IndyCar and NASCAR. One woman she would like to see in equipment equivalent to Patrick's is Johanna Long.
There is little doubt that Guthrie was a ground-breaking woman who made her mark in the world of motorsports. Her outstanding racing accomplishments will forever be recorded in history.
Her helmet and driver's suit can be found in the Smithsonian Institute. She was inducted to the International Women's Sports Hall of Fame and the International Motorsports Hall of Fame.
Guthrie documented her life in great detail—from her days of running gymkhannas to the struggles and rewards in the IndyCar and NASCAR Series—in her autobiography, Janet Guthrie: A Life at Full Throttle."
Currently she spends her time living a quiet life that includes gardening and volunteering. Another book based on her extensive journaling during her racing years may not be out of the question.
All quotes were courtesy of a telephone interview with Janet Guthrie.