Pittsburgh Steelers: Todd Haley's Offense Must Be Productive in the Red Zone
June 1, 2012

Jared Wickerham/Getty Images
On paper, Todd Haley's offense sounds like a thing of beauty. As I wrote last week, Haley has already identified the strengths on offense, and they are exactly the changes that the Pittsburgh Steelers needed.
Now, we have learned that one of the team's most underutilized weapons could be a one of the featured players in the offense.
"Haley is excited about what Heath Miller is capable of," Mike Tomlin told the Pittsburgh Post-Gazette. "He's been very clear about that, his excitement to work with Miller. I would imagine that the tight end is going to be a part of our plan."
That is great news. Miller is one of the most all-around talented tight ends in the league, but one who has not been a main focus of the passing offense, as the Steelers have used him as a blocker.
Throwing passes his way is something that everyone wants to see, but the main concern should be where are they throwing him the passes.
Pittsburgh's offense has been productive in terms of yardage over the years, but they have lacked production in the red zone, and that is why Haley is on board. But what should we expect from him when inside the opponent's 20-yard line?
According to Miller (via the Pittsburgh Post-Gazette), they're not sure yet.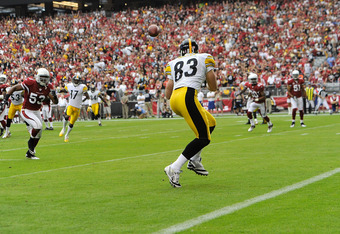 Karl Walter/Getty Images
"It's too early to tell," Miller said. "We haven't been through it enough. Right now, we're throwing everything against the wall, putting it all in, and, when the season comes, when game-planning comes, it'll get pared down. That's when we'll see what we have and how we want to approach this."
While it is true that a team has to wait until the regular season to prove itself, as the offseason progresses, more and more hints as what to expect from this offense will come out.
And the red zone offense will be one of the areas to keep a close eye on.
A player such as Miller is a terrific target in the red zone, given his size and strength. Despite his lack of production in terms of touchdowns, Miller is more than capable of leading this team in that statistical category.
Beyond Miller, look for much of the Steelers' focus on running the ball to be in this area of the field. Last season, the inability to run the ball deep in an opponent's territory really limited their red zone production, and they became very predictable throwing the ball.
A revamped offensive line, a reemphasized running game and utilizing an excellent tight end all sound like ingredients for the successful recipe of scoring touchdowns.
If the red zone production does not improve, the Steelers will once again underachieve on offense and will have to rely on their defense to win games.
But from the sounds of things, Haley is making the necessary changes to the offensive scheme so that this unit can put more points on the board.
Stats are great for fantasy leagues, but points scored wins games, and that is what Haley and the Steelers offense will be looking to do a lot of this season.
Follow Chris G. on Twitter.