Chicago White Sox: Like Them or Not, Hawk Harrelson's Comments Stem from Love
June 1, 2012

Al Messerschmidt/Getty Images
Chicago White Sox broadcaster Hawk Harrelson is quick to speak his mind. It should come as no surprise to any White Sox fan that he would come to the defense of the team that has employed him for so many years.
Harrelson is quite the polarizing figure both inside and outside the South side's corner of Major League Baseball. If you've followed the game for any length of time, it's doubtful that his diatribe aimed at American League umpire Mark Wegner swung you to one side of the fence or the other.
Chances are you already love or hate the guy, regardless of what he said Wednesday night.
Just so we know which rant we're talking about, here's the transcript from the WGN broadcast of Chicago's 4-3 win.
What are you doing? He threw him out of the ballgame? You've got to be bleeping me. What in the hell are you doing? What are you doing, Wegner? You gotta be kiddin' me. That is so bad. That is absolutely brutal. That is unbelievable. I'll tell you what—they have got to start making guys be accountable.

That is totally absurd! That just tells you—here's an umpire in the American League that knows nothing about the game of baseball. They have got to do something about this, I'll tell you. They have got some guys in this league who have no business umpiring. They have no business umpiring because they don't know what the game of baseball is about.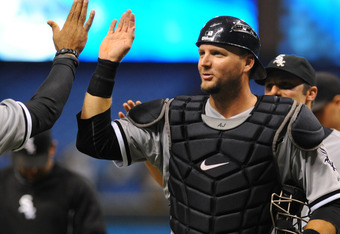 Al Messerschmidt/Getty Images
Harrelson went on to call for Wegner's suspension while the Wimperoo tried to come to terms with Jose Quintana's ejection. Yes, Tom Paciorek was in the White Sox booth for the Rays series. With the longtime team Hawk and Wimpy paired up, Harrelson's venting seemed like old times.
That's pretty much my point. Twenty years ago, I could have heard this kind of rant defending the honor of the White Sox. Amid all the bluster, that's all Harrelson was doing Wednesday night. Let's review some facts leading up to Wednesday's comments:
The White Sox have been at or near the top of the league in having their batters hit the last two seasons.
Two White Sox batters were hit before Quintana threw behind Ben Zorbrist.
The Rays were involved in a beanball battle less than a week before with the Red Sox.
Hawk Harrelson is one of the biggest homers in the game.
I'd have been surprised if Harrelson hadn't lit into Wegner.
I have my own opinions on the call. I think Quintana was looking to plunk Zorbrist right in the posterior—and good for him. Despite Ozzie Guillen's constant blustering, the White Sox always got more than they gave in this department.
Both benches should have been warned following the pitch, since it hadn't been done after A.J. Pierzynski was hit the previous inning. We'll have to see if this festers since the teams don't meet again until the end of September.
If skipper Robin Ventura went off on a rant like this, you'd have to expect actions from the league. If it were Guillen, you'd chuckle first, then wait for the punishment to come down. With Hawk, about all you can do is laugh, unless you're a Rays fan.
Watching a game with Harrelson is like watching the game with your dad after so many years. You've heard the sayings and the stories. He's that fan in the bleachers that's been around since they've built the park and chimes in on every little thing.
Occasionally you can chuckle when he overreacts to the action on the field. Love him or hate him, that's why he's still in the booth getting worked up over plays like this.
It might bother a lot of people that the White Sox have a blatant homer leading their broadcasts. You can't, however, say that Harrleson does not love and defend the White Sox.