Bobby Valentine Making a Strong Case for AL Manager of the Year
June 2, 2012
Rob Carr/Getty Images
The Boston Red Sox have seemingly found their way as of late. The team is finally sitting over .500 with a 27-25 record, and they are winners of 10 of their last 15 games.
To exclude Bobby Valentine as a reason for the success of the team would not only be a disservice to the man, but it would show an asinine level of malevolence towards a man who has been forced to climb the steepest of adversarial mountains in Boston while persevering throughout.
Think back to when the team started the season with a 4-6 record. Fans and media members alike were calling for Bobby V's head to roll. If you tuned in to either Boston sports talk radio stations, you undoubtedly heard fans call in and berate the man for questionable decisions he had made over the course of games.
I can't argue that Valentine had his share of rough patches when the season first started. He made some poor pitching decisions, often times leaving a pitcher in for too long. He managed to alienate himself from the team for some time after calling out Kevin Youkilis only to redact his statements later on.
I even questioned him just a couple of weeks ago. I thought he was growing soft. The problem was, my article has proven to be too preemptive as a sea change has taken place within the clubhouse.
What Valentine needed was an endorsement from his players. David Ortiz answered that call. On May 11th, Ortiz called what may be considered the most important meeting the Red Sox players have had all year. He stepped up as the leader of this ball club and endorsed his manager 100 percent.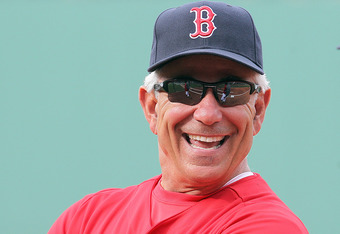 Jim Rogash/Getty Images
Since that day, the Boston Red Sox have gone on to win 15 of 21 games, and Valentine has proven himself a master at manipulating a lineup. 
Like a maestro conducting a fine symphony, Valentine has taken great joy in plucking in the Scott Podsedniks and Daniel Navas of the World.
From a pitching standpoint, Valentine has shown that he is now much more comfortable with his staff and knowledgeable of what he'll get from each respective player. This is evidenced by his willingness to bring in a pitcher for literally a pitch or two before subbing him out fairly quickly, adapting to the situational baseball.
Yes, he does still make some silly moves like pinch running for Adrian Gonzalez in the sixth inning of a game. The good, however, is now certainly outweighing the bad.
That said, Buck Showalter's Orioles team has been faltering. You may even want to give props to Manny Acta in Cleveland for the work his Indians are doing.
The point is, like him or not, Bobby Valentine deserves to not only be in the conversation for AL Manager of the Year, he should be the top pick after all he's been through.