French Open 2012 Schedule: 4th-Round Matchups Tennis Fans Can't Miss
June 3, 2012

Mike Hewitt/Getty Images
With the 2012 French Open entering its fourth round of play, the excitement over one of the biggest tournaments of the year is growing exponentially.
Many huge names are still in the mix, and the current bracket is playing out exactly how tennis fans have wanted all along. While the finals at Roland Garros are getting closer, there are still several key matchups.
All of the following matches will be too good for tennis fans to miss.  
(1) Victoria Azarenka vs. (15) Dominika Cibulkova
While these names may not be as well known to the casual fans, the matchup between world's No. 1 Victoria Azarenka and the similar Dominika Cibulkova will be the best women's match of the fourth round.
Azarenka is playing great tennis right now, winning four tournaments in 2012 so far and looking to make it five with her impressive performance at Roland Garros.
As good as Cibulkova can and will be some day, she will not best the world's No. 1 this early in the tournament. I expect Azarenka to make the finals, if not win it all.
(9) Juan Martin del Potro vs. (7) Tomas Berdych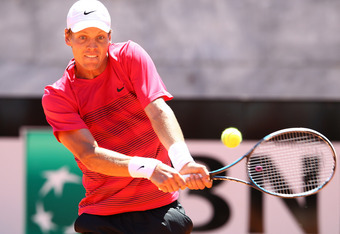 Julian Finney/Getty Images
While this isn't the huge matchup of big names that fans wanted, Juan Martin del Potro vs. Tomas Berdych is going to be the best pure-tennis match of the fourth round, hands down.
Both men are top-10 talents on the men's tennis circuit and they will not want to be cast aside this early. This is as intense of a fourth-round matchup as a fan could ever dream of.
As good as del Potro has been over the last year, it will be Berdych and his momentum that carries him to the next round. This should be an amazing bout.
(3) Roger Federer vs. David Goffin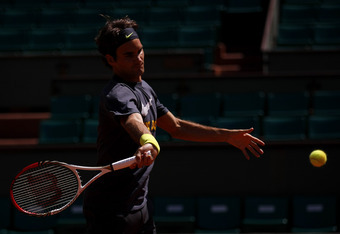 Dan Istitene/Getty Images
While Belgian youngster David Goffin is playing the best tennis of his career, he will be no match for the experienced and savvy Roger Federer.
Goffin has never been in the fourth round of a tournament and Federer has a third home there. It may be true that Federer is much older now, but the speed of enthusiasm of the young Belgian won't be enough to stop Fed-Ex from delivering.
At 31-4 so far in 2012, Federer is showing no signs of slowing down. While he may not have the physical tools he once did, he has learned every secrets to prolonging his career and is using them to their full potential.
Check back for more on tennis as it comes, and don't miss Bleacher Report's Tennis page to get your fill of all things racquets.