Boston Red Sox: Hub Provides Rebirth for Scott Podsednik
June 2, 2012

Rob Carr/Getty Images
Ever exemplifying the pure definition of the term "journeyman," Boston Red Sox center fielder Scott Podsednik has played for seven different teams in his 11 years as a professional baseball player.
Before being signed by Boston, Podsednik had not played a game in the MLB since 2010 with the Los Angeles Dodgers. He had spent most of his time bouncing around the Philadelphia Phillies' minor league system for the past two years, most recently playing for the Lehigh Valley IronPigs.
The numbers he put up there made Nick Punto look like Alex Rodriguez.
The Red Sox saw through it all and made a move to bring in the 36-year-old from West Texas. Upon arriving in Pawtucket, in nine games Podsednik caught fire. He ripped off 10 hits in 31 at-bats, posting a .323 average driving and six RBI.
His OBP went from just .282 in Lehigh to an impressive .371 for the Paw Sox. His quick production and subsequent injuries to the major league roster allowed for a speedy return to the big leagues in Boston.
Since receiving that opportunity, he has not looked back.
He has now played in eight games for the Red Sox, posting a .391/.391/.609/1.000 batting line off of nine hits in 23 at-bats.
He has driven in three RBI while managing three extra-base hits: two doubles and a home run. On the base paths, he has lost a step from his league-leading 70 stolen-base days of 2004, however, he is 2-for-2 on the season, adding that additional threat for the Sox.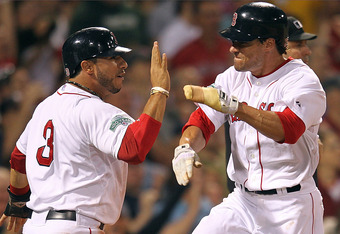 Jim Rogash/Getty Images
With Jacoby Ellsbury still on the shelf, the addition of Podsednik's surprising production is certainly a welcome commodity for a Red Sox team that is in transition, fighting for its true identity.
If Podsednik can keep up the pace, the Red Sox are blessed with good fortune. If he does cool off, fans should be grateful for the production he's been able to provide at little cost to the bottom line.
General manager Ben Cherington certainly deserves credit for his willingness to take a gamble on Podsednik, a player that many believed to be all done.
Some things just are not always what they seem.