Duke Basketball: 3 Reasons Austin Rivers Could Be Best Duke Player in NBA
June 2, 2012

Streeter Lecka/Getty Images
Duke Basketball is one of the most prolific programs in all of college basketball and I believe their freshman Austin Rivers will be the best NBA player that has ever played at that institution. 
In the upcoming 2012 NBA Draft, Rivers will be selected by a team in the top 20. As a standout player from Duke, along with the fact that his father Doc Rivers, coach for the Boston Celtics, he will receive a great amount of consideration from many teams.
There are numerous reasons why Austin Rivers will succeed in the NBA, but there are three main reasons for his upcoming success and why he will be the best NBA player out of Duke.
Confidence
Throughout this college basketball season, there weren't many players that played as confidently as Austin Rivers. Every time he rose to take a jumper, he was extremely confident that it was going in.
The best example of this was in the February 8th battle between the North Carolina Tar Heels and the Duke Blue Devils in Chapel Hill. 
After Duke battled back down 13 in the second half, Rivers had the ball in his hands with under 10 seconds to go. He was covered by Tyler Zeller and knew he was going to shoot a three-pointer even though he only needed a two-pointer to tie the game.
With two seconds remaining he rose and hit the game winning 3-pointer with no time remaining.
With Kobe Bryant, Tim Duncan and Dwayne Wade rising in age, Rivers can establish himself as a top closer if his confidence carries over into the NBA.
Shooting Ability
Throughout his one year at Duke, Rivers posted some very solid numbers that he can build on in the NBA.
During his rookie season at Duke, Rivers shot 43.3% in the 402 shots he attempted during the season.
Out of his 402 shots, 159 of them were 3-pointers. Rivers hit 36.5% of those shots as well.
Being able to attack the basket, hit a mid-range jumper and knock down a 3-point shot will make Rivers a very successful shooting guard in the NBA.
It will make him more difficult to defend since opponents will not know where he will be taking a shot from.
In addition, Rivers ability to drive and attack the basket will lead to more free-throw attempts for him, leading to a greater point total. It will also put his opponents in foul trouble.
While Rivers will need to involve his teammates more (only 71 total assists all season), Rivers will become the premier scorer for whatever team drafts him.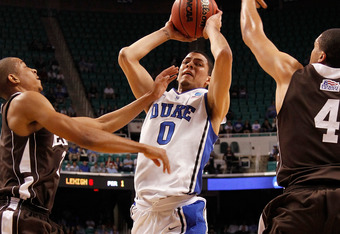 Mike Ehrmann/Getty Images
Killer Instinct
In the NBA, a lot of teams these days lack a player with the killer instinct to put teams away late in games. When a team is up by double digits, some teams take their foot off the gas and allow their opponents to creep back into the game.
You won't see that with Austin Rivers.
He continues to attack and looks to bury teams to prevent any type of a comeback.
One example of this was when Duke played host to #15 Michigan last season.
When Duke entered the second half up ten points, Rivers turned it on. He scored 12 more points in the second half to prevent the Wolverines from coming back. The closest the Wolverines came in the second half was five points.
A team like the Celtics or the Timberwolves could use a closer as their shooting guard to take the pressure off of their other older players.
While Christian Laettner, Luol Deng, Shane Battier and Grant Hill were solid players in the NBA, none of them were more than role players after a few years in the league. Grant Hill became a role player mostly because of injuries that occurred early in his career.
While Rivers enters the league at 20 years old, he has all the potential to succeed as a top shooting guard in the NBA.
A team would be smart to take a shot on Rivers late in the first round.
If not, he may take the shot that beats them in a game down the road.
Follow @JasonDavisBR on Twitter.