Memorial Tournament 2012: Rory Sabbatini and Leaderboard Climbers Set to Fall
June 2, 2012

Andy Lyons/Getty Images
For those talents who will pick up their play in the final two rounds, there are those who are destined to fail.
While golf superstars like Tiger Woods and Rickie Fowler are in top contention, it will be talents like Rory Sabbatini who will fall short come Sunday.
In spite of the impressive play put together by Sabbatini and several of the golfers atop the leaderboard, they are set to fall off quickly in the final rounds.
These are the top-notch golfers who will soon find themselves dropping from contention in the final two rounds of play at the Memorial Tournament.
Rory Sabbatini (-7)
Sabbatini, after playing six-under par through two rounds of play, is one under through 11 holes today.
It is clear he has dropped off some in this third round of play. With three bogeys through the first nine holes of play, Sabbatini will have to pick up his play in a hurry to contend.
Not to mention he is dealing with a streaking Spencer Levin and Woods at the top of the leaderboard as well.
Scott Stallings (-2)
Stallings' game has stalled ever so abruptly in round three.
After an impressive score of five-under par through two rounds, Stallings has shot a three-over par in the third round and is on his way out of the top-15 on the leaderboard.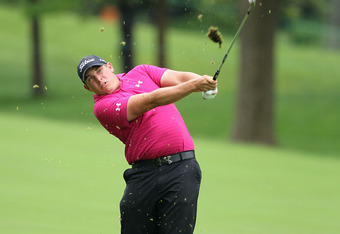 Andy Lyons/Getty Images
As great as his play has been through two rounds, Stallings' putting has taken a turn for the worse. Expect the struggles to continue for the American talent in these final two rounds of play.
Spencer Levin (-10)
As promising as his play has been, Levin's play is surely set to drop heading into the fourth round.
He has been as inconsistent as any player as of late, missing cuts in two of his last five tournaments. He also boasted finishes of 32nd place and 15th place in those five showings.
Despite his success in the third round, posting a score of five-under par, there is no question this is a golfer set to fail based on his past tournament showings this season.