Santana to His Mets Teammates: "We as a Team Made History Tonight"
June 2, 2012

Mike Stobe/Getty Images
Last weekend, I went to Citi Field and saw Johan Santana pitch a masterpiece. Santana dominated the San Diego Padres over nine innings. The Mets won 9-0 and Santana had his first shutout since 2010. The lefty struck out eight batters, walked none and threw 74 of his 96 total pitches for strikes. What made his performance that day even more impressive was the fact that Santana is still coming back from major shoulder surgery after missing all of the 2011 season.
Tuning in to the Mets' game last night, it appeared early on that Santana did not have his best stuff. He walked four batters over the first five innings and ran up his pitch count. He did, however, keep a potent Cardinals lineup from reaching base on a hit.
From the sixth inning on, the warrior in Santana came out. His poise noticeably increased and his stuff looked better than it had in the earlier innings. When Terry Collins came out to the mound in the eighth with Santana's pitch count mounting, it was obvious that Santana was not going anywhere.Then, Santana went on to finish what he started.
In a span of six days, Santana had pitched two complete-game shutouts, given up just four hits over 18 innings and threw 230 pitches. Not bad for a guy whose career was potentially over after being shut down with shoulder trouble in September of 2010.
For a franchise and a fanbase that have always been the butt of all late-night jokes (Letterman, Conan, Jon Stewart, etc.), it was a cathartic moment of celebration. It was a chance to finally check off an accomplishment that had eluded this team for its entire existence. After so much recent misery surrounding the Mets, it was a chance to just be proud.
The Mets have had 35 one-hitters. I clearly remember Tom Glavine coming close in 2004 against Colorado with the only hit coming from utility player Kit Pellow, who registered a career total of just 52 major league hits. Santana's no-hitter has made those near misses less painful.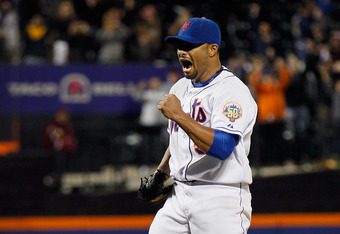 Mike Stobe/Getty Images
What makes the feat even better is the fact that it was Johan Santana. He has proven himself to be the consummate professional and total team player since he first arrived in Queens. To Santana, it's all about the team. You never read about Santana getting arrested, using performance-enhancing drugs, carousing, complaining or anything like that. He just leads by example and fights whether he has his good stuff or not. His heart and attitude have driven him to success in addition to his arm. This couldn't have happened to a better guy.
One other amazing twist in the story is the involvement of Mike Baxter in the no-hitter. The kid who grew up in Whitestone, literally down the street from Shea Stadium, makes the game-saving catch. As I wrote last time, these 2012 Mets are exceeding expectations with rookies, journeymen and long-time minor leaguers led by vets such as Johan Santana. Mike Baxter is the latest feelgood story in a string of similar stories so far this season for the Mets.
Twitter was abuzz during and after the game. Of course, Santana himself tweeted to thank his teammates and the fans. 
@johansantana  Tonight we made history @mets, i want to thank all my teammates and all the fans for the support...Believe it!! You guys are the best!!!
Enjoy this one, Mets fans.