Sir Alex Ferguson and Roy Keane with the 2000-01 Premier League trophy.
Stu Forster/Getty Images
June 6, 2012
So we have come to the most recent decade in the history of Manchester United, and also one of the most successful. Most supporters, if not all, reading this will remember the 2000s well, but there's no harm in a quick refresher.
Following the Treble, United continued their success under Sir Alex Ferguson with back-to-back Premier League titles in 1999-00 and 2000-01. However, the Treble-winning side would soon be disbanded piece by piece in the coming years.
Peter Schmeichel had already left following the 1999 season, and replacing him proved a difficult task. Mark Bosnich proved disappointing, as did his replacement Massimo Taibi, who was then swiftly sent packing to make room for the erratic Fabien Barthez. Tim Howard was also brought in, but struggled as well.
Teddy Sheringham left in 2001 after being named PFA Player of the Year, returning to Tottenham on a free transfer. He was replaced by record signing Ruud van Nistelrooy from PSV, and soon after the transfer record was broken again for Juan Sebastian Veron. While van Nistelrooy quickly proved to be a star at Old Trafford, Veron is still remembered as a flop.
Jaap Stam also left the club at the start of the 2001-02 season, and Ferguson announced his intention to retire at the conclusion of the season. Andy Cole departed from Old Trafford, moving to Blackburn Rovers in December.
Of course, by February 2002, Ferguson went back on his decision to retire and promised to remain for at least three further seasons. Despite the boost of Ferguson's reversed decision and 36 goals from van Nistelrooy in his debut season, United finished without any silverware for the season.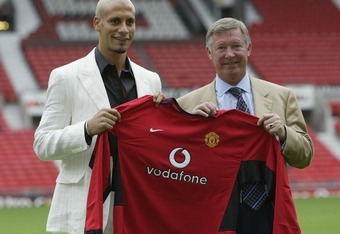 Rio Ferdinand signed for Manchester United for a then record transfer fee in 2002.
Alex Livesey/Getty Images
Denis Irwin, Ronny Johnsen and Dwight Yorke all left at the conclusion of 2001-02, three more members of the Treble-winning squad to go through the Old Trafford exit. Just three years after reaching the promised land, the 1998/99 squad was mostly broken up.
Rio Ferdinand was signed for a record £29 million from Leeds United, and the Red Devils managed to win the Premier League trophy back once again, although it would be their only success of 2002-03.
David Beckham was sold to Real Madrid at the end of the season after a highly-publicized falling out with Ferguson. Veron also left the club in 2003, joining Chelsea for just £15 million, nearly half what United paid in 2001.
United quickly brought in reinforcements, signing Kleberson, Eric Djemba-Djemba, David Bellion and Cristiano Ronaldo. Only one of these players would prove to be a successful signing at Old Trafford. Bet you can't guess which one succeed during his time at the club.
Unfortunately, Ferdinand was suspended for eight months after he missed a drug test and was unavailable for the second half of the season. Consequently, United began to slip down the table and finished third behind Arsenal and Chelsea. Despite Premier League heartbreak, United did reach the FA Cup final where they triumphed 3-0 over Millwall.
Wayne Rooney arrived at Old Trafford from Everton early in the 2004-05 season as the most expensive teenager at the time. He would score a memorable hat-trick in the Champions League on his debut, but the season was largely unsuccessful. United ended up with no silverware and again finished third behind Chelsea and Arsenal.
The club was dealt a serious blow in May 2005 when the Glazer family completed their takeover of the club for approximately £800 million. The Glazers took out significant loans to complete the takeover, which burdened the club with a substantial amount of debt.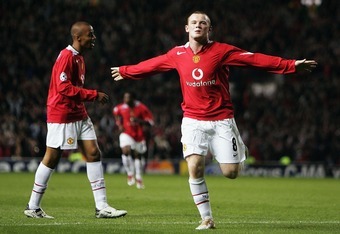 Wayne Rooney scored a hat-trick on his Manchester United debut.
Laurence Griffiths/Getty Images
Although financial experts could provide more in-depth analysis, it doesn't take a genius to see their ownership is detrimental to the club's long-term financial future. At the time of the takeover, the debt stood at £660 million with annual interest payments totaling £62 million.
The club has remained successful in spite of this, a true testament to Ferguson's managerial abilities, but their ownership continues to threaten the club. Already, the financial constraints have created difficulties in the transfer market. Feel free to further research their ownership and its effects on the club from financial sources.
Back to matters on the pitch, Edwin van der Sar joined from Fulham in June 2005, finally providing the club with a worthy heir to Schmeichel. Sadly, having finally secured a world-class goalkeeper, their commanding leader Roy Keane left for Celtic a few months later. Gary Neville replaced him as the club captain.
George Best also passed away shortly after Keane's departure. Although he had long since retired from the game, such was Best's legend that the news had a devastating effect on the United faithful.
Again United came up short in the Premier League, with the Roman Abramovich-funded Chelsea looking set for a period of domestic dominance. United did win the 2005-06 Carling Cup final 4-0 over Wigan, however, assuring the club did not suffer another season without silverware.
After three seasons without Premier League glory, things were finally turning around for United at the start of the 2006-07 season. Van Nistelrooy departed for Real Madrid, but the emergence of Ronaldo as a world-class star after World Cup controversy in the summer proved key for United. The attacking duo of Rooney and Ronaldo were rapidly maturing into a menacing partnership.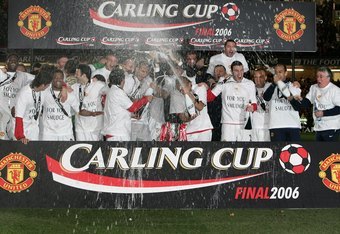 Manchester United won the 2006 Carling Cup.
Phil Cole/Getty Images
United proved an incredible force in the league, bringing the Premiership trophy back to Old Trafford after beating Chelsea by six points at the top of the table. Their hopes of a domestic double were thwarted by their west London rivals, however, as they lost 1-0 in extra time of the FA Cup final. Champions League success also proved elusive, losing to AC Milan in the semi-finals.
Rooney and Ronaldo had already proved that United were on the brink of big things, and the side was further strengthened to set up for a memorable 2007-08 campaign. Nani, Anderson, Owen Hargreaves and Carlos Tevez all arrived at Old Trafford in the summer.
Ronaldo quickly set himself apart as the key factor for United, and his status was further elevated to being the best in the world. The Portuguese phenom scored an impressive 42 goals in all competitions, although his goalscoring feats since dwarf even that.
United won the Premier League once again with a two-point lead over Chelsea for back-to-back titles. The club came close in the FA Cup once again, but were eliminated by Portsmouth in the quarter-final. Tomasz Kuszczak was sent off for a challenge in the box and replaced by Rio Ferdinand in goal. Portsmouth advanced with Sulley Muntari scoring the winning goal from the resulting penalty.
Scholes scored a stunning goal against Barcelona in the Champions League semi-final, and United would again meet Chelsea in a final, although this time for European honors. Forty years after Sir Matt Busby led his team to the European Cup, United would have another opportunity. To put the drama of this match into words is a near impossible feat. It is something that can only be experienced.
Cristiano Ronaldo scored an impressive 42 goals for United in 2007-08.
Alex Livesey/Getty Images
Ronaldo gave United the lead in the first half with a wonderful header from a Wes Brown cross. Chelsea battled back, however, and Lampard scored the equalizer in the dying minutes of the first half. The match ended 1-1 to set up an unforgettable period of extra time. Both teams had incredible chances to take the lead, but neither could make the breakthrough.
Didier Drogba then had a big influence on the match for all the wrong reasons. After slapping Nemanja Vidic, there was no choice but for the referee to send him off. In a skirmish between the two sides, Drogba had quite literally seen red. The teams remained at 1-1 as the whistle blew for the end of extra time.
The penalty shootout added even more drama to the match. The ever-reliable Ronaldo missed his attempt before John Terry stepped up to take what would have been the winner for Chelsea. Of course, their lethal finisher was already in the dressing room for an act of foolishness, and as the captain went to take his kick he slipped and hit the post. United were given new life.
United and Chelsea each made their first penalties in sudden death, and Ryan Giggs scored the seventh kick to put pressure on Chelsea. Nicolas Anelka took the Chelsea spot-kick and van der Sar assured himself legendary status as he made the vital save. United were Champions of Europe for a third time.
Following their crowning moment, much was made of Ronaldo's future at the club as speculation linking him with Real Madrid intensified. Ferguson managed to hold onto his star man as they prepared to mount another challenge in England and Europe. Dimitar Berbatov arrived from Tottenham for a record  £30 million.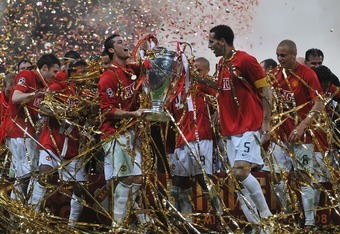 Manchester United won the 2007-08 Champions League.
Shaun Botterill/Getty Images
A third successive Premier League title was secured as United tied Liverpool's record of 18 English league titles. They also won the FIFA Club World Cup for the first time, beating LDU Quito 1-0 in the final.
The Carling Cup was brought back to Old Trafford as well, United beating Tottenham 4-1 on penalties after a 0-0 draw in the final. On an individual level, Ronaldo became the fourth ever United player to win the prestigious European Footballer of the Year award.
FA Cup glory was close once again as well, but United were knocked out by Everton 4-2 on penalties after a 0-0 draw in the semi-final at Wembley. However, United did reach back-to-back Champions League finals, this time facing Barcelona in Rome.
Little could be done to stop the Spanish giants, however, and United were defeated 2-0 after being overrun by their opposition, particularly in midfield. To add insult to injury, Ronaldo soon left the club to join Real Madrid for a staggering £80 million, which remains the world transfer record.
And so the final season of a very successful decade ended with the heartbreak of losing their star player shortly after defeat in the European final. Which brings us to the current decade.
United have obviously found further success since, and it is hard to tell what the future holds. I hope you've enjoyed this history series and found it insightful in educating yourself about the club you support. Feel free to read the past chapters listed below. One thing remains certain. There is plenty of history that remains to be written for one of the most stories clubs in the world.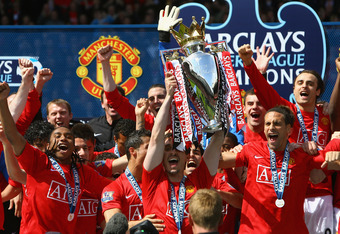 Manchester United won the third consecutive Premier League title in 2008-09.
Alex Livesey/Getty Images
Honors
Premier League: 1999-00, 2000-01, 2002-03, 2006-07, 2007-08, 2008-09
FA Cup: 2003-04
League Cup: 2005-06, 2008-09

FA Community Shield: 2003, 2007, 2008
Champions League: 2007-08
FIFA Club World Cup: 2008
Past Articles
Manchester United History: 1990-1999
Manchester United History: 1980-1989
Manchester United History: 1970-1979
Manchester United History: 1957-1969

Manchester United History: 1945-1957
Manchester United History: 1920-1945
Manchester United History: 1910-1919
Manchester United History: 1900-1909
Like the new article format? Send us feedback!