Memorial Tournament 2012: Tiger Woods and Rickie Fowler Will Dominate Sunday
June 3, 2012

Andy Lyons/Getty Images
No matter how the leaderboard shakes out Sunday at the Memorial, it is golf that is going to be the biggest winner. That is because things could not have turned out any better for the PGA and Jack Nicklaus' tournament. 
Spencer Levin (-8) and Rory Sabbatini (-7) will tee up as the tournament's final pairing in an excellent position to win, but no one is going to care about that group. All eyes, and a gallery that is likely to equal the rest of the field combined, will be following the group that tees off directly behind them: Rickie Fowler (-5) and Tiger Woods (-4). 
A pairing of Fowler and Woods is going to steal the show and camera time no matter where or when they tee off, let alone when it is on Sunday and they are both in serious contention. 
They are not going to disappoint the masses on Sunday. Both of these guys love the pressure and the spotlight. Woods has long thrived in the biggest moments. This hasn't been the case the past few years, but that is simply because Woods' broken game has not allowed him to be in this spotlight. 
That game is not broken this week. He has the highest driving accuracy and greens in regulation for this tournament. While he shot one over on Saturday, it would have been a far better score had he had a little more luck with the putter. 
Tiger is going to put himself in position to take this tournament, and he is one of the few guys that will not wilt under the pressure. Of course, one of those few others is going to be playing right along side him.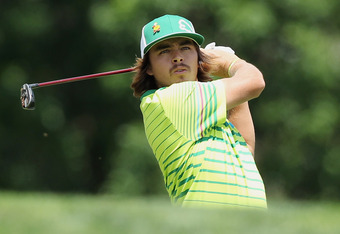 Scott Halleran/Getty Images
Rickie Fowler is not going to shrink under the pressure of contending in the final round or playing along side Woods. These are the kinds of situations he thrives in, and he is on absolute fire right now.
Fowler has finished in the top five in each of his past three tournaments and in the top 10 in the past four—a stretch that included his first tour win.
These two guys will be going head-to-head, and they are going to go low. They will own the spotlight, and by the day's end, they will own the leaderboard.