St. Louis Rams: Why Chris Long and Robert Quinn Could Have Huge Seasons in 2012
June 4, 2012

Last season, St Louis Rams defensive end Chris Long had a breakout season racking up 13 sacks. On the opposite side of the line from Long, first-round rookie Robert Quinn tallied a respectable five sacks on a part-time basis.
Those two players produced nearly half (18) of the team's 39 sacks, a total that ranked 15th in the NFL. For perspective's sake, the Minnesota Vikings and Philadelphia Eagles led the league with 50. 
The only other returners who contributed to the St. Louis sack total were middle linebacker James Laurinaitis (three), safety Darian Stewart (three) and safety Quintin Mikell (one).
When considering the Rams lost six cornerbacks to injured reserve in 2011, last season's sack total was actually quite impressive under the circumstances. After all, with a constantly changing, banged-up and thrown-together secondary that struggled in pass coverage, there was often very little time to reach the opposing quarterback. 
In short, any so-called coverage sacks were very scarce last year. 
With better secondary health anticipated in the upcoming campaign (it would be nearly impossible to be worse), the return of two of last year's top three projected corners from injury (Bradley Fletcher and Jerome Murphy) and a serious talent infusion via both free agency (Cortland Finnegan) and the 2012 NFL draft (Janoris Jenkins and Trumaine Johnson), coverage should be consistently better. That should give Rams' pass-rushers more time, on average, to get to the quarterback.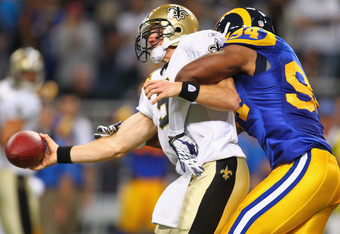 Dilip Vishwanat/Getty Images
We will be welcoming you back to St. Louis, coverage sack. And we expect to hear from you often this season.
Another aspect of the overall defense that should help to bolster sack totals includes the presence of what should be an upgraded interior defensive line.
Twenty-six-year-old free-agent acquisition Kendall Langford was the fourth-ranked available defensive tackle, according to Walter Football.  
Langford played defensive end in a 3-4 base for the Miami Dolphins. As a 3-technique defensive tackle in St. Louis, Langford should provide some good pressure inside.  
Another 26-year-old free agent addition, Trevor Laws, was presumably added primarily for his run-stopping abilities. That said, the 2008 second-round selection has shown some pass-rush ability (compiling four sacks in 2010 and a sack in 2011) while starting just one game in each of those seasons. Laws feels he can do it all, according to the following via stlouisrams.com: 
My best attribute is I can do a lot of different things. The last couple years I had different roles in Philadelphia. I played all third downs two years ago, I played all run downs last year so I think I am a three down player.
Finally, first-round rookie defensive tackle Michael Brockers, who is expected to be a force against the run, will likely aid the pass rush indirectly. Brockers is profiled in depth here on the Rams' official website.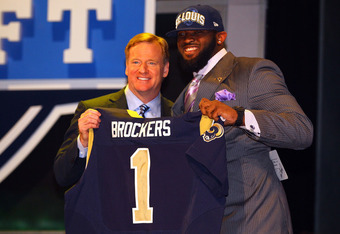 Although he is not yet expected to get to quarterbacks consistently due to his raw pass-rush skills and the fact that he will likely face double-teams at nose tackle, Brockers should help the exterior rush by pushing and collapsing the pocket, as Jeff Fisher pointed out here at stlouisrams.com: 
He can play across the face of blocks, he pushes the pocket, he can collapse, he can get on an edge, he plays with effort. I mean, what else can you say?
All in all, the additions of Langford, Laws and Brockers should help Long and Quinn find more success in tracking down quarterbacks, as this trio of defensive tackles should be able to make the pocket uncomfortable for opposing passers.   
Long led the entire NFL with 41.5 quarterback hurries in 2010.  A big reason Long compiled so many hurries with a relatively low number of sacks (8.5) was due to the fact that the interior line rarely provided a good push. 
That lack of push allowed quarterbacks to simply step up into wide-open pockets to escape Long's consistent edge rush. 
Last year, Long again led the league with 58 quarterback hurries while topping the league with 83 quarterback disruptions, according to this from profootballfocus.com. 
Imagine what Long, who compiled 13 sacks in 2011, could do in 2012 with some consistent pocket push via the interior defensive line (and better secondary play)? We could conceivably be talking about 15-plus sacks in his contract year.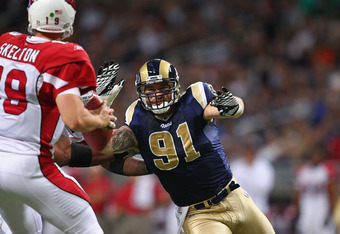 Dilip Vishwanat/Getty Images
Quinn, in his second year and a new starting role, will see more snaps and should produce better and more consistent play during his sophomore season.
Could both Long and Quinn reach double-digit sacks this season? It's possible, and that could be huge for this defense. 
Simply put, better secondary and interior line play will each help the Rams create a more effective and efficient pass rush and aid the numbers of Long and Quinn.
The more frequently the Rams can get pressure from the front four and, specifically, the ends, the less often St. Louis will need to bring the blitz.  
Anytime a team can generate a consistent pass rush with the front four, it makes everything easier for the defense as a whole.  
That was a key for the New York Giants' defense and their success in their recent Super Bowl seasons. 
Recently, Rams general manager Les Snead stated that the defensive line could be a dominant unit, as reported in this article by Jim Thomas of the St. Louis Post-Dispatch: 
We've got two young ends. We've added Langford. We've got Darell Scott coming back. Bam! You throw in Brockers, and all of a sudden that unit gets strong. Now the DL becomes a dominant unit. 
It will largely be up to the aforementioned Long, Quinn, Langford and Brockers (and Laws, as a key substitute) if the Rams' defensive line is to be a "dominant unit."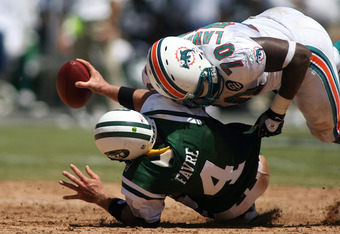 Marc Serota/Getty Images
However, the Rams' line, like any defensive line, will need rotational help if it is to become elite. 
One of the key backups will be former Jeff Fisher pupil and Tennessee Titans defensive end William Hayes, who is excited to be in St. Louis, per this piece from stlouisrams.com senior writer Nick Wagoner:
I take pride in stopping the run and then getting after the passer. The last couple of years I have been injured so I have dedicated myself a little more to the weight room and training room so I can be out there to help my team get some wins.
Under Fisher, Hayes posted four sacks in his most recent healthy season.  Hayes just turned 27 and should provide solid rotational depth. 
Darell Scott will likely earn the fourth roster spot at defensive tackle. Scott, 26, goes 6'3" and 320 pounds and flashed some solid play last season when healthy. 
Others who could provide defensive line depth include defensive end Eugene Sims and defensive tackle Jermelle Cudjo. 
With all that said, how many sacks could Long and Quinn post this year?  Please weigh in via the poll and share your thoughts in the comments section below.  
Personally, my early projection would be 23 to 25, a very impressive total representing an increase of five to seven sacks from last season. I believe Quinn's growth plus the aforementioned expected increase in push at defensive tackle and elevated play at corner will suffice to solicit those numbers.
That is all without even considering what a better offense and overall team could do to help Long's and Quinn's sack totals.
If the Rams have more leads in 2012, opponents will be enticed to throw more often, creating many more additional opportunities for sacks than what we have seen for much of the last five seasons and the historically abysmal 15-65 stretch.
If the Rams are competitive deep into the second half of games, teams will no longer be able to run the ball as frequently but will instead be inclined to stick to a more balanced approach. If opponents are behind late, they will have to pass much more frequently, of course.
Finally, if the Rams' run defense is better, that too would likely result in teams being more inclined to throw more versus St. Louis, something that would also yield additional pass-rush opportunities.   
Speaking of the run defense, I will take a look at the prospects for the Rams in that regard later this week. 
Shane Gray covers the St. Louis Rams daily as a Featured Columnist for Bleacher Report. You are encouraged to check out the rest of his work here. Gray also owns and operates stlramscentral.com.