NASCAR Sprint Cup: For Kurt Busch, It's Time to Shut Up and Drive
June 4, 2012

Todd Warshaw/Getty Images
Controversy is nothing new to Phoenix Racing driver of the No. 51 car, Kurt Busch. It seems some people are just magnets for conflict, and the former champion is one of those people.
Busch's history of disciplinary problems goes back to his days at Roush Racing. 
Near the end of the 2005 season, Busch was dismissed by team owner Jack Roush for "conduct detrimental to the organization," after he received a ticket for reckless driving by a Maricopa County Sheriff's deputy following a traffic stop for suspicion of driving while intoxicated near Phoenix, Arizona.
Both Busch and Roush had already announced that the 2002 series champion would be parting ways at the end of that season, but his run-in with the law ended his tenure at Roush two races early.
Things seemed to improve when Busch moved on to drive for legendary motorsports owner Roger Penske, replacing former champion Rusty Wallace in "The Blue Deuce." 
While at Penske Racing, Busch managed to win eight Sprint Cup races and two top 10 points finishes in 2007 and 2009.
Unfortunately, the good results and solid finishes at Penske were overshadowed by the deterioration of the relationship between driver and crew, including many a radio-exchange between Busch and his crew chief, Steve Addington.
Things got worse when Busch was caught on video verbally abusing respected pit-reporter, Dr. Jerry Punch and displaying an "obscene finger gesture" to fans on his way out of the garage area. This forced the Penske organization to produce an apology for Busch's "inappropriate actions."
Following this incident, it was reported that Busch was enlisting the services of a sports psychiatrist (per Yahoo! Sports, stating:
"I need to be a better person on the radio, to the team, as a leader. It's personal issues, of course, and working with a sports psychologist, I've gotten obviously a small grasp, but there's obviously bigger things that I need to accomplish and things can't happen overnight."
Whether his departure from Penske was mutual or not, the bottom line is that Busch's "second chance" was now over.
Enter Phoenix Racing owner, and Busch's third chance, James Finch.
Finch reached out to the former champion driver and offered him a job driving the No. 51 car and Busch gladly accepted.
It has been reported in various venues that the two men don't actually have a written contract, but rather a "hand-shake agreement."
Both parties have agreed not to give up on the other. Busch accepted that the equipment provided to him by the unsponsored team wouldn't be as good as his Roush or Penske cars, and Finch accepted that Busch comes with some "baggage."
Early in 2012, Busch ran as well as can be expected for a low-dollar team, earning three top 15 finishes, including a top 10 at the AutoClub 400 in Fontana, CA.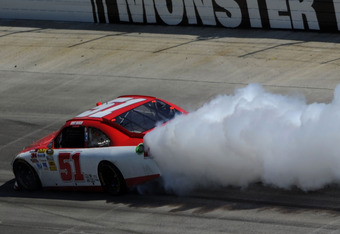 Patrick Smith/Getty Images
However, things have changed.
Following the Nationwide 5-Hour Energy 200 at Dover, Busch (already on probation for another obscene finger gesture toward a car with First Lady Michelle Obama in it, and the aforementioned tirade directed at Dr. Punch) was asked by Sporting News reporter, Bob Pockrass, if he felt he had to drive differently because he's on probation.
Busch's response?
It [the probation] refrains me from not beating the s—, [slang for excrement] out of you right now because you ask me stupid questions, but because I'm on probation I suppose that's improper to say as well."
The interview goes on to describe Busch's further displeasure for having to talk to the media and his repeated denial for interview requests.
Suffice it to say, he's not a happy person right now (or ever, apparently).
Most people can understand how having lesser equipment and not performing up to the standards he sets for himself can be stressful and disappointing, but perhaps Busch could take a lesson from other former NASCAR greats that have had to step down from the limelight and take a lesser role.
Men like Terry and Bobby Labonte, Bill Elliot and Mark Martin have all been to the top of the NASCAR heap (or near it in Martin's case), and all have accepted jobs driving lesser equipment. They did so with grace, class, maturity and dignity.
Apparently, these terms are foreign to Busch.
NASCAR has met with Mr. Busch regarding this most recent incident. The results of said meeting have not yet been released.
One thing is abundantly clear: Busch has the talent to be one of the best drivers in the sport, but his anger issues and immaturity are preventing him from getting back to his championship ways.
Follow me on Twitter: @CoachJayDee