2012 MLB Draft Results: Toronto Blue Jays Add Outfield Speed and a Power Arm
June 5, 2012

With my personal draft man-crush RHP Lucas Giolito being taken just one pick earlier by Washington at #16, the Blue Jays select DJ Davis, an outfielder from Stone County High School in Mississppi.
Here's the scouting report via Dave Perkins of Sports Illustrated:
Davis' stunning speed is his primary tool. Perhaps the fastest prospect in this year's draft class, Davis has been clocked at 6.38 seconds in the 60-yard dash, earning him an 80 score on the 20-80 scouting scale. Davis has improved substantially at bat in the past year, displaying the ability to drive pitches deep. He'll need to make mechanical corrections at bat; for instance, he begins with his legs in a "Gateway Arch" position, robbing him of momentum in the lower half of his body.
Jonathan Mayo at mlb.com actually had Toronto selecting Davis at 22 so kudo's for recognizing the type of player the Jays were looking at.
Toronto General Manager Alex Anthopoulos and Amateur Scouting Director Andrew Tinnish have been nothing if not consistent as their third draft together begins to unfold.
Davis is a very athletic, or "toolsie" outfielder that fits right in with current farm hands Anthony Gose, Jake Marisnick, Michael Crouse and Dwight Smith.  Universally considered the fastest player in this draft class, Davis projects as a lead-off type of hitter with off the charts stolen base potential, great defense and emerging power.
Pro Comparison: Alejandro De Aza or Michael Bourn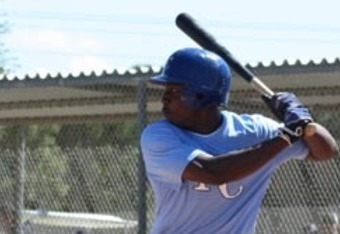 With the 22nd pick Toronto went with Duke University fireballer Marcus Stroman.  A bit of a surprise considering the organization's proclivity for high school arms and Lance McCullers still on the board.  However, Stroman has arguably the most electric arm in the draft and with his polish could be mowing down MLB hitters by next season.
Here's the scouting report from Sports Illustrated:
Short, stocky and muscular, Stroman is a right handed version of Al Holland, a former lefty reliever for the Phillies and Giants. Stroman delivers a low- to mid-90's fastball with a touch of a Jose Valverde finishing leg kick. Stroman's best pitch is a crackling mid 80's slider. Currently profiling best as a middle relief artist or closer, Stroman may fit as a starter if he develops and refines his cutter and change.
If Stroman was even a couple of inches taller than his listed five feet, nine inches then he could easily have been a top 7-10 pick in this draft. With Tom Gordon comparisons (according to Jonathan Mayo at mlb.com) its not unreasonable to envision a Marcus Stroman/Sergio Santos combination to close out games in the 8th and 9th innings as soon as July 2013
Pro Comparison: Tom Gordon or Craig Kimbrel
As always, follow me on Twitter @TheDelgadoShift