MLB Trade Rumors: Why the Giants Must Trade for Kelly Johnson or Yunel Escobar
June 5, 2012

Thearon W. Henderson/Getty Images
San Francisco has had success and failure at the trade deadline, with success in 2010 and failure in 2011. Brian Sabean and co. will do everything in their power to make 2012 a success.
And there's one deal that will greatly increase their chances.
Kelly Johnson and Yunel Escobar are both Toronto Blue Jays and play second base and shortstop, respectively. Both play well and have their strengths, and both would help the Giants this year.
Right now, Ryan Theriot starts at second base and Brandon Crawford starts at shortstop. Theriot is playing well, but Crawford is a very inconsistent hitter and fielder. 
While Crawford is young and still raw, he has constantly frustrated Giants fans by striking out in key situations and bobbling ground balls. He can still have value to a team, but he doesn't seem to be ready for an everyday job.
If he was traded to Toronto, he would have time to develop as a pinch-hitter while Mike McCoy could get some reps as a starter. In San Francisco, either Escobar or Johnson would start immediately and be fine with it.
Escobar has a great personality and a very unique batting routine, which would be welcomed in San Francisco. Unlike Carlos Beltran, he wouldn't hurt San Francisco's team chemistry, which is key.
He would hit in the two-hole, just like he does in Toronto right now. He doesn't strike out much (11.7 percent strikeout rate), which is huge for the Giants. He draws walks and gets hits, and he scores a lot of runs.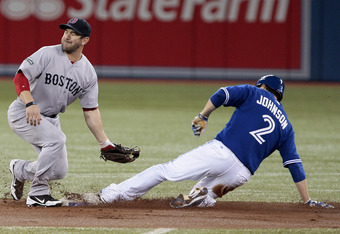 Abelimages/Getty Images
Escobar is also a great fielder, and he rarely makes errors. For a team that has the most errors in the MLB this year, that is key.
On offense, his ability to take pitches, run up the pitch count and still get his hits will be a big asset to the Giants. In the two-hole, he will probably see some good fastballs, and he'll definitely be able to get hits and post a high batting average as a Giant.
Kelly Johnson is another player that can really help the Giants (maybe even more than Escobar). His batting average isn't great, but he can still drive in runs and avoid stranding runners.
As Giants fans are painfully aware, that is a big problem for this team.
Johnson is a power hitter: He hits a lot of homers, drives in a lot of runs and draws a lot of walks (27). He could hit fifth or second in Toronto while playing second base (Theriot would move to shortstop). Even if he was benched or got a day off, he would still be an upgrade over Crawford.
Both of these guys have excelled in Toronto and would do the same in San Francisco. The Blue Jays are close to first in the AL East, but with the Orioles, Rays, Red Sox and Yankees all looking good, I doubt the Jays will make the playoffs.
Toronto could use a reliever or a left fielder.
They could bring in Aubrey Huff to mentor David Cooper and pinch-hit (while occasionally starting), or they could bring in Jeremy Affeldt or Santiago Casilla as a reliever.
Whatever it takes, the Giants must go after one of these guys. They simply can't afford to have Brandon Crawford strike out and commit errors, and they simply can't win without a good power hitter and RBI guy (Johnson) or a good fielder and on-base guy (Escobar).
But if San Francisco reels one of these guys in, they'll be sitting pretty for the remainder of the season.