Seattle Mariners: Catcher Mike Zunino Is the Safe Pick, but Is He the Best Pick?
June 7, 2012

Ronald Martinez/Getty Images
I'll confess, I didn't watch a single minute of the MLB draft. 
Even though the Mariners had the No. 3 pick, I remained skeptical of both the entire spectacle and what the M's would do once the time came for them to make a move. 
Before I get ahead of myself, let me clarify my first point.  Unlike the NFL or NBA drafts, players selected in the MLB draft more often than not are far from being ready to compete on a professional level.  
Only the rarest of exceptions make the majors in less than a few years of being drafted.  So no matter who the Mariners selected, chances were slim we would see them in Seattle any time soon.  Besides it's a complete and total crap-shoot that makes the other leagues and their drafts look like they have it down to a science. 
Still, why should I be skeptical of what the Mariners do with the No. 3 pick? 
Recent high selections of college players Dustin Ackley and Danny Hultzen look to be solid players for the team, not to mention high school players Taijuan Walker and Nick Franklin as well. 
Yet in a draft that many considered weak, I figured only two players were worth taking at the top of the board.  Of course, it would only make sense that when the Mariners got to choose both Carlos Correa and Byron Buxton were gone. 
Can't fault the M's front office at that point, but Mike Zunino as the consolation prize just seems lacking.
While it is true that Zunino is considered one of the better offensive players in this year's draft, the praise is generally luke-warm when you read between the lines. 
ESPN's MLB draft expert Kiley McDaniel offered his thoughts on the M's pick in saying...
"'Zunino doesn't have any true plus tools but has above-average tools across the board as a low-risk college performer who can be a solid average defender in the big leagues. His bat is good, not great, with a likely upside as a .270-.280 hitter with 15-18 home runs, but that's above average for a catcher."

In a weak draft, a low-risk, above-average everyday catcher is a great pick and the Mariners can soon abandon the Jesus Montero-behind-the-plate experiment, as Zunino could come quickly."
Sports Illustrated's Dave Perkin's agrees that Zunino could make the big club in short time, but isn't heaping a ton of praise upon him either...
"Zunino's tools and abilities are not quite in the Buster Posey stratosphere, but he is perhaps the best college catcher and Division I position player available in the 2012 draft. Strong and physically mature, Zunino's swing is a model of compact efficiency, capable of producing 15-20 homers annually.

Zunino, the SEC Player of the Year and the son of a Cincinnati Reds scout, is a solid if unspectacular defensive backstop who could move quickly through a club's minor league chain, possibly reaching the majors in two years."
Finally Mariners scouting director Tom McNamara offered his thoughts on Zunino:
"He's steady. He doesn't jump out and wow you like some other players. But what you get at the end of the day is a steady, hard-nosed, tough kid who's got power and can really catch."
In summary, Zunino is above-average.  Good, but not great.  
A player like Zunino would be fine to select in the second or third round, or perhaps towards the back half of round one, but not with the No. 3 pick.
In a weak draft taking the "safe" pick makes sense if building from strength, yet the ceiling seems awfully low for Zunino on a team that needs help just about everywhere.        
But if not Zunino, then who?
It might sound crazy, but I'd have opted instead for Stanford pitcher Mark Appel.
Perhaps the team was frightened by the prospect of drafting Appel given his agent is Scott Boras?
It's easy to sympathize, especially when you factor in Appel's response to being drafted by the Pittsburgh Pirates as ESPN's Jerry Crasnick reported...
"How does Appel feel about dropping from first to eighth? We can't be sure, because an hour after the draft the Pirates released a statement to let the media know Appel was passing on the customary conference call."
'I'm currently concentrating on winning a national championship and finishing my academic endeavors at Stanford," Appel said in the statement. 'I will address the possibility of a professional career in due time.'
"Boy, that has to send a jolt of exhilaration through the spines of Pirates season-ticket holders, doesn't it?"
Boy indeed, yet if you consider the theory behind the Pirates move that Sports Illustrated's Joe Lemire pieced together it might have made more sense for the M's to pull the trigger a few spots higher. 
"For starters, the Pirates have a $6.6 million budget for all of their picks in the first 10 rounds with a league suggestion of $2.9 million for pick No. 8. That could be far less than what Appel—who is being advised by Scott Boras—was expecting if he had his sights on a bonus commensurate with the first overall pick's slot, which was set for $7.2 million (or at least a top-three pick).
Perhaps the Pirates think they can sign him for much less than that first-overall bonus. Maybe they think he's worth paying a penalty for exceeding the cap. (If they fail to sign him, they are awarded the No. 9 pick in next year's draft.)"
With the exception of exceeding the cap, all of those options make sense to me, especially if it means getting arguably the best college pitcher in the draft. 
At the end of the day deals generally get done, even with Boras involved, as the odds of Appel going higher than No. 3 next year would probably not be in his favor.   Nevertheless, if Appel decided to head back to Stanford, the Mariners would be compensated the next year with the No. 4 pick.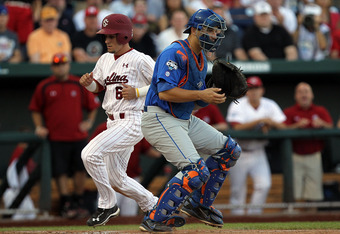 Ronald Martinez/Getty Images
Yes, the Mariners would lose out for a year, but in a weak draft, why settle?
Moving forward, here's hoping that Zunino proves me wrong.  He seems like a good kid and the type of gritty player the Mariners could find a place for down the road.  Whether that's behind the plate remains to be seen, but by the time he's ready to play in Seattle we should have a pretty good idea whether or not Jesus Montero is an every day catcher. 
To me though that's not the biggest concern here, it's the question of how will this move help the team and by extension the franchise break out of its current state of mediocrity?  
I fully understand it takes one small step at a time, but until that time comes, I remain skeptical. 
Aim high Seattle, aim high.